Larry Fitzgerald: An Appreciation of John McCain, Who Spent Six Christmases as a Prisoner of War
Over his years with the Cardinals, Larry Fitzgerald has become a friend and admirer of Arizona Sen. John McCain. He paid tribute to a man who as a POW in Vietnam was a model of selfless heroism, and who has given so much in service to his country.
Editor's note: Former Arizona Senator and Vietnam War veteran John McCain passed away on Saturday, Aug. 25 after his battle with brain cancer. This past December, Cardinals receiver Larry Fitzgerald took a moment to think of Sen. McCain, a model of selfless heroism.
Merry Christmas, everyone. As we enjoy this special day and celebrate the holidays with friends and family, I'll be thinking about someone who has become very important to me: Arizona Senator John McCain. We've become friends since I've been playing for the Cardinals. I have so much admiration for him, and I wanted to share why that admiration has become so strong. The Christmas season is the perfect time to do that.
As I've gotten older, giving at Christmas has become more significant for me—and more fun—than receiving. When I think about Christmas, and I think about Senator McCain, I think of giving.
The sacrifices John McCain has made for our country, and especially the men and women he served with in the military, are incredible. As a prisoner of war in Vietnam he missed six Christmases with his family back home and suffered unbelievable hardship. Yet most people don't realize that he could have gotten out of that prisoner of war camp four years earlier than he did because his father was a high-ranking military commander. However, he refused to be freed until all the men captured before him were released. That is true heroism and bravery. He gave so much in the service of his country, and that commitment to service continued as he was elected to Congress in the 1980s.
I'm not much of a political guy, but I am fascinated with history and in particular learning about the impact war has had on so many lives. I knew a few things about the senator just from playing in Arizona and getting to know him over the years. He is also an avid Cardinals fan and attends our games and practices from time to time, so our relationship has grown throughout my career.
When the football season ends, I enjoy spending some time each year traveling. My parents instilled that love of traveling in me and I've been pretty much all over the world. I visited my 97th country earlier this year, and I'm not finished. I travel mostly for pleasure, but also for education. I've been to a lot of the big battle sites from World War II. I've been to Normandy Beach. I've been to Iwo Jima. I've been to concentration camps at Auschwitz and Dachau.
In 2013 I had the opportunity to visit Vietnam. I would imagine not many players have gone there, but I love to explore and learn. Vietnam was not only a country that I found fascinating for its culture and history, but it also had special meaning because of my friendship with Senator McCain. I wanted to see the path he took in the Vietnam War.
Because of my relationship with Senator McCain and his wife, Cindy, I knew many of the stories about his service in Vietnam and was curious to learn more. Everyone in Arizona knows a little something about it, but I wanted to know more about what happened to him over there. When I travel, I don't stick to the main tourist sites, and I don't really like the organized tours. When I went to Vietnam, I rode a bike for much of the 700 miles from Hanoi to Ho Chi Minh City, just to see how the people lived. I had some of the greatest meals I've ever had in my life there and the people were so genuine. I saw real mortars that hadn't been detonated. I saw the effects of Agent Orange on so many young people there and how it has impacted their lives. Even in the midst of extreme challenges and difficult circumstances, they've carved out a life for themselves and persevered. They support themselves by creating beautiful works of art, some of which I bought while I was there. I was so inspired by their spirit.
The most meaningful part of the trip was seeing the spots related to Senator McCain's experience. I went to the lake where he was shot down and I learned about how he was captured. On Oct. 26, 1967, he was flying his 23rd mission as a Navy pilot, set to drop bombs on a site in Hanoi. The North Vietnamese fired a missile at his plane and hit one of the wings. When Senator McCain was hit, the plane went into a spin and was going to crash. He bailed out, and went crashing into Truc Bach Lake just outside of Hanoi. His left arm was broken. His right arm was broken in three places. His right leg was broken. He was in such pain when he fell into the lake that he almost drowned. He had to inflate his life vest with his teeth because he couldn't use his arms.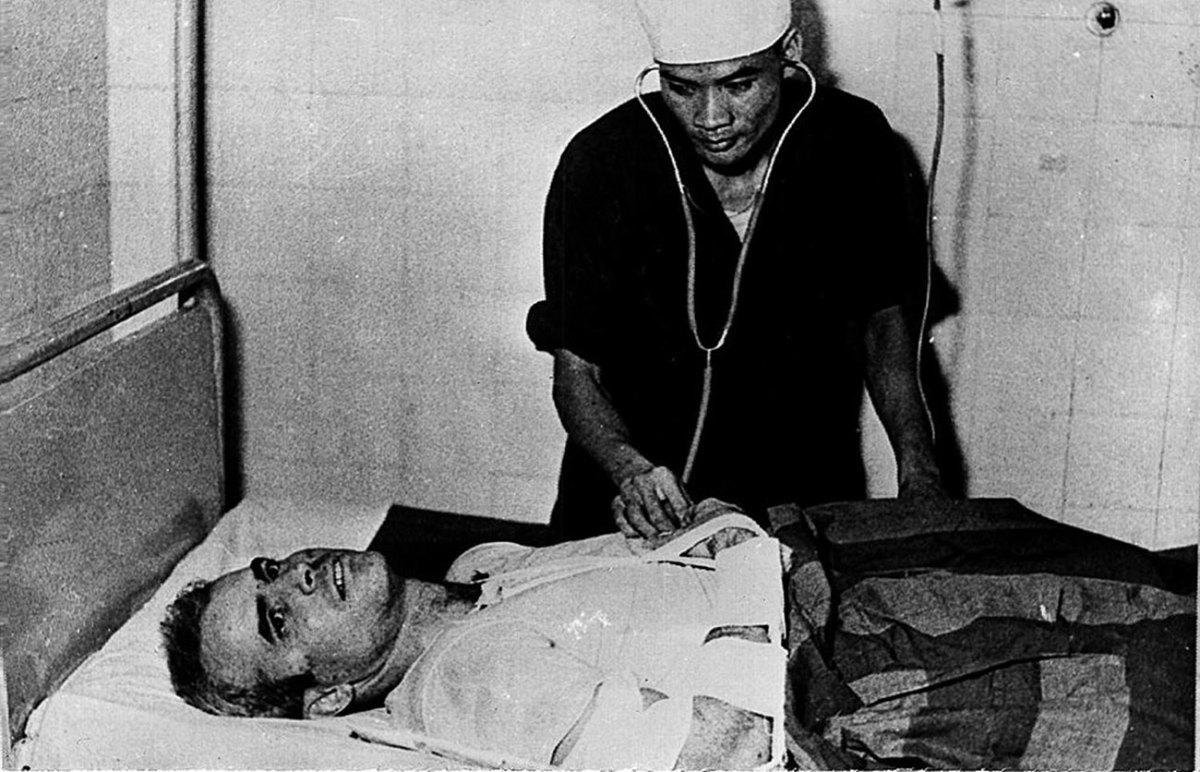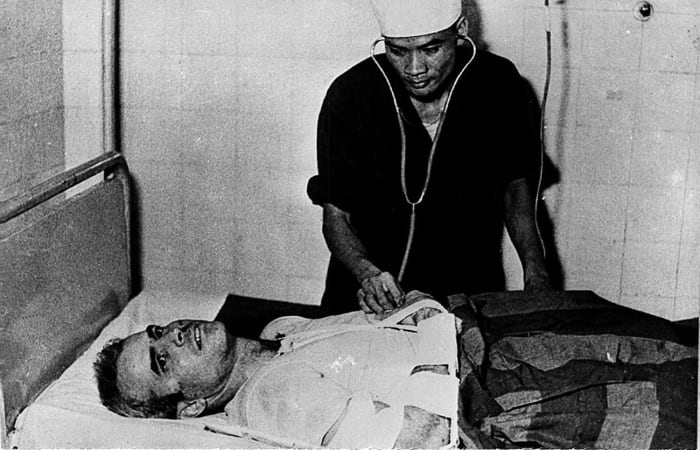 The stuff I heard on the tour of the lake and the prison cell where he was kept was gut-wrenching. When he was pulled out of the lake, the people there saw he was an American, and they kicked him and beat him, breaking his left shoulder.  He was in solitary confinement for two years. At one point, the prison guards beat him every two hours for days. It's amazing that he survived.
I saw the very jail cell where he was held as a POW and I tried to imagine what it must have been like to be him. I took a photo of myself next to his flight suit, the suit he was wearing when he got shot down. So powerful. So meaningful. Those images will never leave my mind.
Then, I read the testimony from some of the other POWs. When Senator McCain refused to be released from the prison camp until his fellow soldiers were freed as well, he earned the respect of all those men going through hell. I tried to imagine what a great teammate he must have been. Those guys respected him so much. After hearing all this, I was astounded by the quality of human being he was.
The other fascinating thing from my visit was the immense interest of the tourists in Senator McCain's story. There were about 50 people on the tour the day I went, and maybe 80 percent were Americans. People need to know his story, and they need to know this part of our history.
Over the last four or five years, Senator McCain and I have gotten closer. He gave me a private tour of the Senate, which was tremendous. To see where so much history has happened blew me away. As I said, I'm not a super-political person, but I have young sons and I want them to know our nation's history. I also want them to be proud of our country. We should be a nation of fairness and equality. We should be a country with justice for all. One of the reasons I admire Senator McCain is that he doesn't always just vote his party. He votes his conscience, and that can seem like a rare quality these days.
He's had me as a guest panelist at his global summit in Sedona, Ariz., which he hosts every year. He has panels on a wide variety of topics—child-sex trafficking, global warming, technology. There are people changing the world there, and it was a privilege to be his guest.
Interestingly, the one thing we have never talked about is what happened to him in Vietnam. I don't know; I don't want to bring up what might be a painful subject for him. But I think about it a lot.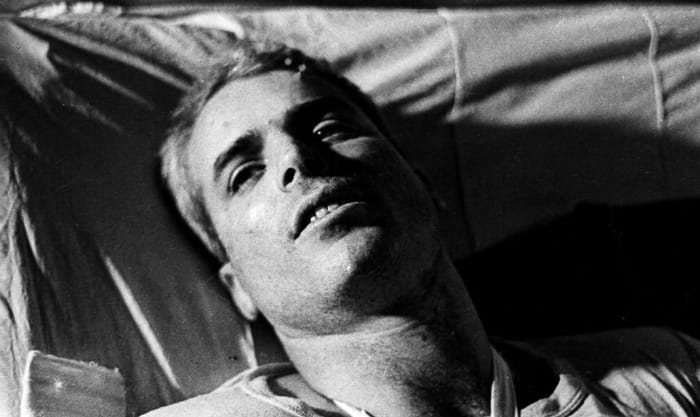 Today, my friend, Senator John McCain, again finds himself in a battle. This time it's with cancer, and the treatment he's undergoing is exhausting. I'll wish him a Merry Christmas today, and I pray he lives another 20 years. I know this: As soon as my boys are of age, I'll tell them stories about the quality of the man I've gotten to know. I'll tell them: Senator John McCain will be revered and respected for as long as the United States of America has a place in this world, and his legacy will outlive us all.
My prayers are with you, my friend.
Larry Fitzgerald is in his 14thseason with the Arizona Cardinals. He was the NFL's 2016 Walter Payton Man of the Year.