What Is the Rams' Halle Berry Audible? Breaking Down the Film
We look at the film to break down the Rams' new favorite play—Halle Berry.
Rams head coach Sean McVay takes pride in coming up with quick play names that his men can both easily hear and remember when they're up at the line of scrimmage. One of his plays, America learned last Sunday, is "Halle Barry." As McVay explained after his team's win over Seattle, "She's a very attractive woman that players know. And it's related to the play." 
Related to the play... how? There's a story behind the play, which we don't know. What we do know is the play itself. Here's what happened on this now-famous play.
On the third snap of the game, the Rams, after gaining a first down, rushed to the line of scrimmage and aligned in a condensed empty formation, with no on in the backfield, two receivers to Goff's left and three to his right. This is a formation the Rams have used more lately, and how a defense lines up against it often reveals the coverage.
McVay was on the headset to Jared Goff. When he saw Seattle's alignment, the Halle Barry call was made.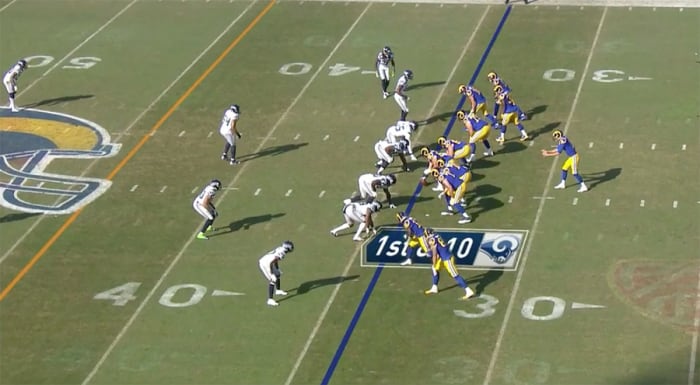 The receiver aligned furthest to the left was tight end Tyler Higbee, and across from Higbee was cornerback Tre Flowers. This told the Rams that the defense was in zone coverage. (If it were man, it would have been strong safety Bradley McDougald aligned over Higbee.) But an offense can anticipate zone coverage from Seattle on first-and-10. Most likely what McVay and Goff wanted to find out is what type of zone. The Seahawks have long been a Cover 3-based zone defense, but as this season has progressed, they have incorporated more snaps of Cover 2. That's what they showed on this play, with McDougald aligned over the top of Flowers. It's possible McVay figured that Cover 2 was Seattle's default response to an empty formation.
After the "Halle Barry" call was made, Higbee motioned down tighter into the formation, leaving Brandin Cooks as the furthest outside receiver to the left. Higbee motioned in tighter because he would be running a backfield crossing route to the other side. 
Higbee was part of what's called a 3-level stretch, where an offense floods one side of the field with three different routes. One route occurs underneath, one goes intermediate and the other goes deep. In a 3-level stretch against a two-deep zone coverage look, one of the routes usually comes from a player crossing the field. The wrinkle here was that Higbee's underneath route was not the only 3-level route to cross the field. Cooks from the left side also ran an intermediate crosser to the right. The third route was Robert Woods's deep route, which originated on the right side. 
The other two items from this play: Todd Gurley ran fake jet motion (a Rams staple) and Cooper Kupp blocked down on DE Frank Clark. Goff rolled out right and read Higbee, then Cooks, then Woods. 
The hope was that Higbee's route and Cooks's route would high-low cornerback Shaquille Griffin. But the Seahawks had a great counter to the play, dropping an eighth defender into coverage, which you see on third-and-long but almost never on first-and-10. However, if Cover 2 was Seattle's default response to an empty formation, the eighth defender dropping was probably an extension of that default call. (Many defenses rush three and drop eight into Cover 2 when they see "empty.")
The eighth defender allowed the Cover 2 defense to widen, leaving Griffin free to take Cooks and linebacker Barkevious Mingo to take Higbee. Goff extended the action and still found Higbee late for a gain of eight yards. 
The question now, for those of you who watch movies and not just silent, nerdy football film (like some of us), How does any of this relate to Halle Barry? Send your ideas to talkback@themmqb.com.