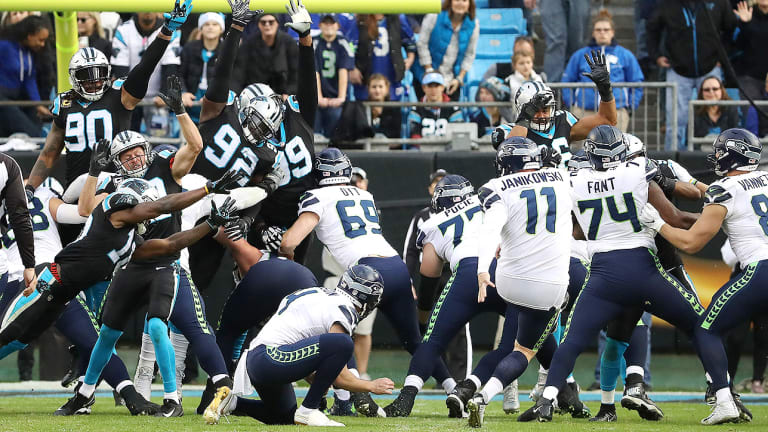 Publish date:
Seahawks in Control of Their Playoff Destiny After Victory Against Panthers
Three straight wins have turned into three straight losses for Carolina, who let a crucial playoff tiebreaker slip through their fingers in a loss against Seattle.
Three straight wins have turned into three straight losses for Carolina, who let a crucial playoff tiebreaker slip through their fingers in a loss against Seattle.
If you believe in destiny—that things will happen to you in the future no matter what—then you must also believe that you cannot control destiny. That's the deal: destiny, or your fate, cannot be mastered. The phrase has gained popularity in sports recently; win this game, teams are told, and you will control your own destiny.
However factually incorrect the phrase is, though, the spirit of the saying was true in Charlotte on Sunday. The winner of the Seahawks-Panthers game would own a crucial tiebreaker between two teams vying for a wild-card berth and, should they win all of their December matches, they would be in the NFC playoffs.
Destiny chose the Seahawks on Sunday. In a game where Seattle led for only five minutes and four seconds—in the middle of the third quarter—until the final second, the Seahawks topped the Panthers 30–27 on a last-second Sebastian Janikowski field goal to move to 6–5.
"That's what we wanted. We would rather be in no other situation," Seahawks WR Doug Baldwin said. "It was a beautiful win for us and now we're in the drivers seat, which is vitally important for us as we continue this run."
The Panthers, who fumbled five times Sunday but amazingly lost none, blasted their season-high in total offense with 476 yards. They possessed the ball nine times and punted just once. Christian McCaffrey touched the ball 28 times for 237 yards. Sure, Cam Newton couldn't convert early on fourth-and-two inside the five-yard line and he threw a third-quarter red-zone interception, but even that didn't sink the Panthers. The undoing of Carolina—losers of three straight—was giving up The Big Play.
Week 12 Takeaways: Seahawks Get It Done Again, Bills and Jags Brawl, Hue Jackson's Latest Humiliation
Seattle's three biggest plays of the game all came in the second half and on third or fourth down—in other words, they were backbreakers. The first came in the third quarter on third-and-12 from the Seattle 33. Russell Wilson found second-year receiver David Moore open for a 54-yarder that got the Seahawks inside the red zone. The ensuing touchdown gave the Seahawks their first lead of the game at 17–13.
"It was a play that Schotty [offensive coordinator Brian Schottenheimer], he thought for a fact it was going to work and we'd been running it," Moore said. "It feels good to go out there and see it executed the way it did. It was just running with speed, make your first move and have a plan to escape."
Down 27–20 with three minutes left in the game, Wilson connected with Moore again. This time it came on fourth-and-three from the Carolina 35. Moore was matched against second-year corner Corn Elder, who kept pace on the go-route but never looked for the deep ball on fourth down.
But credit should also go to Moore, who has emerged as a tremendous find in the seventh round by the Seahawks in the 2017 draft. He never extended his hands early—something receivers coach Nate Carroll had been stressing to his players this week during practice against these Panthers—and he hauled in the pass with his left hand only for the 35-yard score.
"It's just an aggressive defensive back corps," Moore said. "Any defensive back that's real aggressive, they're going to try to get you at the line and they're going to try to play through the ball. The later you can show your hands the better it'll come out for you."
But the clincher came with a minute left in the game. Panthers kicker Graham Gano had just seen his 52-yarder go wide right for his second missed field goal in as many games (he was previously 11-for-11 before last week). Carolina had Seattle in third-and-five at midfield when Wilson, as is his wont, bought time outside the pocket. Tyler Lockett slipped past cornerback Captain Munnerlyn, who moved from inside to outside corner after a first-quarter quad injury sidelined stud rookie Donte Jackson for the rest of the game, and easily caught the 43-yard pass that would set up Janikowski's 31-yard chip shot, his 123rd career make from within 39 yards.
"I worked on the scramble drill and went deep," Lockett said. "The DB kind of tracked it a little bit wrong so I was going to jump for it at first and then I saw I could wait for it to come down so that's what I did."
Less than three weeks ago the Panthers were 6–2 and a game behind New Orleans with their Weeks 15 and 17 tilts set up to decide the NFC South and first-round bye. Now they need the NFC East teams to cannibalize each other and while finding four wins in the final five games to get into the playoffs for the fifth time in six years.
Meanwhile, the Seahawks have gotten their two Rams' losses out of the way. Seattle failed in Weeks 5 and 10 to top L.A., and it finishes with San Francisco (twice), Minnesota, Kansas City and Arizona to close the season.
Who knows what Seattle's destiny is, but at the very least, the team is in control.