Lamar Jackson Dominated the Texans in a Week Where Quarterbacks Dominated the News
Quarterbacks were the story at every level this week: the NFL, college—and somewhere in between. While the present looks great for Jackson, who outdueled Deshaun Watson, the future holds plenty of uncertainty for Tua Tagovailoa and Colin Kaepernick. Plus, Kirk Cousins and Jalen Hurts led comebacks for the ages, and Joey Bosa's cleat expertise could really come in handy tonight in Mexico City.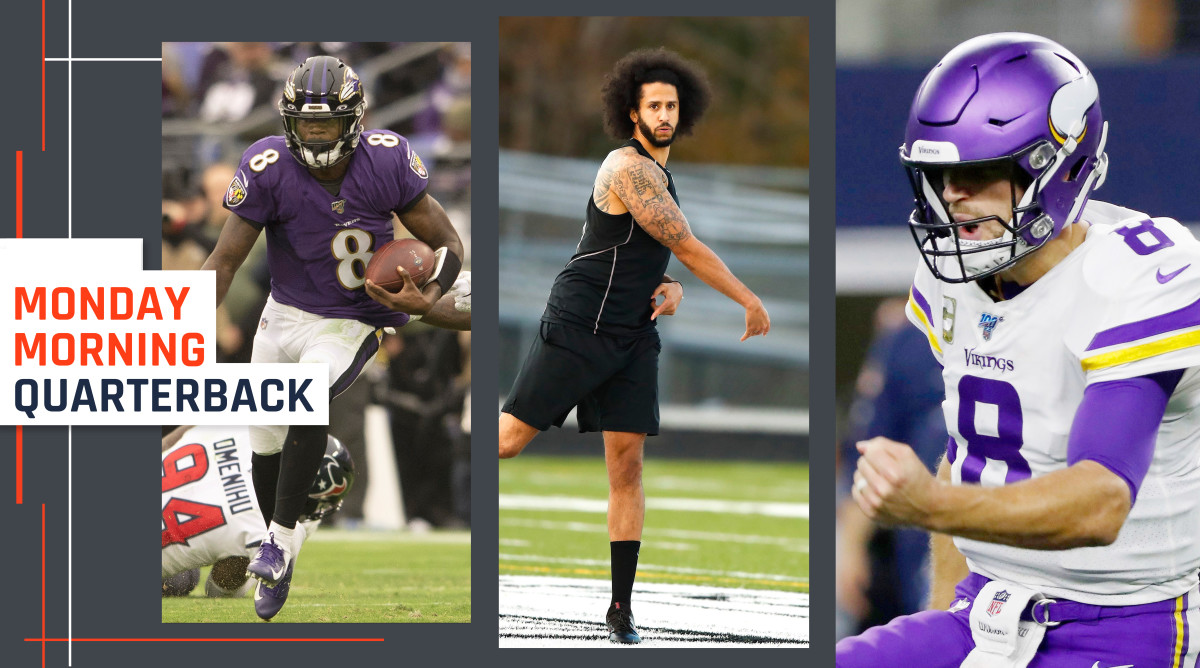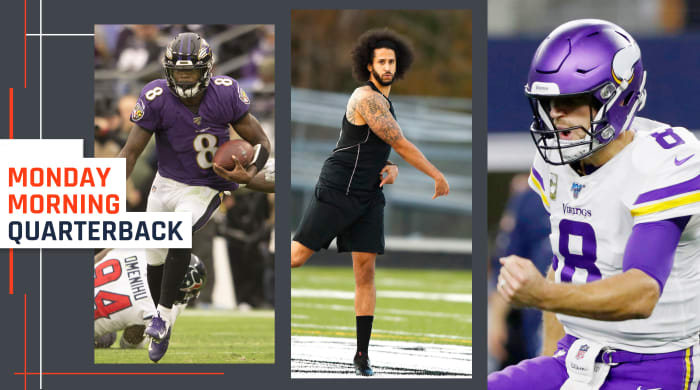 Forget what the rest of us think of Lamar Jackson.
You want to know who really loves the Ravens phenom of a quarterback? The guys blocking for him. And catching the ball from him. And coaching him. And working with him.
It's the players right next to him.
We hit on part of this in last week's Monday Afternoon Quarterback—it caught my attention how after Baltimore beat the Patriots in Week 9, Jackson stuck up for tight end Nick Boyle. And I had a similar moment with Jackson again at 4:30 p.m. ET on Sunday afternoon, as he called from a victorious Baltimore locker room with a budding juggernaut around him.
I wanted to talk about another ridiculous performance of his. He had other ideas, and that came out when I asked him what part of the Ravens' 41–7 blowout of the Texans made him most proud.
"Seth [Roberts]'s first touchdown [as a Raven]," he said, referring to the wideout. "I've been wanting him to score his first touchdown forever—since the season started. He finally got it. That was probably my post proud moment of that game."
And why?
"Because he hadn't scored all year," Jackson responded. "He's been doing a great job blocking downfield, but he's not a lineman and he's not a tight end. He's a receiver and he's always with us. He's versatile even if he's not getting the ball."
Roberts—who played the last four years in Oakland and signed with the Ravens in April, after Oakland released him—has a largely thankless job, as Jackson said. He'd played 322 offensive snaps for the Ravens going into Sunday's game, and only had 10 catches for 115 yards. That's the nature of the Baltimore offense, and Roberts understood it, playing the role the team needed him to play.
Bottom line—Jackson noticed it, and wanted to pay Roberts back. With 9:20 left in the first half, he saw the 28-year-old streaking across the back of the end zone and put it between the ones on his jersey (with a little leap from Roberts to assist). Roberts was pumped to make it 7–0. Jackson, even more so—and that was visible in how CBS showed him skipping to his teammate like a kid heading out to recess.
The Ravens were on their way to a rout. And just as important, the guy leading them there was doing it with a firm understanding and appreciation for how they'd get there.
That's why he wanted the touchdown for Roberts so bad.
* * *
Week 11 is nearing completion and we've got a bunch to sort through with you, including…
• Kirk Cousins' amazing comeback on Sunday—and comeback this season.
• The Tua Tagovailoa injury and all the resulting fallout.
• The Colin Kaepernick workout.
• The NFL's big return to Mexico tonight.
• Much, much more.
But we're starting with Lamar Jackson. Because while it feels like we could start every week with Lamar Jackson, this one felt a little bigger, even if he wouldn't concede it was.
* * *
You heard it all week like everyone else, and we wrote something pretty extensive on it in Thursday's Game Plan—Sunday's showdown between Lamar Jackson and Deshaun Watson, last seen in a 2016 ACC epic between Louisville and Clemson, was going to be a season-defining moment for the teams, the quarterbacks and the league. I was fired up for it. You were fired up for it. We were all fired up for it.
Except, there was one little wrench in all of that. Jackson, as it turns out, didn't see all of this the way that the rest of us did.
"No, because it's not me competing against him," Jackson told me. "I want to win versus any team we play. The game is not about the quarterback, the game is about winning at the end of the day. Our team did a great job of performing today and I'm glad we got the victory. It's never a thing between me and Deshaun. I don't know where that narrative comes from. We just had a great game in college. We played against each other, but it wasn't a rivalry game.
"I guess you guys just made it a rivalry."
So what was he worried about? Getting ready with guys like Roberts. And that's what has struck me about Jackson since the start—beyond that whole question he had to face coming into the league of whether he could play quarterback, he totally understood what it meant to actually be a quarterback.
You're judged on your wins and losses. You're judged on how your teammates around you play. Jackson knows that, which is to say he wouldn't be caught up in the hype.
And when it came time to play, boy was he ready.
On the Ravens' third possession, Jackson completed 5 of 6 throws, that last one to Roberts, to march Baltimore 90 yards in 10 plays. On their fourth possession, a pretty 18-yard throw to tight end Mark Andrews on a seam route capped a seven-play, 70-yard drive. And on their fifth full possession, Jackson was again dealing, going 3 for 3, and drawing a 30-yard pass-interference penalty as part of a six-play, 78-yard drive to make it 21–0.