MMQB: Urban Meyer on Similarities Between College and Pro Football as He Starts a New Chapter
The new Jaguars coach says the two levels have never had more in common and expands on why he made the jump now. Plus, how the Buccaneers are trying to get back, the Cowboys are still high on Mike McCarthy, remembering Floyd Reese and much more.
JACKSONVILLE — The voice of Urban Meyer's chief of staff, Fernando Lovo, booms over the speakers surrounding the practice fields off the parking lots abutting TIAA Bank Field.
Difference … difference … difference!
With the start of this particular period—the difference period—all 90 guys on the roster are doing something. Some linemen are hitting bags, others are holding them. Some backs are holding balls, others are slapping at them. And there's a movement and tempo to the whole thing that's unmistakable and clearly intentional. As Lovo's voice gives way to blaring music, no one's standing around. Everyone's moving. And moving urgently.
It used to be that running things this way in the NFL was newsworthy. When Chip Kelly hauled gigantic speaker towers out to practice in 2013, reporters tweeted playlists. When Jim Harbaugh split his team into two in 2011, to maximize time in a post-lockout training camp, it was considered an innovative way of adapting college time constraints to NFL efficiency. When Pete Carroll brought names to days of the week (Competition Wednesday!), it was first seen as hokey, and later considered central to how he built the Seahawks.
And in that way, one point Meyer made to me when we got together after Jaguars practice on this day, Monday Aug. 16, was proven. The lines between college and pro football have, indeed, been blurred, and that should ease Meyer's transition.
Everyone plays music at practice now. Everyone maximizes reps. Everyone steals ideas.
"The college game and NFL game, in my opinion, it's never been closer," Meyer said. "The college player has changed. The NFL scheme has changed. You think about the two of those things, NFL scheme used to be dramatically different than college. And the college player used to be much different—the young kid. Those aren't young kids anymore. Now, a lot of them are gonna start getting paid, the empowerment that's gone on in college football, the mindset of a college athlete, especially when you get to the players I was fortunate to have, it's all about the NFL, make no mistake about it.
"The two worlds have probably never been closer. There are differences, but they've never been closer."
Which is to say that, on one hand, the NFL that Meyer's entering this year is closer to what he's used to than it's ever been before. Yet, on another, camp here is so distinctly Meyer's from the minute you walk into it—recognizable to anyone who followed his rise through the college ranks, from Bowling Green and Utah to Florida and Ohio State—that you could probably pull up three- and four-year-old tape from Columbus and not tell the difference.
The upshot, then, is twofold. One, Meyer sure looks ready for the NFL. And two, the rest of us get to see if the ways of one of the most successful coaches in the century-and-a-half history of college football will fly in the pros. What happens next, either way, like Lovo's voice booming over those speakers, won't be subtle.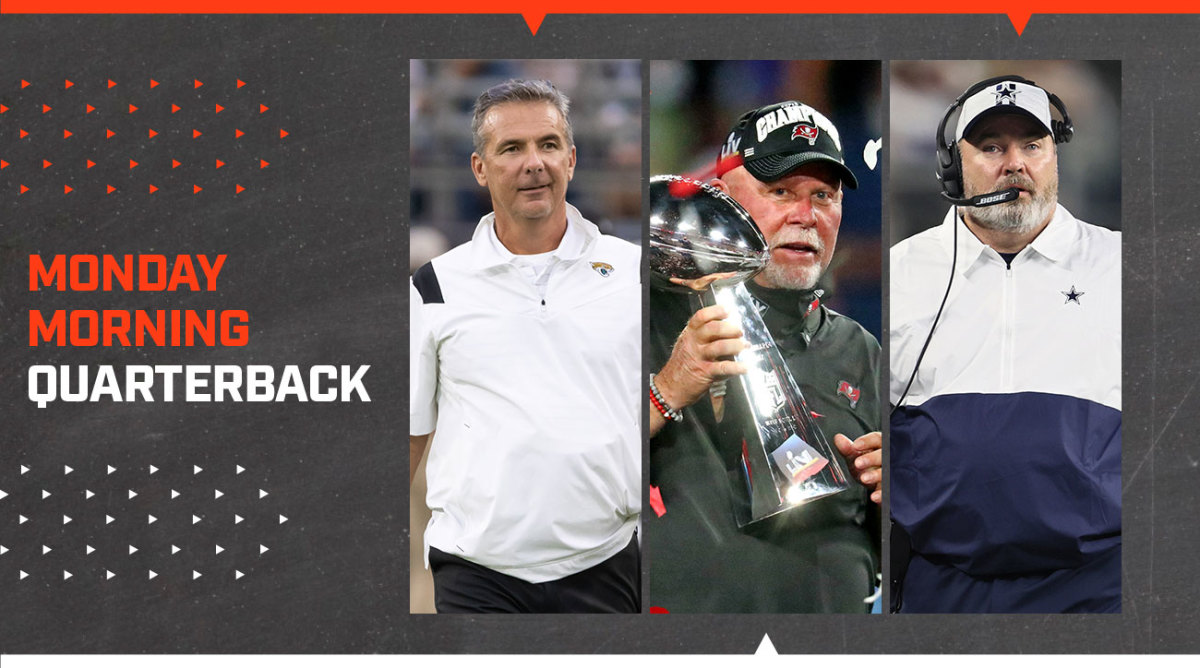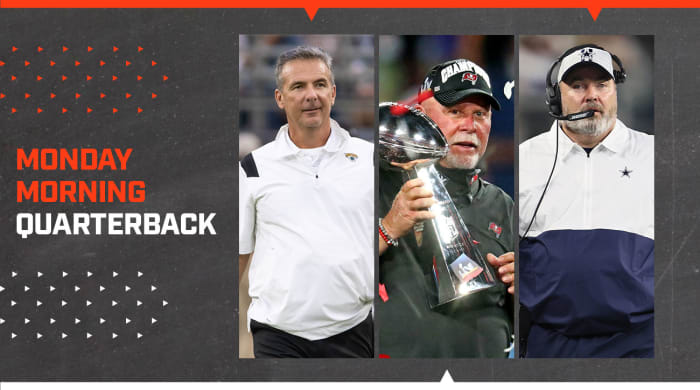 ---
My camp travels are winding down, but that doesn't mean things are any slower in the NFL. Two and a half weeks until the opener, and in this week's column, you'll find …
• A look at the post-championship Bucs, and where they are going into 2021.
• A check-in with the Cowboys, as team and coach look for another restart.
• The loss of a good member of the NFL fraternity.
But we're starting in Jacksonville, which for NFL-purpose is very much now MeyerTown.
---
Before we dive into how Meyer's put his stamp on the Jaguars' franchise since taking the job in January, I figured one elemental question had to be addressed: Why?
Why, after winning three national titles at two college football bluebloods, is Meyer out here in a long-sleeve Dri-Fit and mesh shorts? Why, after health issues afflicted him near the end at both Florida and Ohio State, does he need to be marching around a practice field in the oppressive Southern summer? Why, I asked, not just make off like his friend Jimmy Johnson, who retired from coaching to a cushy job at Fox and a house in the Keys at 56?
"I prayed hard on it," the 57-year-old Meyer answered. "It's funny you bring Jimmy Johnson into it. He's been a mentor, a guy that has become a mentor. He wasn't in my younger days, but the last couple years, I've always admired him, and we've become friends. And I just felt an emptiness, and I had some opportunities in college. And he made a comment to me, You've reached a point where you should just do what you want to do.
"And do I really want to go recruit 24/7 like it became? I've done that. I've always admired, appreciated and respected the NFL, and then this Shad Khan guy, once I got to know him, I mean, I love the guy. He wants to win so bad. I've always loved Jacksonville, Florida. And it's like this puzzle got put together. I looked at film endlessly, saw some decent players here, and I thought, let's go take a swing at it. That's why we did it."
Now, here's the interesting part—Meyer explained that he did, indeed, feel emptiness the last two autumns, but was never overcome by it. When I asked if he could envision a time when he'd be O.K. just living out his day on a boat somewhere, he answered, "I thought I was there. And I would've been fine without it, to be honest with you."
Bottom line, he'd managed the void. He was around his family more. He was around the Ohio State program he had handed off to Ryan Day after the 2018 season, keeping an office on campus and being a resource as needed. He had a prominent TV gig as a studio analyst on Fox's Big Noon Kickoff, sitting behind a desk every week with host Rob Stone and guys with college-football legacies of their own in Brady Quinn, Reggie Bush and Matt Leinart.
He even found a little competition in Fox's taking on ESPN goliath College GameDay. But to say that was the same as putting on the headset every Saturday? It wasn't close.
"I do love those guys [at Fox], but at the end of the day, you didn't win or lose," he said. "The biggest decision you make, I'd tell people this when I was at Fox, is steak, chicken or fish on a Friday night."
And while that wasn't exactly unbearable, that the void lingered through the last two years had a way of surfacing what about football Meyer really missed.
"It was hard not being part of a team," he continued. "To say I love football, I love teams. I love any team that I can be a part of. I do love the game of football but not as much as I love a team and having a greater good where you get a group of people together and say, Let's come together and do this. That's what I really missed dearly."
That's why, ultimately, he spent the 12 months leading up to his decision to take the Jaguars' job studying NFL programs—and studying specifically how good teams were built and how bad teams came to fail. It's also why when the location, resources and quarterback coalesced into the perfect opportunity, Meyer couldn't resist.
---
Really, Meyer's study of NFL teams started informally, way further back than January 2020.
In fact, when Meyer was at Utah and Florida, the pros started studying him, which led to Meyer's gaining more access to the league. So he got to meet people and get insight into what worked and what didn't, and then in 2006, Bill Belichick invited him to Foxboro. And Meyer went with a plan: "I loved watching Brady throw. That's not why I went there. I wanted to see the culture of the Patriots."
In short, he went for, and left with, an education.
"I'll never forget it," he said. "I was a young coach at Florida, and he invites me up and I get chills thinking about it. Because I'd been at 20 NFL camps, and quite honestly, I walked away a few times going, What did I just watch? I walked away from that one going, My gosh, here's Mike Vrabel and Tedy Bruschi running down full speed on scout kickoff with the beanies on their head. I mean, full speed. Everyone else is talking scheme and I grabbed Bruschi and Vrabel and said, Just tell me about this place, man.
"One of them says, The one thing that's never going to happen, it's never gonna get to Coach Belichick's office; we'll handle it in the locker room. If a guy gets in the way of us winning, he won't be here. And it was the same thing with Jimmy Johnson, the same thing with Michael Irvin. We had them come speak to our team, and that's the message I wanted from them."
Meyer then said, "It's so easy to blame a player and say, He's a bad player. Most cases, that's not true at all. There's a bad culture."
Meyer's study of NFL teams in 2020 only confirmed that sentiment, with his visits with the Saints providing a flashpoint. Among the Meyer alumni in the building were Michael Thomas, Vonn Bell, and Marshon Lattimore, and the feedback was consistent coming from people the coach trusted: The way they do it here is the way we did it with you.
"Everything's competitive, everything's a meritocracy, players get pushed but they get treated great, and those are all things I look for," Meyer said. "So the word culture comes out, the New Orleans Saints' culture. There are others, the Steelers are a team, they're very close to us at Ohio State, and Kevin Colbert and [Mike] Tomlin, they were great, I would always spend time with them and just admired the way they went about their business.
"And my players, [Ryan] Shazier was there for several years, so I'd talk to those guys and the word that always came out was the same—culture. This is the way they do it."
Years ago, Meyer was seen as an offensive innovator and a forerunner in the modernization of the option game. In many ways, it became his calling card, and greased the skids to get him a head coaching job at 36, to Utah at 38 and Florida at 40. But over time, he learned what guys like Shazier, Thomas, Lattimore and Bell were telling him had more staying power.
"Fifteen years ago, we did something that was unknown," he said. "It was seen as a novelty, and we really shocked a lot of people. We put 700 yards on someone, I remember the guy going, 'What is this? We don't know what you're doing.' But everyone's doing it now. … It's a much different world, and it's not like we're going to trick the NFL."
Moreover, he learned through his research that the best in the NFL aren't leaning on their ability to do that, either, with on-field strategy just a piece to a larger puzzle.
Belichick could out-scheme anyone. But what outstripped that in importance in how the Patriots were built were the things Meyer witnessed in Foxboro in 2006, and the things his ex-players in New Orleans and Pittsburgh were telling him. Yes, X's and O's matter—and that's why Meyer hired guys with NFL experience like Darrell Bevell, Brian Schottenheimer, Joe Cullen and George Warhop to his staff—but having what the Patriots, Steelers and Saints had, and what he had in four college stops, was more important.
Getting that part, Meyer knew, was going to come down to the players.
---
As Meyer said, just as the scheme gap has closed from college to the pros, so too has the difference in what players are like from one level to the next. So as he sees it, the 18-year-old he was getting at Florida and Ohio State, really isn't that different from the 22-year-old he's drafting to the Jaguars now—especially when it comes to what they're looking for from their coaches.
"I remember Bill Belichick came down to my practice one time and said, You've got more first-rounders than I do," Meyer said. "And we'd look at our roster, and you'd have about 35 guys who were at some point going to be on NFL teams. So you treat them differently than the kid at Bowling Green. Plus, the players changed. It's all about value. I really learned to appreciate that.
"When you're coaching guys like [Joey] Bosa, [Nick] Bosa, Chase Young, Zeke Elliott, you're darn right it's about value. So you treat them much differently than a player 20 years ago."

That approach, in turn, created the roadmap for how the old psychology major sees himself reaching pro athletes in his new job, like he did in his old jobs.
"It's based on three things—we're gonna maximize your value, extend your career and win," he said. "And those three things, every day we wake up as coaches, I ask our coaches all the time, Are you maximizing that player's value? And whether he plays here or moves on, our job is to maximize his value. How do you do that? Fundamentals, learning how to play the game and winning. You get associated with a losing team, your value's not gonna be very high. And players buy into that, these players have really bought into it.
"We gotta play better, but you hear that term buy-in. I'm fortunate, we really haven't had anyone not buy in. I think—I don't think, I know that if a player knows you care about his value, you care about extending his career and you truly want to win, they're all-in."
This isn't just lip service, either. When Meyer was negotiating to become Jaguars coach, he asked Khan for a new state-of-the-art facility, and to give him the financial resources to staff every facet of the football operation as he saw fit.
The result is a massive coaching staff, blending college coaches who carry background in the Meyer way with the aforementioned coaches rooted in the pros; an overhauled sports-performance group; certifications for trainers and performance coaches in areas like dry-needling and cupping; and hardware for the existing facility like float therapy tanks, cryotherapy and photobiomodulation therapy chambers, and wellness cocoons.
And that stuff is around for the interim while the team's new facility (scheduled to open in 2023) is being planned and built.
"We're reinvesting in the most important commodity in any organization, that's the players," Meyer said." I've always believed in pushing players to the edge, but then also treating them with the very best of the best. You talk about maximizing a guy's value, how do you do that? Keep them healthy. How do you extend their career? Keep them healthy. Give them all the tools. I don't believe a professional athlete should have to pay for anything. I believe that should all be done in-house. Fortunately, we're able to do that now."
It's obvious even at practices like the one I was at—where Meyer and strength coach Anthony Schlegel have sports-performance liaisons for every position group, so every player is warming up in a way conducive to how his position is played.
And it's obvious not just in the ways that Meyer is giving to the players, but what he's asking from them too. In an era when some teams are staging 90-minute practices, the Jaguars' session on this day went well over two hours, and stretched into the noon hour with the heat bearing down on coaches and players alike. This working, like Meyer said, requires buy-in, and Meyer knows getting buy-in means bringing certain types of people on to his roster, rather than just getting talented people and trying to change them.
To find them, Meyer and his coaching staff have worked together with GM Trent Baalke and his staff to grade on five categories—competitive spirit, toughness, leadership, intelligence and adaptability. Meyer told his coaches and scouts to look at players in rivalry games, on third-and-short and on fourth down, saying, "That's when competitive players play their best. I didn't say perfect, but they play their best, they play the hardest."
And, Meyer continued, just as he's sought buy-in from players, he wants it from scouts and coaches on players they bring in, with Rayshawn Jenkins a real-life example. Before the Jaguars signed the Florida native, Meyer did his homework, eventually talking to Jenkins's Chargers teammate K.J. Hill, who played for Meyer at Ohio State and told him, "Coach, he's got it all. He's exactly what you want."
So Meyer bought in on Jenkins, and is now accountable for him, in a way that Meyer wants his people accountable for every player on the roster.
"Trent and I are tied at the hip," Meyer said. "And coaches are very involved, and they're held accountable. And ultimate authority goes to that coach. Who goes in that room, I will never ask a coach, if he slams a fist on the table, I don't want that guy, to take him. Because his job's on the line, and whoever goes in that room, he's gotta coach. And he better do his homework too."
Because, as Meyer sees it, if the Jaguars are going to invest in a player with all the resources Meyer insisted on getting from Khan, they're expecting the investment to be reciprocated.
---