MMQB: Cancer Helped Ron Rivera Find His Voice, Including on the COVID-19 Vaccine
The Washington coach shares how the last year has helped him become more of an advocate on various issues. Plus, training camp trip updates on Joe Burrow, Brandon Staley and Matthew Stafford, and much more.
PROVIDENCE — Eight blocks from this particular hotel lobby, there's a Rhode Island seafood institution that Ron Rivera loves. He was introduced to it by a good buddy of his, one he went to Seaside High and Cal with, who lives on Cape Cod. It's become their tradition over the years, whenever Rivera's NFL team is town to play the Patriots, to meet there the night before the game.
They were there on Wednesday night, and the Washington coach split some calamari with his buddy and his buddy's wife. Rivera also had a single slice of bread and ordered the Atlantic cod as his entrée, with mashed potatoes and green beans on the side. It's a meal he always looks forward to, and something he had circled right away when the NFL preseason schedule was released.
But as much as he wanted to, Rivera couldn't finish his dinner, leaving scraps of fish behind.
"I couldn't eat it all, and I love the seafood," Rivera said, about an hour later on a couch at the team hotel. "But I just can't. It's too hard to swallow. That's still frustrating. It's hard still to taste; I don't taste everything yet either. So there's all these little things, these little indicators, that bring me back: You're not there yet. My wound, my scars, they're healing, some are going away, but if you look, some are still there. And so every time I shave …"
And this is where Rivera pauses, and recounts the story of the trigger that led to his getting checked out last summer and ultimately being diagnosed with squamous cell carcinoma. He was shaving and noticed a lump on his neck. He figured the swollen lymph nodes might be due to strep throat so he went to get tested for that. Doctors gave him antibiotics and told him to keep an eye on it, and Rivera went on vacation. A few weeks later, it was smaller, but still there. He again called his doctor, who told him to monitor it closely for another week.
It didn't go away. He went in again. He left with a cancer diagnosis.
It's been a little over a year now, and Rivera never missed a game and wound up shelved only for a few practices. He was the bellwether for a steady Washington team in his first year as coach there, with news-cycle-driving controversies involving the owner and the team's nickname surrounding his group, and that group won the franchise its first division title in eight years nonetheless. So in a lot of ways, it's easy to tag him as unshakable.
But that would imply that the last year hasn't changed Rivera. Which definitely isn't true.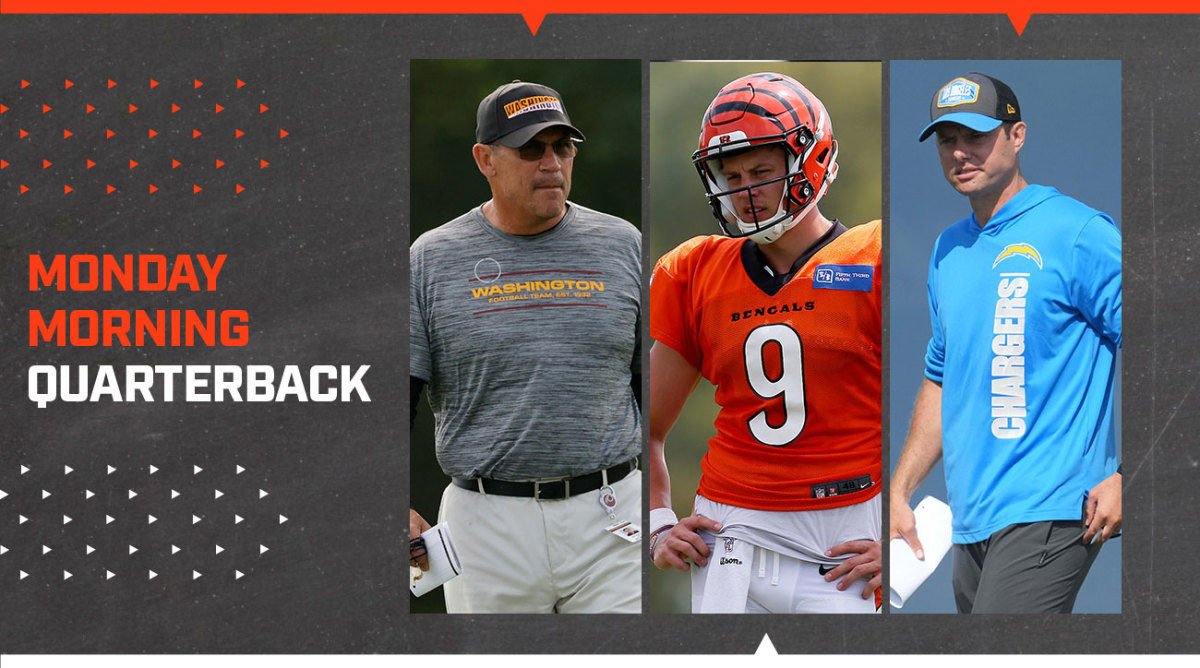 ---
Less time on the road this week—I'll be back out next week—but there's still plenty for us to get to with the first full weekend of preseason games wrapping up. In this week's MMQB column …
• A dive into where Joe Burrow is going into Year 2 with the Bengals.
• How Brandon Staley's been innovative with his Chargers program.
• Rams QB Matthew Stafford's arrival in Los Angeles.
But we're going to veer off the field to start this week, with a 59-year-old coach who's been through a lot, and now feels compelled to let world know how he's come out of it.
---
Rivera's a football coach and, while he's always been one of the more personable ones in the NFL, he's like a lot of his peers in that there'd long been guardrails on where he'd go publicly. In some cases, he didn't feel like it was his place to talk. In others, maybe he didn't think his words would resonate. And then the last year happened. He had to speak on his own situation. He had to speak for the team on situations he wasn't responsible for.
The result is Rivera has found his voice in a way he hadn't used it before. So if cancer changed Rivera, and he says it did, then this is where—and he believes it's for the better.
"As a person, I've become a little more of an advocate on things," Rivera said. "I've sensed and feel like I speak up a little bit more on some things. Like the medical issue—to me, it's the craziest thing that we're the richest country in the world and we don't have affordable health care for everybody, that we have a health-care system that's broken, that I got denied proton therapy [for my cancer] initially.
"Thank goodness our owner and my doctors advocated for this treatment, specifically. But being told that just blew me away. Then to find out more, I had someone reach out to me and say, Hey coach, heard you want to be an advocate for things, would you mind if you told me your story, and I could put it in this book I'm writing to advocate for proton therapy? Which I did. So she tells me the story of this one woman."
Rivera then shared that story. The woman wanted proton therapy—the treatment Rivera got—to manage her cancer, on the advice of her doctor, who said going through photon therapy instead could make her sterile. She was denied it. She went to appeal the decision, but her doctor told her she didn't have the time to ride out a lengthy court battle, so she had the photon therapy instead. And the risk her doctor warned her of was realized.
"She lost the opportunity to have children, because she was denied the opportunity to get proton therapy," Rivera said. "So that's kind of heightened my sense for social things. I can make a tangible difference for something other than football."
That, in a roundabout way, brings us to the other example Rivera raised to me about where he's using his voice—which connects back to his football team.
It's no secret that Rivera's been advocating for his players to get vaccinated against COVID-19, and his style has been more forceful than perhaps any of the other 31 head coaches. It's also well-documented that his own situation, being immunocompromised as a cancer patient, has been woven into the message he's sending his locker room. But this one's even more personal for him than you might think.
The form of skin cancer Rivera contracted is a result of the HPV virus. Doctors told Rivera that the virus could've been sitting dormant in his system for years (they couldn't say how long it'd been there for sure) before causing the cancer—and also that if he were younger, he wouldn't have been at risk. That's because high schools and colleges now require the HPV vaccine, meaning that, because they've gotten, yes, a vaccine, the players he's begged to get vaccinated for COVID-19 aren't as at-risk as he was to get the cancer he did.
Suffice it to say, Rivera didn't need to be asked twice if he wanted the COVID-19 vaccine. His group of the immunodeficient was second in line for it nationally, behind only health-care workers and the elderly, so the Washington coach got his first shot in January and his second in February. Even still, because of his condition, he can't let his guard down. In the team hotel Wednesday, he wore a mask, and he held it in his right hand as we talked.
"I have to be careful, I have to wear these," he said, shaking the mask. "We've had a couple situations with players already testing positive for COVID, and that scares the hell out of me, because I interact with these guys. I'm close to these guys, and sometimes I forget to put my mask on for extra insurance. I know I'm vaccinated, and I know it's going to keep me from getting deathly ill, but I can still get it. And who knows? So I have to be careful.
"There's enough positive science out there, if they're going to tell me that over 600,000 people have died and 99.9% are people that were not vaccinated, well, what about th