Have we seen the last of these notable NHL free agents?
Tim Thomas, Ed Jovanovski and Todd Bertuzzi are just three of the notable unsigned free agents who have likely played their last games in the NHL.
Every player dreams of ending his career like Lanny McDonald or Ray Bourque, with one final twirl around the ice, Stanley Cup raised high in the air and the Hall of Fame beckoning.
But not everyone gets to go out on their own terms.
A month into free agency it's clear that there aren't enough chairs left for everyone who is hoping to find a seat in the NHL for next season.
There are scores of proven players waiting by the phone for an offer, but in the wake of a nearly $600 million spending spree by teams, the job market has all but dried up. The data at capgeek.com suggests just how grim the reality is for unsigned vets. Fully 14 of the 30 teams have the full complement of 23 (or more) players under contract. The others have one to three spots open, and almost all of those are expected to be filled by their own yet-to-be-signed RFAs or prospects from within the organization.
Do the math. While some players still have reason to hope—Martin Brodeur, Ilya Bryzgalov, Daniel Alfredsson, Michael Del Zotto and Dustin Penner, for example—it's clear that a number of veterans are going to be dragged unwillingly into retirement or forced to pack their bags for more exotic but less lucrative locales.
Here's a look at some of the noteworthy players who may have skated their last shift in the NHL:
Forwards
Devin Setoguchi: The speedy winger is just 27, but after bouncing his way through three organizations in four seasons Setoguchi is saddled with a reputation for maddening inconsistency. He doesn't score enough to play in anyone's top-six (11-16-27 last season with Winnipeg) and he doesn't do enough away from the puck to be reliable in a depth role. It's conceivable a club riddled by injuries or training camp failures could come knocking, but it seems more likely that Setoguchi will have to refocus his commitment to the game elsewhere.
Ray Whitney: The Wizard was an afterthought in Dallas last season, scratched some nights, limited to the fourth line and some light power play duty on most others. He believes there's still some life in his 42-year-old legs, but is only interested in playing in Arizona where his family resides. The problem with that? The Coyotes already have 13 forwards under contract without counting top prospect Max Domi, and don't seem to have room to repatriate Whitney. Barring a space opening via injury, he looks to be out of options.
Todd Bertuzzi: Despite rumors earlier this month, Bertuzzi has not signed with the Carolina Hurricanes or anywhere else for that matter. The 39-year-old winger was largely ineffective last season and routinely buried in the press box, where he spent four of Detroit's five playoff games against Boston. But it's not just age and injury problems (he had shoulder issues last season) that make it tough to see him finding another NHL opportunity. Bertuzzi is finally headed to court in September to face a civil lawsuit for his 2004 on-ice assault of Colorado's Steve Moore. That's the sort of distraction no team wants to bring on itself.
Ryan Malone: Given all that's happened—Malone was busted on DUI and cocaine charges last April and bought out by the Lightning in June—it's hard to remember that he started last season on Tampa Bay's top line alongside Steven Stamkos and Marty St. Louis before injuries and ineffective play relegated him to the fourth line or the press box. Given the battle he faces to get his life back in order, Malone will get plenty of support from around the league ... but a roster spot is out of the question.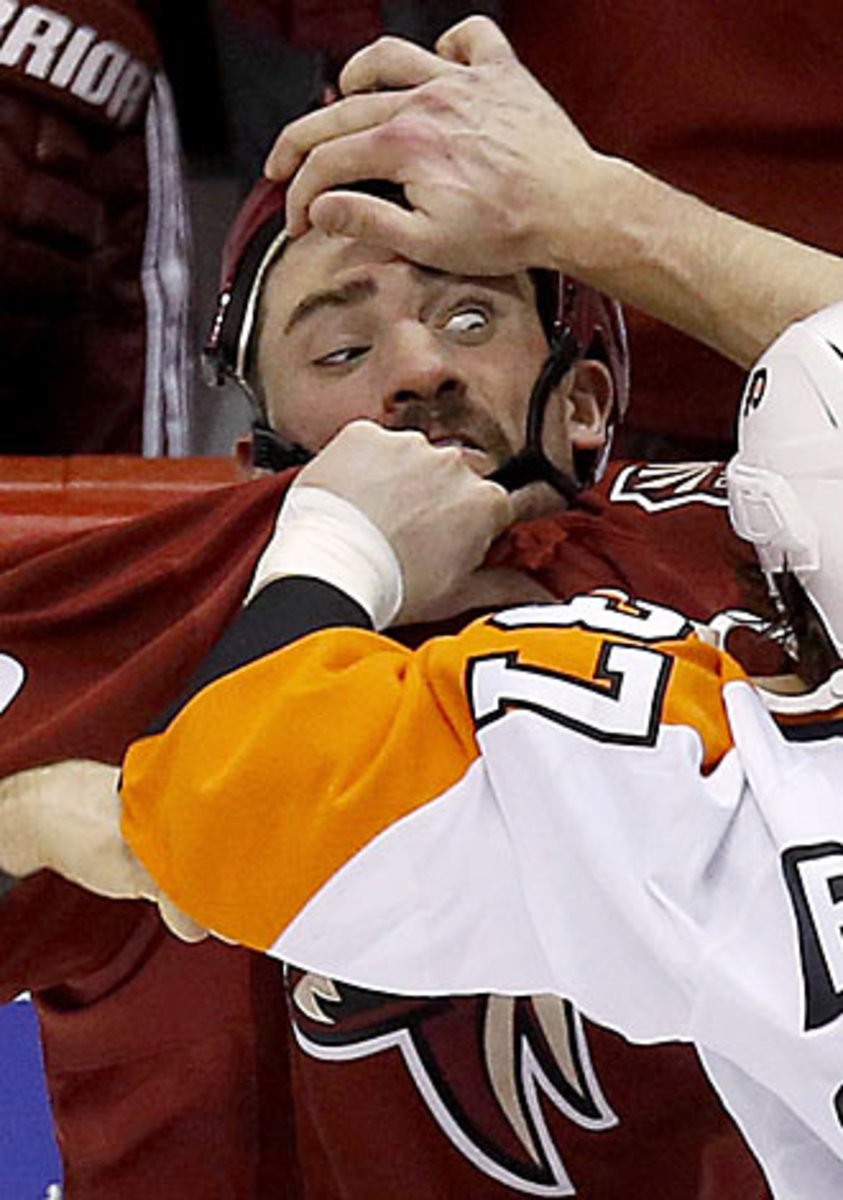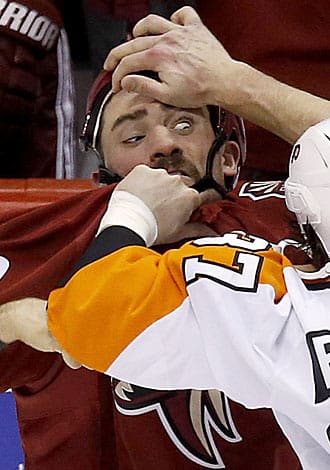 ​​​Saku Koivu: The 39-year-old center hasn't officially announced his retirement, but he put his California mansion up for sale this week, suggesting he's ready to pull up stakes and head back to Finland after a marvelous 18-year career that saw him score 832 points over 1,124 games.
Scott Gomez: Even with centers in high demand, the 14-year-veteran looks to be out of options after washing out in Florida last season. With just six goals to show for his last 125 games, it's hard to picture any team seeing this 34-year-old as a viable option.
Paul Bissonnette, George Parros, Kevin Westgarth, Zenon Konopka, Krys Barch, Michael Rupp: The herd of one-dimensional fighters will be  thinned out again. There's always a chance that a club will decide after training camp that it's a bit too soft or has some young players who could use a bit of space, but it's a good bet we've seen the last of at least five of these fan favorites. The tree huggers win another round.
Defensemen
Douglas Murray: Somehow it took the Canadiens 53 games to figure out what the Sharks knew the year before—the game has gotten too fast for the nine-year vet to keep up with it, both mentally and physically. At 34 he's done in the NHL, but there's always a chance he could extend his career in a lower league overseas.
Francis Bouillon: After 14 NHL seasons, it looks like his tank is finally empty. Bouillon was a disaster last season in Montreal, a lousy possession player who seemed to drain a little bit from everyone around him. Undersized and 38, he'd be a hard sell even at the league minimum.
Ed Jovanovski: After being honored as the team's Masterton Trophy nominee last season, Jovanovski spoke of wanting to finish out the final year of his contract in Florida and then possibly join the organization in an off-ice role. The Panthers decided to accelerate the process, buying out the 38-year-old defender and setting him free. Can't blame the Cats for that. Jovanovski had been a good solider, but having played in only 109 games during the past three seasons, his body just isn't up to the daily rigors of NHL competition.
Mike Komisarek: Injuries and more than a few trips to the press box limited the 32-year-old to just 32 games last season, his first after being bought out by the Leafs. A couple years back a player with his skill set might have latched on elsewhere, but the game's passed him by.
Sami Salo: There was a lot to like about his game last season in Tampa, where he proved he could still drive possession and put up a few points even as the legs slowed down. But he'll turn 40 in September and that's a tougher number to swallow than the $3 million or so he'd command in salary. Maybe there's a contender out there who could make it work, but there's no obvious fit for him.
Joe Corvo: His skating and puck-moving ability were catnip to GMs who year after year were willing to overlook the larger flaws in his game. But after cycling through four organizations over the past five seasons, Corvo's charms have faded. If he wants to keep playing, Europe might be an option.
Goaltenders
Tim Thomas: For a guy who desperately wanted to start, he assumed a backup role with quiet grace last season after being traded to Dallas at the deadline. But a team looking to fill those duties this time around has much safer, and cheaper, options than a 40-year-old keeper coming off a year in which he posted a .908 save percentage and 2.88 GAA—both figures below the league's statistical average. He could probably find a gig in Europe, but with young school-age kids in the mix, he's more likely to hang up his pads.
Tomas Vokoun: He was limited to appearances in just two minor league games last season by a blood clot in his pelvis that nearly ended his life. Though he's said to be healthy now, he's a 38-year-old coming off a lost season. It's said he's still "fielding offers," but it's hard to see where Vokoun might fit in the league next season.