2015 NHL Trade Deadline: blogging the day's action
Trades and analysis of NHL Trade Deadline Day 2015.
Well, another trade deadline day is over except for the shouting. We covered the action with updates and analysis as the 3 p.m. EST finish line quickly approached and passed after a brisk run-up during the weekend that saw some coveted players (Keith Yandle, Antoine Vermette) moved to Stanley Cup contenders (Rangers and Blackhawks, respectively).
Here are my takes on the notable deals that went down today: 
• 4:12 p.m. EST
To Canucks: Sven Baertschi
To Flames: 2015 second rounder
The first deal between these old Smythe Division foes in 25 years could be one of the day's most interesting. Baertschi, a 2011 first-rounder, has a world of offensive skill but never displayed the commitment in the other two zones to earn a full-time role with the Flames. The Canucks hope that they can ignite his intensity and get the most out of this crafty offensive player.
The Flames, who traded Curtis Glencross on Sunday and announced captain Mark Giordano would be lost for the season with a biceps injury on Monday, can probably kiss the playoffs goodbye. Still, by adding this pick they now have their own first, three seconds and two thirds heading into one of the most exciting drafts in years. Their time isn't far off.
______________________
• 3:52 p.m. EST
To Bruins: Max Talbot, Paul Carey
To Avalanche: Jordan Caron, 2016 sixth-round pick
2015 NHL Trade Deadline: What buyers need and sellers have
Not to make Peter Chiarelli today's whipping boy, but unless he knows something about next year's salary cap that the rest of us don't, this is an inexcusable deal for the Bruins. That's not a knock on Talbot, though he's not the answer to any question that is being asked of this team. It's more about his contract. The 31-year-old forward has one year remaining on a deal that carries a cap hit of $1.75 million. That's a hefty check for an aging, slow-of-foot fourth liner under any circumstances, but especially for a team that will head into the summer needing to find the money to re-sign Dougie Hamilton, Reilly Smith, Torey Krug and possibly Carl Soderberg. It seems like an irresponsible allocation of the team's limited cap space.
Caron, on the other hand, will be a free agent this summer and would have been off the books, creating some of the space that Boston needed. The failed 2009 first rounder now gets the fresh start he deserves with a young, rebuilding Colorado team. Here's hoping they have room for him to figure out his game on their fourth line.
Carey, a late addition to the deal, is a local boy who won two national titles with Boston College. His value though is minimal. He passed unclaimed through waivers earlier today suggesting he's regarded as nothing more than an AHL depth player...and yet the Bruins appear to have added a late pick to secure him in the deal. Brutal.
______________________
• 3:39 p.m. EST
To Ducks: James Wisniewski, 2015 third rounder
To Blue Jackets: William Karlsson, Rene Bourque, 2015 second rounder
Jordan Leopold's daughter writes letter asking for him to be traded
Here's Anaheim's answer to the acquisition of defenseman Andrej Sekera by the Kings. With Cam Fowler, Hampus Lindholm, Francois Beauchemin, Sami Vatanen, Simon Depres and now Wisniewski, the Ducks have a blueline that has a nice mix of skill, speed, scoring ability and physicality, and one that seems capable of spearheading a deep playoff run. Wisniewski, who last week gave every indication of wanting to stay in Columbus, returns to the team he played for from 2008-10 to shore up its top four. He brings a heavy shot, smart positioning and a fierce competitive spirit. He could prove to be the most impactful acquisition of the day.
The Jackets took on regular scratch Bourque and his brutal $3.33 million contract (cap hit: $2.562 million) to go along with two nice assets for their rebuilding plan. Karlsson, who was redundant in Anaheim behind Ryan Getzlaf, Ryan Kesler and Rickard Rakell, is a skilled, speedy center who could mature into a middle-six role when he gets some experience. The second-rounder might not be a significant upgrade on the third-rounder they gave up, but it is the better pick, so that's another win for Jackets GM Jarmo Kekalainen.
______________________
• 3:35 p.m. EST
To Ducks: Simon Despres
To Penguins: Ben Lovejoy
Another head scratcher of a deal. Lovejoy, dumped by the Pens two years ago in exchange for a fifth rounder, figured out how to play the game in Anaheim. Unfortunately, it got away from him a bit over this season and he went from skating alongside Cam Fowler on the top pair to eating popcorn in the press box. Returning to Pittsburgh gives him a chance to get back in the groove and bring some character and experience to a team that's clear about its "Stanley Cup or Bust" intentions.
Still, it's hard to figure out is why Jim Rutherford was willing to give up Despres to repatriate him. The former first rounder is eight years younger than Lovejoy and while he hasn't yet found his footing his upside is considerable. He may or may not play a significant role for the Ducks this spring, but he feels like a serious overpayment.
______________________
• 3:12 p.m. EST
To Wild: Chris Stewart
To Sabres: 2017 second rounder (Buffalo also retains 50% of Stewart's remaining salary)
Chris Stewart found out he was traded to the Wild on live television
Geez, Tim Murray. What a day he's having. An hour after sealing the tank job with the Neuvirth trade, he manages to secure an outstanding return for a pending UFA who can generously be described as "painfully inconsistent." Sure, he had to foot part of Stewart's tab for the rest of the season to make it happen, but that second is well worth the check he'll have to write. The only box Murray didn't check today was ditching underachieving forward Cody Hodgson. Sabres fans have to be thrilled.
Should Wild fans be equally ecstatic? Maybe. To be fair, Stewart has put together a pretty nice run of hockey over the past few weeks, getting pucks to the net and chipping in nine points. And sometimes a change of scenery or a new voice in his ear is all a player needs to get his game back in order. The trick for coach Mike Yeo is finding a place for Stewart on a roster that finally seemed to have some real chemistry up and down all four lines. Wherever he fits in, they'll need Stewart to establish himself as a force along the boards and down low to help create space for some of the team's smaller forwards.
______________________
• 2:52 p.m. EST
To Blues: Olli Jokinen
To Maple Leafs: Joakim Lindstrom, conditional 2016 sixth rounder
Jokinen was acquired as part of the Cody Franson/Mike Santorelli deal from Nashville last month expressly to be flipped at the deadline, so there he goes ... again, traded for the seventh time in his NHL career. A conditional sixth-rounder doesn't bring much value—about a 15% chance of finding a 100-game NHL player—but the Leafs are playing the quantity-over-quality game here. Lindstrom gives them a body to help fill out the roster for the rest of the season and clears a bit of salary off the cap for St. Louis, who decided they preferred the veteran Jokinen as insurance for the postseason. Truth though is that for either player to see action, the Blues would have to be in trouble.
GALLERY: Most Traded NHL Players
Most Traded NHL Players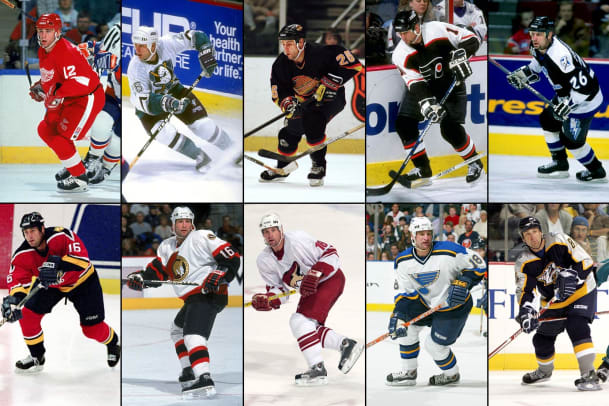 ______________________
• 2:50 p.m. EST
Rumor: TSN's Pierre LeBrun is reporting that the Blue Jackets and Cam Atkinson have exchanged numbers and are exploring a contract extension. Atkinson, a pending UFA, was seen as a second-tier offensive option at the deadline, with the Bruins thought to be seriously interested in acquiring the 13-goal scorer. UPDATE: Atkinson signed a three-year extension with Columbus that has an annual hit of $3.5 million. Good money for the undersized sniper.
______________________
• 2:45 p.m. EST
To Wild:Jordan Leopold
To Blue Jackets:Justin Falk, 2015 fifth rounder

The story behind the trade has become a viral sensation, but how does this one play out on the ice? Leopold has been used as a depth player in St. Louis and Columbus this season, but the veteran may be a bit more valuable to a Minnesota defense that's lacks the experience of other playoff-bound bluelines. He's still a viable puck mover and could see some time on the power play, where his poise could buy that extra fraction of a second needed to open up a lane.
In the 6'-5" 215 Falk, the Jackets are gambling on size. He's yet to prove himself a reliable NHLer with either the Rangers or the Wild though and is likely to spend most of his time with AHL Springfield. He will however be an RFA this summer, giving them more control over his fate than they would have had with Leopold, a pending UFA.
______________________
• 2:20 p.m. EST
To Islanders: Dustin Jeffrey
To Canucks: Cory Conacher
A courtesy swap that gives two high-end minor league players fresh starts in new organizations. Neither player has done anything with his recent opportunities, though, so there's no reason to expect they will this time, either.
______________________
• 1:40 p.m. EST
To Islanders: Michal Neuvirth
To Sabres: Chad Johnson, 2016 third rounder
Not to diminish what the Islanders accomplished here—GM Garth Snow finally landed a backup goalie who can be counted on to support Jaroslav Halak—but this deal is all about the Sabres taking another bold step to tank the season. Even though Neuvirth had won just three starts since the trade of Jhonas Enroth to Dallas, that was probably three too many. And with the numbers he was putting up (a sizzling .938 save percentage), Buffalo GM Tim Murray had to be concerned about giving up ground to Arizona or Edmonton in the race to the NHL cellar. That shouldn't be a problem with Johnson and his .889 save percentage.
In fact, Johnson might do more than secure the 20% lottery shot at Connor McDavid. With one year left on his deal, he's in position to be Buffalo's starter next season as well. That's good not just for the Auston Matthews lottery but it could come in handy as Murray tries to sell Boston University UFA Matt O'Connor on the Sabres. Nothing like a clear path to the starting job to help convince the highly coveted 23-year-old to sign in Buffalo.
______________________
• 1:35 p.m. EST
To Blues: Robert Bortuzzo, 2016 seventh rounder
To Penguins: Ian Cole
A rare player-for-player trade that sees a pair of regular scratches moved to teams that have a greater need for their particular skill sets. Bortuzzo plays a heavier game that should be a better fit for the Blues in the playoffs. He'll likely slot in as their seventh defenseman, but could see time on the third pair.
Cole was a left-handed shot who was being asked to play on the right side in St. Louis. He should get a chance to skate on his natural side with the Pens.
______________________
• 1:25 p.m. EST
To Islanders: Tyler Kennedy
To Sharks: conditional 2016 third rounder
San Jose has to be thrilled to get any kind of asset, especially one this promising, for a pending UFA. Kennedy brings speed and ... well, that's about it. He's a player who not only is frustrating—the inaccuracy of his shot drove Sharks fans crazy—but he's someone who seems to bring his team down when he's on the ice. If you're a fan of the league's new enhanced stats, check out Kennedy's Shot Attempts Relative numbers. Going by his –67, his teammates are better off when he's on the bench.
______________________
• 1:05 p.m. EST
To Red Wings: Marek Zidlicky
To Devils: conditional 2016 third-round pick
SI Vault: The irrational exuberance of NHL trade deadline day
There's Detroit's response to its need for a right-shooting, puck-moving defender in a quickly shrinking market. You have to wonder, though, what exactly they're buying here. Zidlicky, who had to waive his no-trade clause for this deal to go through, has seen his skills diminish significantly this season. The speed and decision making that helped him overcome his lack of size have deteriorated, but if he's used in a more protected role in Detroit, likely on the third pair, he might find more success than he was having with the Devils. Given the bargain price, it's a risk that GM Ken Holland can easily justify, but you have to wonder if come playoff time he'll be sorry he wasn't more aggressive in pursuing an athlete who delivers more impact.
There's some upside for the Devils here as the pick could mature into a second rounder. The conditions for that to happen have yet to be announced.
_______________________
• 12:54 p.m. EST
To Sharks: Ben Smith
To Blackhawks: Andrew Desjardins
This one's all about the money. Desjardins is on an expiring contract, which is ideal for a Chicago team that will be looking to shed salary after this season. Smith has one more year left on a deal that pays him $1.5 million, so he's a controllable asset for San Jose. Skill-wise, neither brings much to the table. Smith hasn't scored a goal in 29 games. Desjardins has five on the season. Each holds his spot in the lineup with character, grit and all those other elements that don't show up in the fancystats. Don't expect either player to have any noticeable impact on his new club.
________________________
• 11:56 a.m. EST
Rumor: Pittsburgh beat writerJason Mackey says the Penguins continue to look for a defenseman and are targeting Flames veteran Kris Russell.
_________________________
• 11:29 a.m. EST
Rumor: Larry Brooks of the New York Post says that, barring something unforeseen, the Rangers have turned off their phones and will sit tight after acquiring Keith Yandle, James Sheppard and Carl Klingberg.
_________________________
• 10:56 a.m. EST
To Blues: Zbynek Michalek
To Coyotes:  Maxim Letunov and a pick are going to Arizona. The Coyotes also retain half of Michalek's salary.
As I noted below, the Blues have struggled in their own zone during the past two weeks. The 32-year-old Michalek plays a shutdown style and can provide the steadying veteran presence that's been missing ... but when? Michalek has begun skating on his own but doesn't appear to close to returning from the concussion that's had him on the sidelines since Feb. 14. Two weeks is likely the best-case scenario, but there's no way of telling. When he does show, he'll likely be slotted onto the third pair alongside Barret Jackman, a role that will provide him with more protection than his second-pair role in Arizona and could lead to him being even more effective in St. Louis.
Have to wonder how this deal will impact the other teams that are looking for help, particularly the Red Wings. It'll be interesting to see if they look at a lower-cost option now, such as Philly's Nick Grossmann or Ottawa's Eric Gryba, or if they swing for the fences with a deal involving Dion Phaneuf. I'd bet on Option A.
[daily_cut.NHL]
Letunov, the 52nd pick in 2014, is a lanky (6' 2", 155 pounds) forward with a high skill level who currently is tearing it up (22-31-53 in 47 games) with Youngstown of the USHL. He's a nice add to Arizona's stash of prospects, but don't expect to see him with the Coyotes any time soon. He's committed to Boston University next season and given the clear need to gain weight/strength and to develop his two-way game he's probably four years off. He's a high-risk/high-reward add.
The draft pick going to the Coyotes will be determined by the number of games that Michalek plays for the Blues.
The Coyotes picked up two players off waivers this morning—Craig Cunningham from Boston and Tye McGinn from San Jose—to help fill out their trade-decimated roster. Cunningham is a solid bottom-six forward who can be counted on to play the right side of the puck. If he gets a consistent chance to play, he could be a very useful pickup for the Desert Dogs.
________________________
• 10:49 a.m. EST
To Canadiens: Brian Flynn
To Sabres: fifth-round pick
Not much to see here. Flynn is a solid penalty killer (not that Buffalo's 29th ranked PK is any indication) who can fit seamlessly into Montreal's bottom-six, if/when needed. The 26-year-old center probably will be spotted more often in the press box than on the ice, unless GM Marc Bergevin has another deal in mind. Flynn's an RFA after this season so it's a bit of a surprise he was moved but the Sabres, with some depth down the middle, clearly valued the pick more.
_________________________
• 10:25 a.m. EST
Rumor: No one (other than Sabres GM Tim Murray) seems surprised to hear that there's limited demand for pending UFA Chris Stewart. The big winger's game is viewed as too soft and too inconsistent for him to be an asset to a contender ... at least at current prices. He'll eventually go simply because someone will need a warm body, but the price will be low, possibly as little as a fourth-rounder.
_________________________
• 10:15 a.m. EST
Rumor: Lots of buzz suggesting the Blues are in hot pursuit of Coyotes defenseman Zbynek Michalek. Makes sense after they were lit up by the Canucks, Canadiens and Penguins for 15 goals in three of their past five games. The 32-year-old Michalek could slide onto their second or third pair and give them some shutdown power. The pending UFA ranks 12th in the NHL with 130 blocks and has 73 hits on the season. The hold-up: he hasn't played since Feb. 14 due to an upper-body injury. Expect any return to be loaded with conditions.
_______________________
• 9:30 a.m. EST
To Canadiens: Jeff Petry
To Oilers: 2015 second-round pick, conditional 2015 fifth-round pick (improves to third if Montreal advances to conference final)
Montreal GM Marc Bergevin made no secret of his desire to add some depth to a defense that had several question marks (injuries, the decline of Andrei Markov and the age of Sergei Gonchar among them) and he finally got his man. Petry is no superstar, but he can step into the Canadiens' second or third pair and play 15 minutes-plus of steady D. He has some offensive touch and can play a physical game when needed. The question is whether he's someone the Habs can count on deep into the playoffs. His lack of experience makes that a valid concern. Still, he was perhaps the best option available at this point and to get him at this price makes it a reasonable deal for Montreal.
Harder to see this one as a win from Edmonton's standpoint. Defensemen have been going for a premium during the past week, but Petry—one of the few right-handed shots who were available—went for less than what the Capitals paid for Curtis Glencross. Is that a reflection of Petry's true value not living up to the hype, or just poor asset management by Craig MacTavish? The Oilers' GM clearly was hoping to nab a first rounder for a player who arguably was his best defenseman. Seems like he could have pumped Petry's price closer to the 3 p.m. deadline, especially with several teams reportedly in the market for blueline help. Fair or not, there won't be many Oilers fans who are happy with this one.
______________
• To Bruins: Brett Connolly
To Lightning: 2015 second-round pick, 2016 second-round pick 
There's probably a world where this deal will work out for the Bruins, but it's likely in some alternate universe.
Connolly, the sixth pick in the 2010 draft, never quite found his footing in Tampa Bay. A slick scoring forward in junior hockey, he tried to transform himself into a gritty bottom-six grinder to create a role for himself with the offensively deep Bolts.
To his credit, he's played less on the perimeter over the last month or so—always a knock on his game since turning pro—and ventured more frequently into the high-traffic areas. That has helped him produce a career-high 12 goals so far. Maybe a combination of that determination and a more offensively demanding top-six role in Boston will see him light the lamp more frequently down the stretch. But the price paid by Peter Chiarelli—essentially the return he received in the Johnny Boychuk trade—seems like a flagrant overpayment, another frustrating example of Boston's general manager mishandling his assets. Plus Connolly is an RFA at season's end, which seems to complicate an already challenging cap situation that requires Chiarelli to deal with Dougie Hamilton, Reilly Smith and Torey Krug. It's really hard to figure out the appeal here from Boston's standpoint.
Meanwhile, Tampa Bay GM Steve Yzerman continues to spin straw into gold. A pair of second-rounders for a player who was a spare part on his Cup-contending team? Yzerman looks like he could become as dangerous in the front office as he was on the ice. This feels like an massive win for the Bolts.
___________________
• To Lightning:Braydon Coburn
To Flyers:Radko Gudas, 2015 first-round pick, 2015 third-round pick
Not to keep firing away at Chiarelli, but compare the return that Flyers GM Ron Hextall procured for Coburn to what Chiarelli got for Boychuk. With this massive return, Hexy, a virtual rookie on the job, looks like legendary Canadiens architect Sam Pollock by comparison to Chiarelli's panicky bumbling.
Hextall, to his full credit, appears to have helped set a higher market for Coburn with the earlier deal that sent Kimmo Timonen—a 39-year-old who hasn't played all season—to Chicago for a second and a fourth, and then capitalized on it by selling higher with Coburn, a player who is good, but not irreplaceable.
No word yet whether that first rounder belongs to the Rangers (acquired in the Martin St. Louis deal last year) or the Bolts, but it's a nice asset either way for an organization that's looking to add to its prospect cupboard. And in a deeper draft like this one, the third-rounder also has some solid value. Gudas is done for the year (hey, so are the Flyers) but when he recovers from right knee surgery he'll likely slide onto the bottom pair and bring a nasty, physical game that's custom made for Philadelphia. Like Coburn, he's signed for one more year—but at $3.5 million less. That's a massive savings for a Philly team that has serious cap issues ahead. Just a terrific deal for them.
While Yzerman may have overpaid here, he did so from a position of strength by having added the picks from Boston. The key here is that Coburn is a much more useful defenseman than this season's numbers suggest. He's a second-pairing guy who was forced into a more challenging role by injuries and depth issues in Philadelphia. Slotted more appropriately behind the deeper cast in Tampa Bay, he'll bring physical, shutdown-style defensive minutes to a team that will compete for the Cup.
[pagebreak]
DURING THE WEEKEND:
• To Rangers:Keith Yandle, Chris Summers, 2015 fourth-round pick
To Coyotes: John Moore, Anthony Duclair, 2016 conditional first-round pick, 2015 second-round pick
Wow—this might be the closest thing we get to a blockbuster here at the deadline. Yandle, whose name has been a fixture in trade rumors for the better part of three seasons, finally gets moved in a deal that has massive implications for both clubs.
For the Rangers, this is all about making the most of their Stanley Cup-contention window. Yandle is an All-Star caliber defenseman, an elite puck-mover who can slide into their top-four and handle heavy minutes at even strength and on a power play that struggled mightily during the 2014 postseason (12.6%, 11th in the league). Critically, he can replace Dan Boyle, the off-season addition who hasn't worked out in that role.
While New York paid an exorbitant price to obtain his services, the key here is that Yandle is not a rental. The 28-year-old has one season remaining on his current five-year, $26.5 million deal, so that gives the Rangers two kicks at a Cup run and a leg up to re-sign the veteran before he goes to free agency.
Ranking NHL's 10 most promising defensemen under the age of 23
Some people will question the decision to dump another first-rounder—the 2016 pick will be the fourth in a row that the Rangers have surrendered—but with an all-world goaltender in Henrik Lundqvist and the newly re-signed Mats Zuccarello, this is a team that's going all in now. And at 71, GM Glen Sather probably won't be around long enough to have to worry about the organizational mess he's creating.
For the Coyotes, this deal adds high-end depth to a system that already hints at better days ahead. Duclair, a third-round pick in 2013, is a big, physical top-six winger who plays the game at a high tempo. He skated on a line with Arizona's top prospect, center Max Domi, for gold medal-winning Canada at the 2015 World Juniors, and the chemistry they displayed was palpable. Whether that projects to something larger remains to be seen, but it wouldn't be a surprise to see the two reunited next season and becoming a constant presence in the desert for years to come. The two draft picks from the Rangers give Arizona a couple of highly valuable assets that hopefully will turn into useful pieces down the road. Moore is a solid young defender who can step immediately into the lineup. While he'll likely be used in a top-four role for now, he's better suited for the third pair.
The Rangers get the only sure thing in the deal, but it's impossible not to like this for both teams.
GALLERY: Notable Stretch Drive Pick-ups
NHL's Notable Stretch Drive Pickups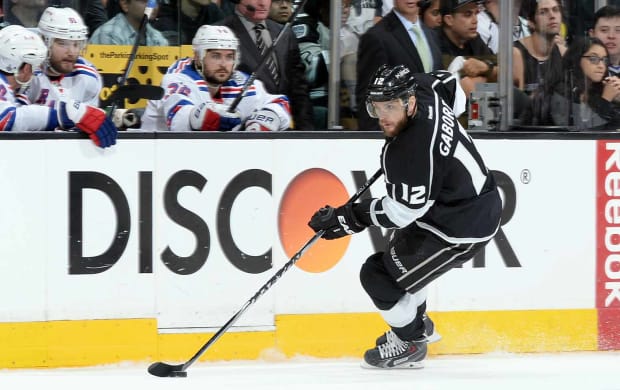 ————————
• To Rangers:James Sheppard
To Sharks:2016 fourth-round pick
The Blueshirts apparently decided to make all their trades on Sunday, finishing up with the acquisition of Sheppard, a pending UFA the Sharks had no designs on re-signing. He's a bottom-six center who plays a solid but thoroughly unspectacular two-way game. He's most effective when he keeps it simple, executing down low, playing physical, banging in rebounds. He's not the best skater, but on a quick team he doesn't need to be. The Rangers are looking for a guy who can deliver a reliable 200-foot game. Sheppard won't dazzle, but he can give them valuable minutes with minimal risk.
For the Sharks, this was all about adding an asset in exchange for a player who they had no intention of keeping. A mid-round selection like this is a total crapshoot, but at least it's a shot.
______________
• To Rangers:Carl Klingberg
To Jets:Lee Stempniak
After a couple of sizable additions, this deal is all about subtraction. Stempniak's $900,000 salary has been erased from New York's books and Klingberg's deal goes right on the minor-league ledger, buying the Blueshirts a bit of cap space.
For the Jets, they're adding a veteran body now. Klingberg failed to stick in Winnipeg on multiple occasions and was about to be passed by several players on the depth chart. Stempniak is a pending UFA but in the short term brings some speed and experience to a team that's looking for one last push to get it into the playoffs. A useful addition, but not a particularly significant one.
________________
• To Capitals:Curtis Glencross
To Flames:2015 second-round pick, 2015 third-round pick
Glencross hasn't done much this season, scoring just nine goals, and has just six games of NHL playoff experience. But here's a guy who may have just landed the best job in hockey: skating on a wing alongside the league's top goal scorer (Alex Ovechkin) and leading playmaker (Nicklas Backstrom). Glencross, a pending free agent who was unhappy with the way he was used in Calgary, was not expected to re-sign with the Flames this summer. He brings size and a physical presence to the Caps. He's well-suited for mucking and grinding down low, crashing the net and banging home the rebounds.
But there's room to question whether the speedier Erik Cole (who later was dealt by Dallas to Detroit) would have been a better fit and if the Caps paid too high a price. Glencross will get that chance to prove that he can handle top-six minutes because Washington desperately needs someone in the role, but he's more of a second/third line 'tweener who may be miscast here.
And to get this guy, GM Brian MacLellan paid through the nose. While he managed to hold on to his prospects, he significantly weakened his position in a deep draft. If the Caps don't win a couple of playoff rounds or at least re-sign Glencross, this deal might not hold up well in time.
There are no guarantees for the Flames, either. But a team that's in the middle of a rebuild while fighting for a playoff spot really maximized its return here despite being under the gun. No doubt GM Brad Treliving, working his first deadline, will be regarded as the winner by most.
———————
• To Red Wings:Erik Cole, conditional 2015 third-round pick (returned if Detroit makes that conference finals)
To Stars:Mattias Backman, Mattias Janmark, 2015 second-round pick
Cole, a pending UFA, gives Detroit more than just another solid top-six forward option. As GM Ken Holland said in a post-trade interview, "He brings an element of north-south hockey" to the Red Wings. He's a big, fast, physical player who has played some of the best hockey of his career this season, driving the net, getting his nose dirty and keeping his stick on the ice. For a team that can get a little too pretty at times for its own good, Cole should be a nice add at even strength and especially on the power play.
As a former assistant GM with the Wings, Dallas GM Jim Nill should know well one of the prospects acquired in this trade. Defenseman Mattias Backman, a fifth rounder from 2011, during Nill's tenure in Detroit, quit AHL Grand Rapids earlier this season to return to his native Sweden. The 22-year-old is a reliable two-way defender who is close to being NHL-ready and could compete for a third-pairing job with the Stars next season. He has some upside to his game. Center Mattias Janmark, a third-round pick from 2013, comes with a set of tools reminiscent of the Stars' own Cody Eakin. He's not big but he plays with speed, intensity and a bit of touch. He probably tops out as a good third-liner, but if the offense clicks he could be more. Neither is a blue-chipper but in terms of experience both are close to being NHL-ready. That fits the needs of the Stars better than just a couple of picks who are four-five years away.