NHL's interview period helped Goligoski, Yandle to find new homes
As two of the top defensemen headed to the open market last summer, Alex Goligoski and Keith Yandle planned on having their choice of teams, only to be unexpectedly wooed by unexpected suitors before the July 1 free agency period opened.
The plans whirred into motion four days apart last June, first by a Western Conference riser and then by an Eastern Conference contender, both in cities where players wear flip-flops to work. One unfolded entirely over the telephone, while the other involved two chartered flights, one highlight video, and a gift basket featuring, among other delicacies, several jars of local jams. In the end, two puck-moving defensemen, both expecting lines of suitors on the open market, found themselves instead veering along uniquely parallel tracks: traded before July 1, pitched exclusively, and ultimately signed for 12 combined years and $71.825 million, the two biggest contracts given to unrestricted free agents at their position last summer.
The barebones of how Alex Goligoski landed with the Arizona Coyotes and Keith Yandle joined the Florida Panthers are, by themselves, nothing special. Dallas inked goalie Antti Niemi in June 2015 after acquiring his negotiating rights from San Jose; so did Washington with goalie Jaroslav Halak in May 2014, and defenseman Dennis Wideman and goalie Tomas Vokoun in June 2012. Even with the five-day "interview period" opened by the NHL's most recent collective bargaining agreement, teams haven't been shy about dishing assets—usually mid-to-late-round picks—for first crack at a sell. More often than not, eagerness has been rewarded.
In this case, the early returns haven't been altogether sparkling for either side. The injury-riddled Panthers are hovering around .500 and the Coyotes are tied for the fewest points in the league. Neither Yandle nor Goligoski had scored a goal until the former did Sunday, and the latter is posting career lows in points per game (0.41) and even-strength shot attempt differential (42.5%).
But their stories stand out for other reasons. Both were long-term, big-buck moves announced in short order: Goligoski (five years, $23.375 million) on June 20, Yandle (seven and $44.45 million) on June 21. Both signaled progress in places once undesirable to free agents, where new regimes held similar desires on the blue line and judged the prices—a fifth-rounder to Dallas for Goligoski; sixth and conditional fourth to the Rangers for Yandle—justified given the potential payoffs.
"When you're in such a competitive market," Arizona GM John Chayka says, "you have to utilize every advantage you might have, or create ones that don't exist.
"For us, it's an easy one."
***
In 2013, three years before irony hit him like an open-ice check, Goligoski filled out his modified no-trade clause and, among the teams to which he would not go, listed the Coyotes. "Just purely based on if the team would get moved," he says. "I was thinking, 'Is this going to be a team that's going to end up in Quebec City?' You just didn't really know what you're getting into. If I were going into free agency a couple years ago, probably wouldn't be here."
The Big Bang: A frenzied 23 minutes in June changed the outlook of the season
Ownership has since stabilized thanks to a new group buying the team in Aug. 2013, and a recent shakeup boosted Chayka atop the front office, where he now works alongside the dual-titled Dave Tippett (head coach/executive vice president of hockey operations). Even before the Coyotes fired Don Maloney and promoted him, Chayka had been pounding the trade-and-pitch drum. "There's been a lot of things going on here in the last number of years, which made us gun-shy a bit," Chayka says. "But you can't have it both ways, where you think you have this unparalleled family experience and playing experience and opportunity for people, and you're not willing to take a risk."
So when Chayka, then 26 years old, assumed his new role in early May, among his first calls went to Stars GM Jim Nill. At the time, Chayka recalls Nill telling him that Dallas still wanted to re-sign Goligoski, who had averaged top-pair minutes and only missed 14 games over five-plus seasons there, but hadn't made much headway. "That gave me an avenue to keep exploring and stalking the deal," Chayka says. Goligoski shared Nill's interest in returning, but says today, "it just didn't get there, from our side."
As the interview period inched closer and Goligoski's camp began looking forward to July 1, the trade pivoted on, of all things, the Phoenix-area weather report. If the Coyotes were to pitch their local lifestyle like Chayka wanted, it needed to be done in person, and the upcoming weekend temperatures were forecasted for triple digits.
 "It was going to be like 125 or something, some ridiculous heat," he says. "I called up Jim and I said, 'Jim, if you want an asset out of this, and I'm willing to give you a fairly significant asset for a small window to talk to this player, it's got to be within the next two days, or I can't sell 130-degree weather to anybody. We've got to move quick, or I just can't do it."
***
The Rangers' season ended April 23, bounced in five games of the first round by eventual Cup-champion Pittsburgh, but Yandle and his family stayed in Tribeca until the school year was over, then spent time soaking up the city. "We were doing everything that we wanted to do before the summer came," Yandle says, partially because he had free time while his two kids were in class, partially because he knew they wouldn't be back.
Once the subject of trade rumors thanks to his expiring contract, Yandle learned early on that New York would keep him for the playoffs, according to his agent, Jerry Buckley.
"[Rangers GM] Jeff Gorton and I had stayed in close contact throughout Keith's whole time there," Buckley says. "As we got closer, it was clear that something wouldn't get done with New York. Then it was just a matter of where he would get traded to."
Through the years, Buckley says, he periodically meets with Yandle to update his client on the current market, and where the 30-year-old stands. As time passed and other defensemen in his UFA class re-upped with their respective teams—Brent Seabrook, Dustin Byfuglien, Mark Giordano, Erik Johnson, Brayden Coburn—it became increasingly clear that Yandle would be in high demand. Florida began popping out as a potential fit through the course of Buckley's research, done independent of the team's talks with New York, but Yandle was focused on seeing what free agency would bring. "I think the whole thing was to get to July 1, see where my options were and, for the first time in my career, be able to pick where I wanted to go," Yandle says. "That's something I was really looking forward to."
P.K. Subban ready to bring unique blend of sports and entertainment to Nashville
The Panthers, meanwhile, were operating with slightly more urgency, and already their offseason had not lacked for action. After a 103-point, 47-win season, both high marks in team history, reshuffling in the front office moved Dale Tallon from GM to president of hockey operations; Tom Rowe from assistant GM to GM; and Eric Joyce and Steve Werier to assistant GMs. In late May, physical defenseman Erik Gudbranson, the 2010 No. 3 pick, was flipped to Vancouver, an apparent effort to get faster on the blue line and the result of an honest self-assessment.
"Most times when you have a 23rd-ranked power play and 24th-ranked penalty kill, you don't get in the playoffs, right?" Joyce says. "We knew there were statistical indicators that said, hey, this season is sort of an anomaly for us and we were pretty lucky—i.e. we got a lot of bounces, we got a lot of calls, we played a lot of teams on the back end of hard trips. There were a lot of things where we thought, 'alright, we can't have the same team and go back at it next year and expect the same results, because they're not going to be there.'"
***
Behind the wheel of his BMW, Tippett steered down the parking ramp at Gila River Arena, turned into the loading dock, and drove straight through the Zamboni entrance into the rink, so Goligoski wouldn't feel the mid-110s heat. It was Monday, June 20, two-plus months after the Coyotes' season finale, so the ice sheet inside was covered. This gave Tippett's ride easy traction as it crawled forward, and probably offered a welcome reprieve from the cold for the cheerleaders and team mascot waving nearby.
"Everyone was laughing about it," Goligoski says. "They didn't even really want to do it, but John Chayka's like, 'We had to.' My wife was almost horrified by it. Just awkward. At the same time, they're aware that it comes out that way too. Everyone was laughing about it. I don't know. Endearing, awkward, however you want to put it."
NHL Old Faces in New Places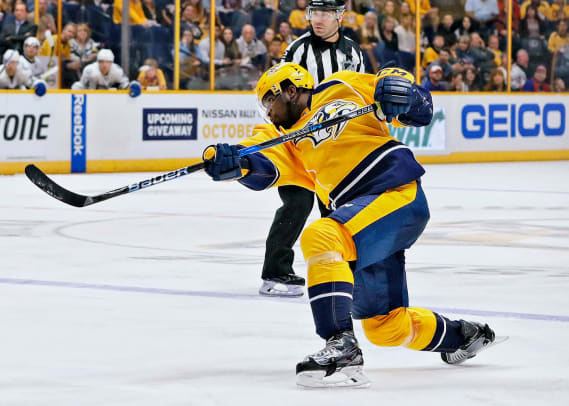 That the effort amused Goligoski, in a finger painting-on-the-fridge kind of way, boded well for the Coyotes' prospects. Four days after Goligoski waived his no-trade clause, they had flown him and Amanda, his wife, into town, where Tippett met them at the airport. In the interim, they had shot, edited, and produced a highlight video that included images of Goligoski superimposed into Arizona gear. They also made custom jerseys for Alex and Amanda; arranged for Tippett's wife, a realtor, to show them houses, including one they eventually bought; and assembled the gift basket of, on top of the local jams, wine, beer and, according to the Arizona Republic, "a couple Apple Watches."
That night, Chayka, Tippett and captain Shane Doan met the Goligoskis for dinner in the community where Tippett lives. In particular, Doan expressed enthusiasm about the Coyotes' young core, highlighted by forwards Max Domi and Anthony Duclair, and several rising draft picks ticketed for the NHL in the near future.
"It's not like he was, 'Got to sign here, got to sign here," Goligoski says. "He was just really informative on what he sees. He told me, this is the most excited he's been. It was tough there for a while, but last season, there's never really been that excitement here in a long time. That was his message,  do what's good for you, but he was really excited about everything that's happened."
The next day, president of hockey operations Gary Drummond lent his private jet for the Goligoskis and a Coyotes contingent of Tippett, Chayka, video coach Steve Peters and VP of communications Rich Nairn to fly back to Minnesota. Alex and Amanda peeled off at the airport and headed home, tired after a long stretch of social engagements that included a wedding the weekend before. His agent, Ben Hankinson, picked everyone else up and drove to the Octagon Hockey offices in nearby Bloomington.
Over the next 2-3 hours, sandwiches and pasta ordered from a local restaurant, the sides sketched out a deal—literally, on a whiteboard in a conference room. Hankinson periodically stepped out and called Goligoski, who reaffirmed his desire to go to Arizona and sidestep free agency. The result, finalized while the Coyotes' brass were midair to the draft in Buffalo, gave Arizona another piece for its blue line while keeping his annual salary below that of 25-year-old Oliver Ekman-Larsson ($5.5 million). Goligoski, meanwhile, received a hefty raise from his previous $4.6 million annual salary, plus the security of a full no-move clause for three years and then a limited no-trade for two. 
"It was an easy decision," he says. "If I'm going to be somewhere for five years, I'd like to be with a good young team that can grow. That's about it. It was an easy decision. There's probably always a part of me that wants to see what happens. But I'm a pretty simple guy. If I like something, I'm good with it. I don't need to really see what's out there.
How Dave Tippett balances coaching, exec duties amid Coyotes rebuild
"There's not much in my life that you could write a really awesome article about, let's put it that way."
***
Whereas Goligoski received the full bells-and-whistle treatment, Yandle found his new home simply through the sound of a ringing cell. The Panthers had already begun draft prep in Buffalo when the trade went through, but a face-to-face meeting wasn't needed by either side.
After veteran Brian Campbell told Florida that he was headed to free agency, eventually signing with Chicago for a team-friendly deal of one year and $1.5 million, the Panthers focused their attention on Yandle, the left-shot whose 82 power play points between '13-14 and '15-16 ranked second among all defensemen behind Ottawa'S Erik Karlsson. In parting with a sixth-rounder, and a fourth-rounder if Yandle signed, the Panthers hoped their effort would send a message. "Right there," Joyce says, "it signals to the player that 'hey, this team actually wants me. This isn't bulls---. This is legitimate interest on their part.'"
Yandle conducted research on his own, calling former players of Panthers coach Gerard Gallant, like Rangers forward Rick Nash. "When he told me I'd be crazy to not sign there, and have the opportunity to play for Gerard, it was one of those things that I knew it'd be a good fit," Yandle says. In addition to Rowe and Joyce, Florida also dispatched amateur scout Billy Ryan, who hails from Milton, Mass., like Yandle, to make a call. Three days after the trade, Yandle became their highest paid player, having decided against July 1. That weekend, he flew into Buffalo to meet with team officials, including owners Vinnie Viola and Doug Cifu, and sat at the draft table during the first round.
"I figured with how bad I wanted to be here, and how bad I wanted to be there," Yandle says, "it would've been crazy to wait."