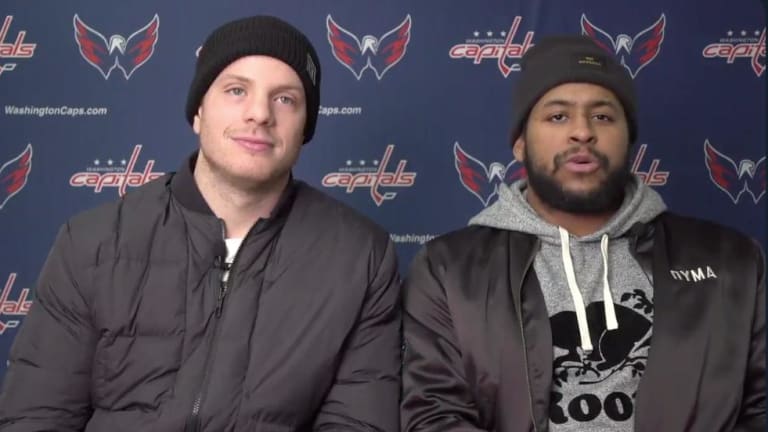 Watch: Capitals Surprise Bullied Black Hockey Player's Team with Invitation to Upcoming Game
The Capitals surprised the 13-year-old and his team by inviting them to attend a game and meet the team.
The Capitals surprised a 13-year-old hockey player who faced racist taunts on the ice by inviting him and his team to attend a game in Washington.
Earlier this month, Divyne Apollon II of the Metro Maple Leafs was a victim of racist insults—including monkey sounds—during a game in Philadelphia. The Maryland-based Metro Maple Leafs defended their teammate, standing up for him and fighting their opponents.
In a video shown to the team on Tuesday night, the Capitals' John Carlson and Devante Smith-Pelly personally invited Apollon II and the entire team to attend the Capitals' game against the Blues on Jan. 14. The team, which offered the Metro Maple Leafs 60 tickets for Monday's game, will also meet the Stanley Cup champions.
"We heard about the unfortunate incidents that have been taking place with Divyne, but we were so happy to see your team stand up to defend and support each other," Smith-Pelly said in the video. 
The hockey community has rallied to support the 13-year-old and his teammates. The team's parents are hoping to start a movement called "Hockey > Hate" and have already printed anti-hate stickers, according to The Washington Post. Earlier this week, NHL star P.K. Subban, no stranger to racism himself, sent a message of support and hope to Apollon.
"For me to meet him [Divyne] and look him in the face and as someone who's gone through it and can talk to him and share my experience is important to me," Smith-Pelly said, according to NHL.com.