Everything right this time for Ovechkin's Olympic emergence
SOCHI -- If you think Alexander Ovechkin gets around the NHL -- as you recall, he was an All-Star at both right and left wing last season -- it's nothing compared to his ubiquity in Sochi. He is inescapable, a force of nature and advertising. His loopy, gap-toothed grin is plastered on every Coca-Cola machine in town. What Coke, a sponsor since 1928, is to the Olympic movement, Ovechkin is to Sochi.
Those omnipresent ads are emblazoned with a single word, written in Cyrillic.
What is that word?
"Join."
Join Russia?
"Join Coke."
Goofy smile and … scene.
Things do go better with Ovie. And for Ovie.
In Vancouver 2010, he was strung so tightly that if you plucked him he probably would have squeaked a D in an upper register. He was not the same garrulous winger he was for the Capitals. Like Sammy Sosa testifying in front of Congress, the momentousness of the Olympics four years ago seemed to make him forget English.
Now, parachuted into this third Olympics -- in his home country -- he is his best impish self. On Monday he stopped Evgeni Malkin, who was hurtling through the mixed zone the way he blasts through the neutral zone, and corralled him for the press. He broke off a chat with reporters to do a live national TV hit in Russia, and then promptly returned to the gathering, where he was asked, "With the cost of the Games and the pressure from President Vladimir Putin and the love of hockey in Russia, what would a gold medal mean?
"Gold costs only $50 billion," he said. "Probably."
More than some preaching to the choir about Ovechkin's significance to these Games -- the most important home Olympic athlete since hurdler Lu Xiang in Beijing -- maybe you should listen to him signing with the choir.
Ovechkin is in the chorus of a Russian video called "Shaybu, Shaybu," which, in a literal albeit most unsatisfying translation, means "to the puck." Think of it as the "Super Bowl Shuffle" meets the Eurovision song competition with a bouncy beat that could have been performed 40 years ago by ABBA, if Agnetha and Anni-Frid looked like scarred hockey players.
Ovechkin's dusky baritone is not nearly as meaningful as his spot in the choir. He is in the back row, mostly with an arm slung around the shoulder of his NHL rival and Sochi linemate, Malkin, who is nearly Ovechkin's equal as a player, but whose personality recedes when in the presence of the ebullient Great Eight.
The megawatt power in the chorus of "Shaybu, Shaybu" – Boris Mikhailov, Slava Fetisov, Alexander Yakushev, Vladislav Tretiak, Ilya Kovalchuk, Pavel Bure and Alexei Yashin -- is almost as impressive, at least in Russian terms, as the old "We Are The World" crew. Ovechkin looked ecstatic to be one of The Pips.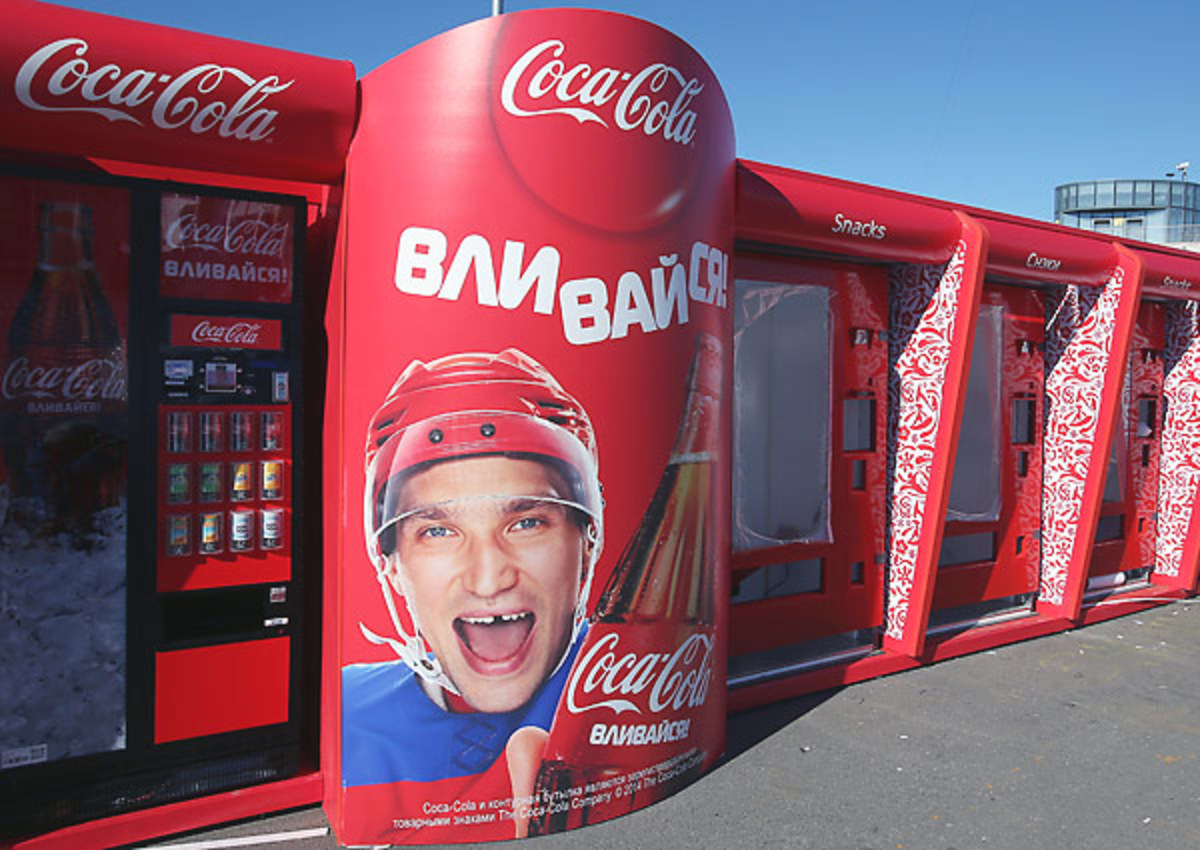 Ovechkin has been to Sochi before. As a boy, he vacationed at this Black Sea resort one summer with his father and mother, who is the leading Olympian in the family. As a nifty point guard, Tatania Ovechkina led the Soviet Union women's basketball team to gold medals in the Montreal and Moscow Olympics.
Certainly this will be the only chance for Ovechkin to know the joy his mother had in winning a gold at home, although as he correctly noted 1980 was a different time and Russia was literally a different country. Given the uncertainty surrounding NHL participation in 2018, this might be his Ovechkin's last chance anywhere.
Ovechkin always has been conspicuously proud of his heritage. As a rookie with Washington, he used to wear Russian-red Daisy Dukes to practices before the autumn weather turned cool, a sartorial statement that attracted guffaws from his Capitals teammates.
He would write in Cyrillic on the team whiteboard. When NHL participation in Sochi seemed imperiled before the most recent collective bargaining agreement, Ovechkin -- and others, including Malkin -- said that they were going to play in the Games no matter what. To hell with the NHL.
Ovechkin always has been willing to go the extra mile for his country. More than 5,000 of them, actually. On the eve of Washington's season, he received permission to fly to Greece for the lighting of the Olympic flame. He then had to hustle back to Chicago for the Capitals' opener. Ovechkin was the first Russian to carry the Olympic torch.
Of course when you are the face of your nation, the possibility exists that you will wind up with egg on it.  Ovechkin was pilloried after the 7-3 quarterfinal loss to archrival Canada in 2010, although with no points and a minus-two rating he had been no more feckless in the game than any of his teammates. Ovie? More like Oy Vey. (As Russian defenseman Fedor Tyutin says, "With big power comes big responsibility.")
Clearly Ovechkin was roiled by the entire experience. He lost his grip on something other than his second language. He lost the ability to score.
Maybe more than that, Ovechkin lost the narrative of his career. Sidney Crosby, his Canadian rival, scored the Golden Goal in Vancouver eight months after he had captained the Penguins to a Stanley Cup. The twin achievements established Crosby's bona fides as a "winner," although in truth, he had a middling Olympic tournament.
Reduced to a Manichean simplicity, Ovechkin thus had to be a losing player. The wellspring of Ovechkin's goals dried. After scoring at a 53-goal pace through his first five seasons, Ovechkin scored 70 combined in his two post-Vancouver seasons. The rivalry with Crosby seemed played out, at least until Ovechkin awakened after a slumbering start in 2013 and edged Crosby as the NHL MVP. At the Olympic break, Ovechkin leads the NHL this season with 40 goals.
"I'm pretty sure it's probably going to be my biggest tournament," Ovechkin said. "You can't compare Torino (2006), Vancouver and Sochi. Torino was my first Olympic games. I was 19. Everything was new for me. It was crazy. In Vancouver we played against Canada and that was a crazy moment. Right now I play for my country at home, and this is another crazy moment. I'm pretty sure you can ask any Canadian guy, what's the biggest moment for them when they play for national team? Of course it's home Olympic games. It's probably biggest moment for me."
If not in a city where Ovechkin has the power to teach the world to sing in perfect harmony, when will Russia win? Russia, and before it the Soviet Union, has not won a best-on-best tournament since the 1981 Canada Cup. (In its last three Olympic victories -- the Soviets in 1984 and '88, and the Unified Team in '92 -- the tournaments were not stocked with all the best professionals in the world.)
This could be Ovie time. He should have everything he needs, including a sublime passing center in Malkin and a familiarity with his right winger, ex-Capitals linemate Alexander Semin.
He has a coach with whom he worked as a teen at Dynamo Moscow, Zinetula Bilyaletdinov, who has a leafy hockey brain under a fabulous crop of white hair that parts down the middle as neatly as an onrushing Ovechkin splits defenses.
And maybe most important of all, Ovechkin, the most visceral and emotional player of his time, will have the opportunity to drink in the emotion of the Russian crowds, an atmosphere that could give him wings.
Wait, that's that other drink.
FARBER: Petr Nedved, 20 years older, returns to Olympics with new country