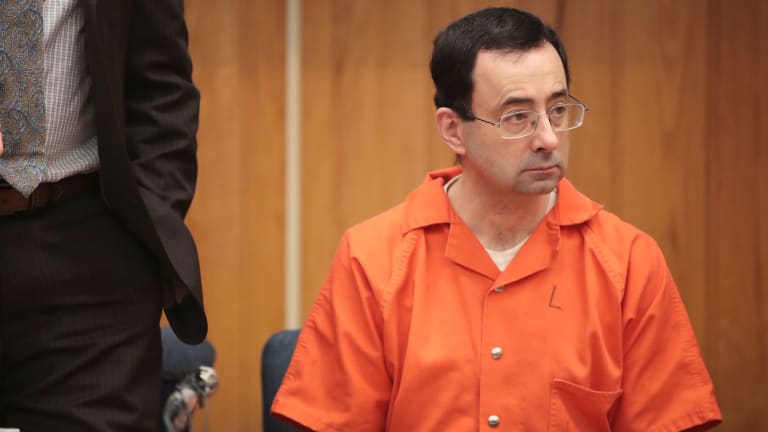 Are USA Gymnastics and Michigan State Liable for Larry Nassar's Actions? It's Complicated
Larry Nassar will never enjoy freedom again, but should USA Gymnastics and Michigan State be held legally liable for his actions? It's a complicated question.
Serial child molester Larry Nassar inflicted heinous sexual crimes on hundreds of girls and young women. The 54-year-old former Michigan State professor has been tried, convicted and sentenced in both federal and state courts. He faces between 140 and 360 years in prison—a life sentence in all but name.
While Nassar will never again enjoy freedom, the legal implications of his crimes go far beyond him or the prison walls that detain him. To that end, should the institutions that employed Nassar be held civilly liable?
The question of institutional liability will gradually become the central one in the Nassar scandal. It is a more complicated question to answer than whether Nassar committed crimes. It will also take longer to resolve and will entail various persons pointing fingers at one another. Assessing prospective liability for those whose actions or omissions may have enabled Nassar is inherently divisive. Similarly, untangling the distinction between moral blame and legal blame is hardly a science.
The legal theory of Michigan State and USA Gymnastics as liable parties
One step in resolving the potential liability of those who employed Nassar comes in the form of a federal lawsuit filed by former gymnast Rachael Denhollander. Two-hundred and fifty-one other former gymnasts as well as 23 husbands of gymnasts have brought claims that have been consolidated into Denhollander's suit.
As previously detailed on SI, these individuals have sued USA Gymnastics, Michigan State and several other defendants who shared responsibilities in supervising Nassar. The plaintiffs contend that by employing Nassar in a capacity where he sexually assaulted young women under the perverse guise of "medical care", USA Gymnastics and Michigan State are both institutionally liable for Nassar's acts. Along those lines, the plaintiffs insist that officials from these institutions either knew or should have known that Nassar repeatedly sexually assaulted young women. The lawsuit, in turn, argues that these defendants should have taken reasonable steps to prevent such harm to the former gymnasts.
For their part, the husbands of the former gymnasts assert "loss of consortium." This refers to a claim brought by a spouse of someone who has been wrongfully injured. Loss of consortium centers on the assertion that a spouse's injury has impaired marital companionship and sexual relations. Under this logic, the defendant who wrongfully injured the spouse is also liable to the other spouse.
Denhollander's lawsuit was filed in the U.S. District Court for the Western District of Michigan on Jan. 10. U.S. District Court Judge Gordon Quist is presiding over the case.
Soon after the lawsuit was filed, Michigan State filed a motion to dismiss. As detailed more fully here, Michigan State contends that it is immune from liability because it is a public university. In certain situations, public universities can avail themselves of the doctrine of "sovereign immunity. It dictates that public entities cannot be sued without providing consent. Michigan State also charges that it had no relevant obligation under Title IX, a federal law that requires universities to report on-campus sexual crimes. The university contends that the plaintiffs were not Michigan State students at the time Nassar harmed them and thus Title IX does not apply.
As reported by Michigan Live, co-defendant USA Gymnastics has recently filed its own motion to dismiss. Michigan attorneys Andrew Portinga and David Gass authored the accompanying brief in support of the motion. SI has obtained the brief.
The brief by makes clear that USA Gymnastics leadership believes the institution acted lawfully and ethically in response to allegations against Nassar. "When USA Gymnastics first learned of an athlete's concern about Nassar's treatments in June 2015," the brief asserts, "USA Gymnastics took action. It hired an investigator, suspended Nassar, and reported him to the FBI. USA Gymnastics' actions helped lead to Nassar's downfall."
Denhollander and the other former gymnasts categorically reject this retelling of facts. For starters, Nassar committed many of his crimes between 1996 and 2014. It was during this time when he served as USA Gymnastics's national medical director, a title that gave him enormous credibility with his young patients and their parents. These families trusted Nassar and he grotesquely abused their trust. The former gymnasts contend that USA Gymnastics fully understood the faith families placed in Nassar. Such trust, they argue, was only amplified by the deference associated with Nassar's lofty role with USA Gymnastics. The plaintiffs also maintain that while USA Gymnastics dismissed Nassar in 2015, it acted irresponsibly by "fail[ing] to inform Michigan State University of the circumstances regarding his dismissal."
Analyzing the defenses offered by USA Gymnastics
Unlike Michigan State, USA Gymnastics is a private, not-for-profit entity. It thus cannot invoke a sovereign immunity defense. However, USA Gymnastics can turn to other defenses.
(i) USA Gymnastics could not control Nassar
One key defense is to depict Nassar as committing crimes while he was not acting on behalf of USA Gymnastics. The weaker the nexus between Nassar and USA Gymnastics at the time Nassar committed crimes, the weaker the argument that USA Gymnastics knew or should have known he committed those crimes.
To that end, the brief highlights how, "most of the assaults did not occur at a USA Gymnastics event." Further, the brief stresses, "the majority of assaults occurred at MSU's sports medicine clinic, where MSU employed Nassar as a doctor. Other assaults occurred at Nassar's home … some of the assaults occurred at Twistars, a gymnastics club in the Lansing area, where Nassar was affiliated."
Notice how USA Gymnastics emphasizes the location of Nassar's crimes: at Michigan State, at his home, at Twistars—the intended implication is that USA Gymnastics was not in position to know of any wrongdoing. Also, in instances where Nassar was at Michigan State or at Twistars, those other institutions would seemingly deserve blame before USA Gymnastics. USA Gymnastics uses this point to stress that while the lawsuit contains 252 former gymnasts and 23 husbands, the number of persons suing USA Gymnastics is smaller: 149 former gymnasts and 10 husbands.
Further, USA Gymnastics stresses that when Nassar committed crimes, he "was not acting within the scope of his duties as USA Gymnastics' team doctor." To that end, USA Gymnastics "wanted Nassar to heal its athletes, not sexually abuse them." Further, USA Gymnastics charges, neither Denhollander nor any of her co-plaintiffs assert that USA Gymnastics made misleading misstatements—they only, according to USA Gymnastics, "allege that Nassar misrepresented to them the nature of his treatments." This line of reasoning is to suggest that USA Gymnastics not only did not deceive anyone about Nassar, but also had no incentive to do so.
In response, expect Denhollander and the other gymnasts to argue that some of Nassar's assaults occurred at USA Gymnastics events and at Karolyi Ranch, which was the official US training facility. In those situations, USA Gymnastics had, or should have had, direct supervision over him. The plaintiffs will also maintain that Nassar represented himself as acting on behalf of USA Gymnastics in a variety of locations and that representation enhanced his ability to gain access and trust.
Along those lines, the gymnasts will contend that it was reasonable for USA Gymnastics to assume that Nassar would use his USA Gymnastics affiliation to lure young women and their parents into placing their faith in him. Armed with this more expansive depiction of Nassar's connection to USA Gymnastics, the former gymnasts describe Nassar as acting as an "employee and/or agent" of USA Gymnastics.
(ii) Most of the claims are barred by Michigan's statute of limitations
As another defense, USA Gymnastics emphasizes that Michigan law stipulates a three-year statute of limitations for personal injury actions. This means that a person who is injured has three years from the date of the injury to file a lawsuit. If he or she waits longer than three years, it's too late. Michigan law offers a narrow exception for minors in that they receive one additional year after they reach the age of majority (18) to bring a claim. Under this system, USA Gymnastics argues that "at least" 88 of the 149 plaintiffs waited too long to sue USA Gymnastics and thus their claims ought to be dismissed. USA Gymnastics also contends that another 13 plaintiffs have alleged abuse that occurred at least partly before the three-year window.
Further, USA Gymnastics cites case precedent indicating that Michigan offers little flexibility on the three-year window. For instance, the Michigan Supreme Court has rejected plaintiffs' attempts to extend the three-year window on grounds that they didn't know about their claim or had repressed memories of sexual abuse.
According to USA Gymnastics, the only way a plaintiff can extend the three-year window is by proving that the defendant engaged in "fraudulent concealment." This refers to a defendant who "conceals the existence of the claim or the identity of any person who is liable for the claim from the knowledge of the person entitled to sue on the claim."
(iii) USA Gymnastics owes no fiduciary duty to the gymnasts
USA Gymnastics rejects the possibility of fraudulent concealment partly on grounds that, under Michigan law, USA Gymnastics owed no "fiduciary duty" to its members. In this context, fiduciary duty refers to the legal obligation of an institution or a person to look out for the safety of another. Michigan law recognizes fiduciary relationships in the context of a doctor and a patient, an attorney and a client, a trustee and a beneficiary and a guardian and a ward. USA Gymnastics cites case law from other jurisdictions involving the NCAA to argue that "as a matter of law, that an athletic organization does not owe a fiduciary duty to its members." For instance, in the Pennsylvania federal case Flood v. NCAA, U.S. Magistrate Judge Martin Carlson observed "while the Big Ten and the NCAA oversee some aspects of intercollegiate athletics it is not a fiduciary for the thousands of student athletes who participate in those sports."
The idea that the NCAA has no fiduciary duty to student-athletes may seem a little startling. After all, this is the same NCAA that, in article 2.2 of the NCAA's constitution, requires college sports "be conducted in a manner designed to protect and enhance the physical and educational well-being of student-athletes." It is also the same NCAA that, in its mission statement, pledges to help students balance "their academic, social and athletics experiences." However, courts have found that the NCAA-student athlete relationship falls short of the expectations of a fiduciary relationship. Courts' unwillingness to identify a fiduciary duty partly reflects the "divided loyalties" for the NCAA. In theory, the NCAA owes duties to numerous parties in college sports—the students, the coaches, the trainers, the staff etc.—and those duties are necessarily in conflict at times.
Building on that conclusion, USA Gymnastics asserts that, like the NCAA, it owes no fiduciary relationship to its members. "USA Gymnastics has thousands of members—including professional athletes, club-level athletes, coaches, and member
Organizations," the brief stresses. These members "often have conflicting goals and interests." To illustrate, USA Gymnastics observes that, "many gymnasts compete for spots on a national or Olympic team, even though only a few can be chosen. The existence of these multiple, divided loyalties precludes a fiduciary relationship with any individual athlete."
Denhollander might respond by noting that while USA Gymnastics may encounter conflicts of interest in regards to which athletes place on various teams and competitions, it should experience no such conflict in regards to the safety of girls and young women who are treated by a doctor employed by USA Gymnastics.
(iv) Case law involving the Catholic Church may advantage USA Gymnastics
USA Gymnastics also highlights case law involving a failed effort to prove the Roman Catholic Archbishop of the Archdiocese of Detroit was responsible for a priest's sexual abuse.
In Doe v. Roman Catholic Archbishop of the Archdiocese of Detroit, a former altar boy alleged that Father Robert Burkholder sexually abused him in the 1970s. Burkholder, who was criminally charged in 2002, told the alter boy the rape was "natural, approved of by God and the Church." As a result, the alter boy did not at the time realize he had been abused. As a man in 2002, the former alter boy saw media coverage of allegations brought by other former alter boys against Burkholder. At that time the former altar boy sued the Archdiocese.
The lawsuit was ultimately dismissed on grounds that it was brought well past Michigan's three-year window or the one-year extension after the age of majority. To that end, the Michigan Court of Appeals refused the plaintiff's fraudulent concealment argument. The court reasoned that the plaintiff knew enough at the time of being raped to contemplate legal action:
It is clear that plaintiff knew, at the time of his injury, that Burkholder was an active priest at the IHM parish in the Archdiocese of Detroit. Plaintiff knew that Burkholder was employed by and under the direction and supervision of defendant. Plaintiff knew that defendant represented Burkholder as a fit priest and spiritual leader, which was inconsistent with what Burkholder actually was and plaintiff knew him to be: a child molester and sexual predator. Plaintiff also knew or should have known that the church property on which Burkholder abused him was owned by defendant. Further, plaintiff conceded in his complaint that Burkholder told him that Burkholder's "sexual activities with Plaintiff were natural, approved of by God and the Church." Under the circumstances alleged by plaintiff, it should have been clear to him that defendant either knew of Burkholder's abuse or should have known about it. In either case, plaintiff should have known that a "possible cause of action" against defendant existed independently of his cause of action against Burkholder.
The Michigan Court of Appeals also reasoned that even if the Archdiocese had moved Burkholder around to different parishes and thus made it harder for victimized alter boys to know one another, each victim knew of his own situation and could have filed a claim within the required statutory window.
USA Gymnastics contends that the fact pattern involving Burkholder and Nassar are sufficiently similar. In both cases, a person of trust abused his authority to sexually assault a young person. Like the former alter boy, many of Nassar's victims allege that they didn't know they were sexually assaulted until they saw other victims come forward. Further, as USA Gymnastics puts it, Nassar's victims knew what Nassar had done to them, "even if they did not immediately appreciate the wrongful nature of Nassar's conduct and even if they did not know that other patients had been abused."
USA Gymnastics also highlights that "many plaintiffs specifically allege facts showing that they were aware of the sexual nature of Nassar's actions at the time the assaults occurred … several plaintiffs allege that they observed Nassar's sexual arousal during their treatment." From the vantage point of USA Gymnastics, the gymnasts were on notice that something was wrong. Some raised concerns about Nassar to Michigan State officials, parents and the police, but USA Gymnastics says it first learned about the concerns in June 2015. With these points in mind, USA Gymnastics argues, "plaintiffs cannot claim that they were unaware of their possible cause of action for sexual assault when, in fact, many plaintiffs observed Nassar's sexual arousal, heard Nassar's sexual comments, and actually reported Nassar's conduct as being inappropriate."
In response, expect Denhollander to challenge the view that she and the many other victims of Nassar should have sued when they had the chance. They were young and incredibly afraid. They saw how revered Nassar was in their respective communities—to take him on would have been a profoundly daring and risky act, particularly for those who aspired to continue in the sport. Watch Aly Raisman's impact statement and ask yourself if it the right conclusion is she forfeited a case.
Denhollander might also draw on the moving dissent in the Archdiocese case. Judge Kirsten Frank Kelly believed the case should not have been dismissed on summary judgment. Consider her reasoning:
"[A]llegations of the widespread sexual abuse of altar boys and other young church members did not become known until victims began to come forward years later. This gives credence to plaintiff's argument that defendant was able to prevent plaintiff and others from discovering any claims against him by moving Burkholder around to other parishes so that Burkholder's conduct would not be disclosed. The only way that plaintiff otherwise could have discovered his possible cause of action against defendant was to reveal to others that he was sexually abused by his priest."
Next steps
The litigation will continue and could last for years. Judge Quist will not dismiss the case if he believes the plaintiffs have stated enough to raise a claim that could eventually lead to liability. Assuming the litigation is not dismissed, USA Gymnastics and Michigan State will be expected to partake in "pretrial discovery." At that time, they will need to share emails and texts. Also, their officials and former officials could be deposed under oath.
For Michigan State, pretrial discovery could be threatening on a number of levels, including the possibility that it makes possible NCAA sanctions more likely. USA Gymnastics could also be worried about what might be uncovered. Both of those institutions' insurance companies will also play a pivotal role in how the litigation advances. It is also worth noting that while they are joined as co-defendants, USA Gymnastics and Michigan State have separate and in some regards competing interests. Each wants to minimize blame for Nassar's crimes. At times that will require pointing fingers at the other. That phenomenon is evident in USA Gymnastics's brief, which highlights how "The majority of assaults occurred at MSU's sports medicine clinic, where MSU employed Nassar as a doctor."
It's possible that the victims' litigation will lead to large financial settlements. USA Gymnastics and Michigan State know that a protracted litigation would, at a minimum lead, to adverse publicity.
SI will keep you updated on the Nassar related litigation.
Michael McCann, is SI's legal analyst. He is also the Associate Dean for Academic Affairs at the University of New Hampshire School of Law and co-author with Ed O'Bannon of the new book Court Justice: The Inside Story of My Battle Against the NCAA.