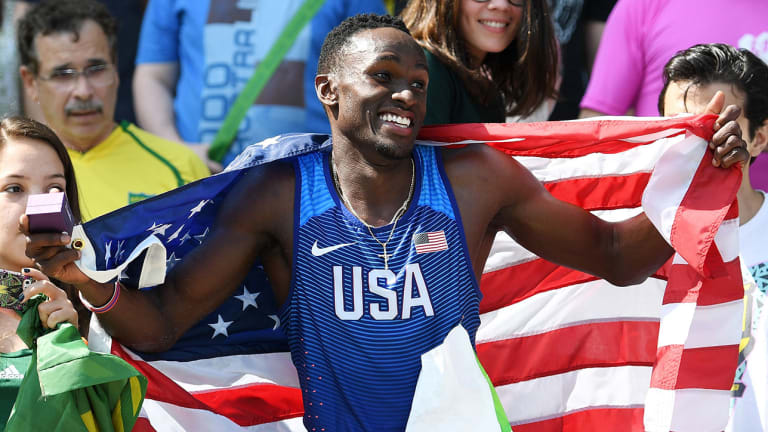 Will Claye Cleared By USADA, Explains How Positive Test Came From Contaminated Beef
Olympian Will Claye explains how his positive test for Clenbuterol was traced back to contaminated beef.
The United States Anti-Doping Agency announced that two-time U.S. Olympian and three-time Olympic medalist Will Claye tested positive for the banned substance clenbuterol in an out-of-competition urine test on Aug. 1. Claye was not suspended and was found not to be at fault for the positive test because USADA determined the source of the positive test was likely from contaminated meat that the 27-year-old jumper consumed in Mexico.
Clenbuterol is a banned substance that is often used by bodybuilders in attempts to increase lean muscle mass and reduce body fat. It is commonly used in cattle and livestock in Mexico for similar physical boosts. In June 2017, Olympian Ajee Wilson was stripped of her American record in the indoor 800 meters when she tested positive for zeranol, which was also traced back to tainted beef. USADA determined Wilson had no fault in ingesting the banned substance and she was not suspended.
When reached by Sports Illustrated on Thursday afternoon, Claye wanted to add further details regarding the positive test.
"I don't want anyone thinking that I was a cheater," he says. "I've been jumping since I was 17 years old. I have a God-given ability and would never even think of cheating."
Earlier this summer, Claye's fiance, hurdler Queen Harrison, returned to San Diego after a series of races in Europe. Because she missed Claye's birthday while in Europe, she planned a surprise four-day vacation in Puerto Vallarta, Mexico from July 26 to 29 for his birthday and to take engagement photos.
"We were just on vacation," Claye says. "We spent a lot of time on the beach and then going out to various restaurants. Every single restaurant that we ate at, we had looked up on Yelp. All of the reviews were really good and appeared to be reputable restaurants. Breakfast, lunch and dinner we went out to eat. We're on vacation so we're not cooking anything."
When asked to recall what meals included meat while on his trip to Mexico, Claye says that he ate a breakfast burrito that included steak, eggs and potatoes, a steak dinner with a side of potatoes and then a hamburger from the Tijuana airport. He cited Joe Jack's Fish Shack, The Blue Shrimp, Cafe des Artistes and La Palapa Restaurant as the restaurants that they went to while in Mexico. Claye says that Harrison only ate seafood for the entire trip and they did not share any food.
#https://instagram.com/p/BlvtO-7AGLM/
Two days after his return from Mexico, USADA collected the urine sample at his home on Aug. 1. Claye has been tested nine times in 2018, according to the latest statistics in USADA's athlete test history database. He has been tested 44 times since 2009. Two months after the test, Claye says he received a notification from USADA that he had tested positive and Clenbuterol was found in his sample.
"Once I got the email, I looked up Clenbuterol and the first thing that I found was about Canelo Alvarez and his positive test from Mexico," Claye says. "I was wow'ed because I do not take any supplements ever. People ask me all the time if I take anything and I tell them I don't. I just train hard."
Alvarez was slated to fight Gennady Golovkin in a highly anticipated rematch of the 2017 boxing match. Alvarez tested positive for clenbuterol twice in random urine tests, which were conducted by the Voluntary Anti-Doping Agency while he was based in his hometown of Guadalajara, Mexico. Alvarez was temporarily suspended by the Nevada State Athletic Commission.
"I did even more research and saw that it was a substance to lose weight," he added. "Will Claye has to lose weight? I weigh 144 pounds. If I lost anymore weight, I might not make it. There's no way I need to lose weight."
Claye had not competed since the Prefontaine Classic at Hayward Field in Eugene, Ore. in May when he received the notice. Claye decided to shorten his outdoor season to focus on his music career, as he intends to sign with a label in the coming weeks.
Claye consulted with a lawyer to clarify the positive test to USADA. He turned over receipts from every place that he ate while in Mexico. Before the trip, he updated his whereabouts for testing and informed the anti-doping agency that he would be in Mexico. USADA's lab reports confirmed that a very low concentration of the prohibited substance was from the contaminated meat.
"I take pride in being a clean athlete and news like this upset me because I would never think about cheating," Claye says.