Time is ticking for Carl Edwards, Tony Stewart to get on title track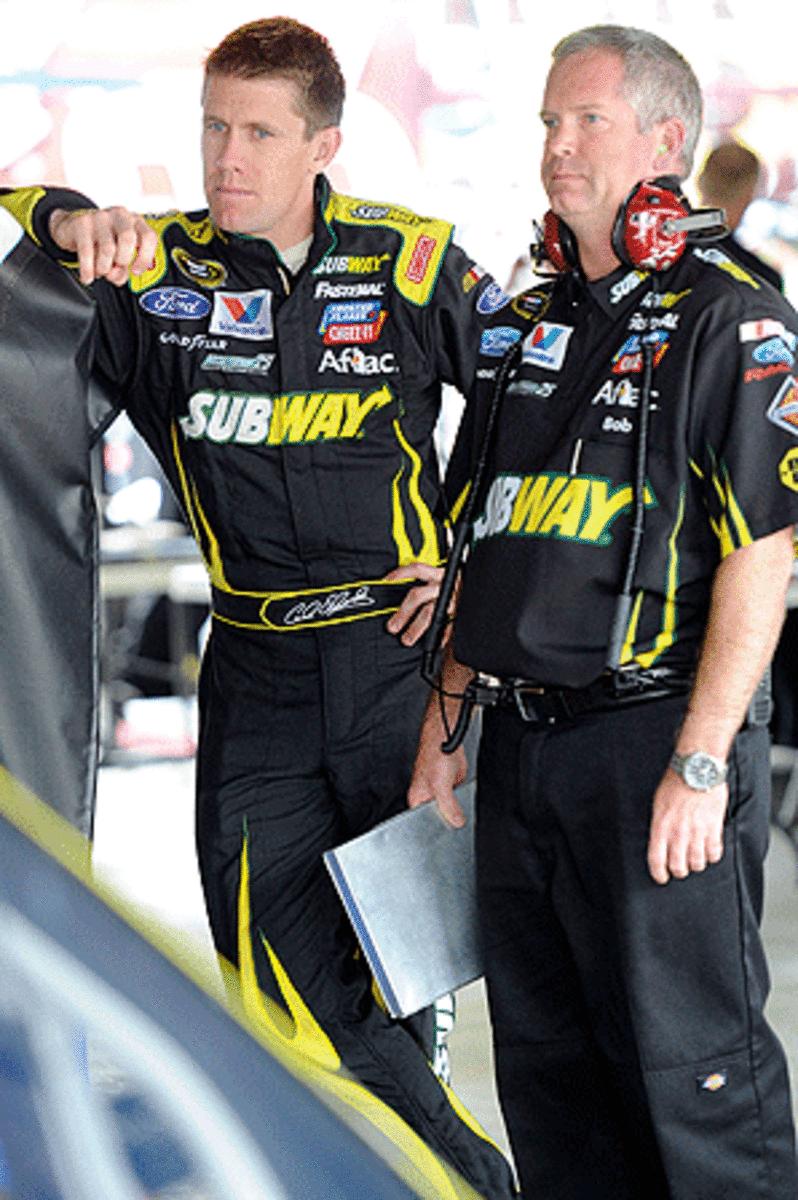 His chance for victory long gone, Carl Edwards made sure he didn't lose his team Sunday at Dover.
Speaking with conviction, Edwards reassured his crew about 50 laps from the finish that their season isn't as perilous as some may portray in the coming days.
When the checkered flag mercifully waved for Edwards -- he finished 26th after a blown tire sent him into the wall and then to the garage for repairs -- he repeated his message.
"Guys, you just keep your heads up,'' Edwards said on the radio. "That's a good race car. There's nothing about anything that anybody did that makes that tire blow out or not blow out. So, don't listen to any B.S. about 'Oh, they're just not the same' or this or that. It has nothing to do with that. You guys are doing awesome.''
"You too buddy!'' crew chief Bob Osborne replied. "You too!''
Six months after Edwards and Stewart gave NASCAR a rollicking championship race, neither driver has shown the consistency for another title run. With Sunday marking the halfway point to setting the Chase field, Edwards and Stewart will face more scrutiny if their performances do not improve in the next 13 races.
Edwards left Dover 12th in the points, but fell to fourth in the race for the two wild-card spots. He trails three drivers who have won this year. Edwards hasn't won in 14 months, a drought that encompasses 46 races.
Thus the pep talk to the team.
If nothing else, Edwards could have reminded his team about Hendrick Motorsports. A month ago, Rick Hendrick's organization fielded constant questions about a winless drought that stretched to October. Hendrick has since won four consecutive races. Jimmie Johnson won the Southern 500 and the All-Star race and then Kasey Kahne won the Coca-Cola 600. Johnson was victorious Sunday although teammate Jeff Gordon might have had the best car until a loose wheel ruined his chances for a much-needed victory.
Edwards knows his equipment is as good as there is in the sport. His Roush Fenway Racing teammates, Greg Biffle and Matt Kenseth, are first and second in the points. Biffle won at Texas and has seven top-five finishes. Kenseth won the Daytona 500 and has six top-five finishes.
If there is a concern about Edwards it's that he hasn't seemed as fast as his teammates. Other than leading 206 laps at Richmond, he's led only one other lap this season. While Kenseth has led only three more laps than Edwards this year, Kenseth has five more top-five finishes, showing that he stays near the front when he gets there.
Part of Edwards' woes have been out of his control. He was collected in an early crash he couldn't avoid at Bristol and finished 39th. He was a victim in a multicar crash at Talladega and finished 31st. Then came Sunday's woes as he ran in the top five when his tire went down.
He's finished between fifth and 17th in every other race. That's not bad. It also needs to be better to challenge for a championship.
As Edwards noted earlier this season, the goal is to be peaking in the fall when the championship is at stake. Stewart struggled to make the Chase, entering it winless, while Edwards spent much of his time leading the points. Stewart then won five of the 10 Chase races to beat Edwards for the crown by a tiebreaker.
As for Stewart, he's been inconsistent this season. His two victories are weighed against five finishes outside the top 20. He placed 25th Sunday after he was involved in an accident on the ninth lap.
Stewart said Landon Cassill tried to come down the track and "we were just in the wrong place at the wrong time.'' Stewart then was hit from behind by Regan Smith, starting a chain reaction that damaged 12 cars. Stewart's team needed more than 60 laps to make repairs, adding to the recent frustrations for he and his team.
After placing third in the Southern 500, Stewart was not competitive in the All-Star race and finished three laps down in 25th in the Coca-Cola 600. Sunday's result marked his fourth consecutive finish of 20th or worse at Dover.
"A crappy weekend,'' Stewart said as his crew repaired his car.
Stewart conceded earlier in the weekend that "we have been pretty inconsistent.
"We have had some really good runs, and we have had some races that we are still scratching our heads about. We are working through different packages and trying to find the balance that I like. Steve (Addington, crew chief) and I are still just getting to a lot of these tracks for the first time. It's that growing pain of getting somewhere with a new guy."
Stewart, though, says he enjoys working with Addington, who joined the team when Darian Grubb was let go after last season.
"We have a lot of fun at the track,'' Stewart said. "I think our communication with each other is really good. He's easy to understand. I think he understands what I'm talking about. Those are the things that you can't teach. They have to come natural and that is coming pretty easy."
Even with the struggles, Stewart is eighth in the point standings -- the same place he was at this point last year. He is seven points ahead of 11th-place Brad Keselowski. Stewart's victories at Las Vegas and Auto Club Speedway will get him in the Chase. The key will be to stay in the top 10 so he can use the bonus points from his wins. Any driver who takes a wild-card spot does not receive bonus points for victories. As Stewart showed last season, every point matters.
With a short week ahead, there's little time for Edwards, Stewart and others to rest. NASCAR will allow teams to be on the track Wednesday at Pocono. They'll have two days of testing on the repaved track before the weekend begins.
As Edwards drove back toward the garage Sunday, he and Osborne had one final exchange on the radio.
"See you Wednesday morning, man,'' Edwards said.
"10-4, Wednesday morning buddy, be ready to practice,'' Osborne said.
"I'll be ready,'' Edwards said.