Kevin Harvick still winless but confident that victory will come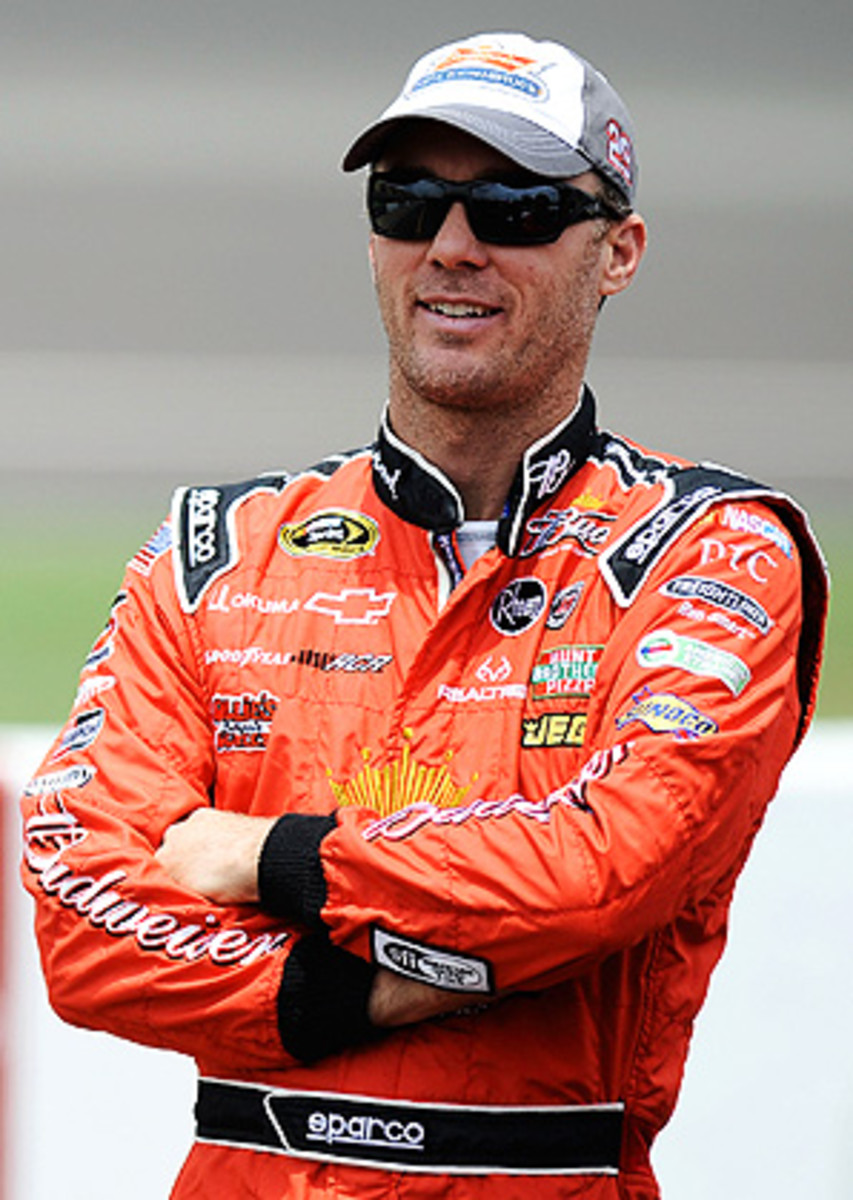 Kevin Harvick was overjoyed for his good friend Jeff Carter when the Los Angeles Kings won the NHL championship.
"So happy for our buddy Jeff Carter and LA Kings," Harvick sent out via Twitter. "Freaking awesome!! Good things happen to good people!!!"
Harvick and his wife, DeLana, have been friends with Carter since meeting at a media event at Richmond International Raceway six years ago. Carter, then playing for the Philadelphia Flyers, invited the Harvicks to a game. They accepted, thus creating a couple of hockey fans and a friendship. Ever since, the Harvicks have closely followed Carter's career and attended games he played.
Carter was traded by Philadelphia to the Columbus Blue Jackets prior to this season and it didn't go well for him. The Kings acquired him in late February, resulting in a much better relationship -- Carter helped lead them to their first Stanley Cup championship, on June 11.
"We have talked to him a few times throughout the playoffs and went to several playoff games," Harvick said. "We watched him from getting kicked out at Philly and going through his Columbus stuff, and for him to be able to come back and win the Stanley Cup is pretty neat. He achieved the top honor in his sport and it's fun to be able to have somebody that you call friend to be able to achieve that and watch his excitement through the whole thing."
As a professional athlete, Harvick has great appreciation of what Carter has been through and what it must feel like to reach the top of the mountain. Fans and sponsors share in the joy of winning championship, but only the athlete can feel the elation that comes from a personal understanding of the level of commitment and desire it takes.
Harvick has been this close to winning the Sprint Cup multiple times -- he finished third in the Chase the past two years and fourth in 2008 and 2006. It is his ultimate ambition, the reason. He shut down his Nationwide and Camping World Truck Series teams after last season to focus entirely on Cup and spend more time in the shops at Richard Childress Racing.
Sixteen races into the season, Harvick is sixth in the points. He's 48 ahead of 11th place Carl Edwards and, without a win, needs to stay in the top 10 over the next 10 races to make the Chase. Harvick figures as long as he makes the Chase, he's a contender for the championship, on equal footing with the 11 other drivers.
"I think you just look at the guys that wind up making the Chase," Harvick explained. "You look at any of them that could be a threat to win the championship. I think last year we led the points sporadically and the year before we led for most of the season. It didn't work out for us, so I like where our cars are performing.
"We haven't capitalized on any of the stuff that we've really done this year. Hopefully, by the time it rolls around to Chase time, we can still be in it and have everything flowing the way we like it."
So far this year, Harvick has three top-five and eight top-10 finishes. He crossed the line second at Phoenix and Dover, fourth at Auto Club Speedway in Fontana, Calif., and sixth at Kansas. In terms of statistics, Harvick is a little behind his pace of a year ago when he had four wins among his nine top-fives and 19 top-10s. But Harvick also understands it's better to win in the Chase than before it. Tony Stewart showed him the way a year ago with five wins in the final 10 races.
Also, this is Harvick's first Cup season with crew chef Shane Wilson, but they worked together previously in 2006, when he won the Nationwide title. Their prior experience together chopped down the time needed to develop the communication and the chemistry, both critical elements, to compete for those finishes that make for a successful season.
There's no loss of confidence for a winless Harvick at this point. He believes the best is yet to come.
Would Harvick like to win Sunday at Sonoma Raceway's road course? Of course. It's the second and final race this season in Harvick's home state of California and that makes it special. Harvick has also developed into a pretty good road racer, giving him an edge -- he won at Watkins Glen in 2006 and has finished second and third twice at Sonoma.
Harvick tested at High Plains Raceway, a 2.55-mile road course, in Byers, Colo., en route to California.
"I think that the key is finding an alternative that is closer to what we are going to see in Sonoma," Harvick said. "In the end it's really not about the car. It's really about getting me in a rhythm and getting everybody in road course frame of mind. I know nothing about the particular track that we are going to. As long as you are shifting gears and being able to stomp on the brake pedal, for me it's great to get in a rhythm the week of the race."
Can Harvick join his friend Carter in wearing a championship ring at the end of this season? Don't be deceived by the fact he's still searching for that first win. It will come and maybe from the confidence and momentum that come with them, more will follow. The Chase approaches, and Harvick is well positioned for a run at the title.