Juan Pablo Montoya looking to jump-start season at Sonoma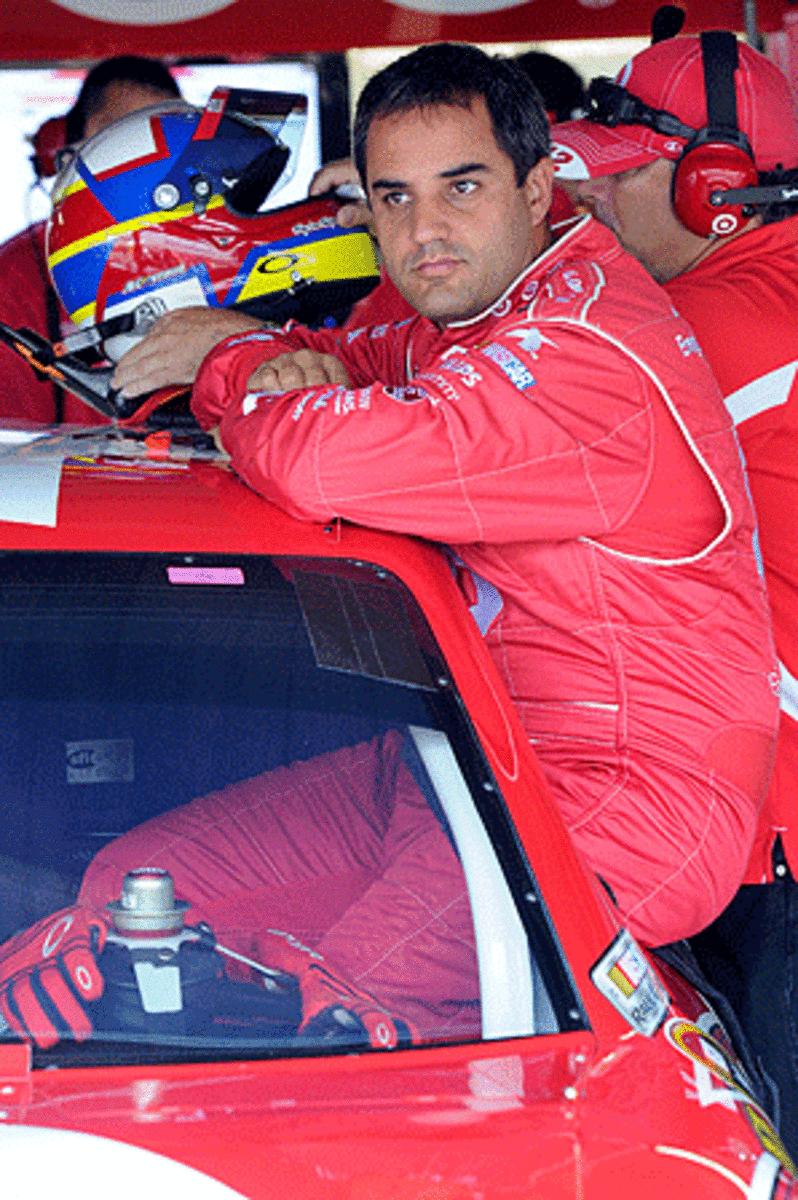 He had an air of confidence that was rare for a rookie in NASCAR, back in 2007, when he strolled through the garage at Daytona International Speedway just days before he began his full time career as a stock car driver. Juan Pablo Montoya arrived that winter in Daytona as a former Indy 500 champion and winner of the Monaco Grand Prix in 2003 -- Formula One's premiere event. It was taken as an article of faith that he would someday soon enjoy similar success in NASCAR.
Five years later, it hasn't happened. Yes, Montoya, now 36, qualified for the Chase in 2009 and finished eighth in the final standings that year, but he has mostly been a mid-pack driver in the Cup series. Sunday at Sonoma (Calif.) Raceway will mark the five-year anniversary of his first win in NASCAR. A road course specialist, Montoya started 32nd and then drove through the field to capture the checkered flag. Since then, he's reached Victory Lane only one other time (at Watkins Glen in 2010).
But Montoya, who grew up racing go-karts on road courses in Bogota, Colombia, should be fast Sunday at the winding, 1.99-mile road course that features 12 turns. The vast majority of the Cup drivers would prefer that road courses be eliminated from the schedule, but not Montoya. He has a natural feel for turning right and left at high speeds that few drivers in the sport possess, and he can perform passes in places where others don't dare risk spinning their cars out of control.
So far the 2012 season has been a disappointment for Montoya, who drives for Earnhardt Ganassi Racing. Through 15 races he has only two top-10 finishes, has led only 14 total laps, and is 19th in the standings. If he's going to advance to the Chase, it will be as a wild card, which means he likely will have to win two races between now and the end of the regular season on Sept. 8 at Richmond, Va.
He's capable of doing just that, but it's imperative for him to win on Sunday. In five starts at Sonoma his average finish is 9.0, which statistically makes Sonoma his best track on the circuit. If Montoya can take the checkers here, he'll be the favorite to win at Watkins Glen (the other road course on the schedule) on Aug. 12. So, even though he's been an afterthought for most of the season, Montoya still has a legitimate shot at qualifying for the playoffs.
But to do that, he must cross the finish line first on Sunday -- and I think he will. Even if he qualifies poorly and starts from the rear of the field, Montoya excels at fuel saving on road courses and has flashed as much car control as any driver in recent memory on these twisting tracks. Look for him to reach Victory Lane in wine country -- and, frankly, I don't think it will even be close.
Here are four other drivers to watch when the green flag drops:
1. Dale Earnhardt, Jr.
This is the kind of race where Earnhardt simply wants to sustain his momentum, not necessarily win. Last week at Michigan he snapped a 143-race winless streak by taking the checkers for the first time since 2008. He's never been a big fan of road courses -- Earnhardt grew up racing on concrete ovals -- but he's steadily improved, finishing 13th or better in three of his last five starts at Sonoma.
Earnhardt leads the series in top 10s with 12 (which is as many as he had in all of 2011). He'd certainly be content if he could pad that number on Sunday.
2. Jeff Gordon
Gordon is off to the worst start to a season of his career. Currently 21st in points, Gordon has authored only one top-five performance and is in serious danger of missing the Chase for the first time since 2005.
Sonoma is one of Gordon's best tracks on the schedule, so -- much like Montoya -- he needs to have a strong run if he's going to save his season. He has five career wins in Northern California and he came in second here last year. Expect Gordon to very, very aggressive.
3. Kurt Busch
Busch has been one of the biggest stories of the year in NASCAR -- and not because of anything he's done on the track. He was suspended for one race earlier this month after he physically threatened a reporter and now he's clearly out of third, fourth and fifth chances. In what is probably a good move professionally, he's not talking to the media unless mandated by NASCAR.
But Busch could very well steal the weekend headlines. He won at Sonoma last year and is generally regarded as one of the top road course racers in the series. In the past he's raced well when things off the track were going poorly, and it would surprise no one in the garage if Busch contends for the win on Sunday.
4. Tony Stewart
Of all the veteran, full time drivers in NASCAR, Stewart is the best road course racer. He has five wins at Watkins Glen and two at Sonoma. He was involved in a crash here last year and came in 39th, but before then he had ripped off four straight top-10 runs.
Eighth in the standings, Stewart has a long history of heating up over the summer months when the temperatures rise. He grew up racing on dirt, so he relishes slick, sun-baked tracks. He should be good for at least a top-five on Sunday.