Odds stacked against Ryan Newman as he seeks Chase berth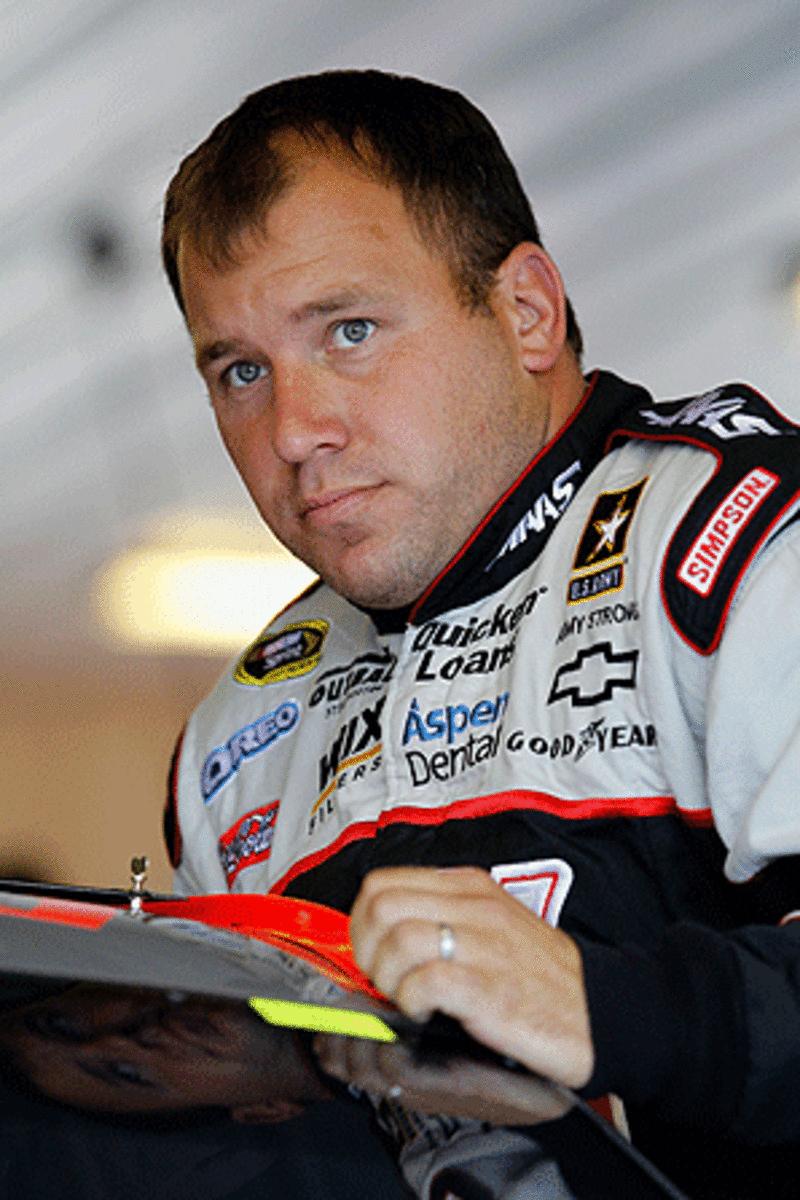 Ryan Newman's car, smoke billowing out of its cockpit, turned sideways heading into Turn 2 and skidded up the Kentucky Speedway surface.
The back end of the No. 39 Chevrolet smacked into the wall, then the car spun around and the right front quarter panel hit the SAFER barrier. After skidding another 40 feet up the track, vehicle and wall collided again.
"It blew up," Newman called over his radio. "It blew up."
He was referring to his engine, but Newman might as well have been discussing his season.
Newman headed to the garage with a 34th-place finish last weekend at Kentucky. It dropped him two spots to 15th in the Sprint Cup driver standings, and more importantly with just nine regular-season races remaining, took him out of the second wild-card Chase spot, which now belongs to Kasey Kahne.
Since his win at Martinsville on April 1, Newman hasn't cracked the top five since, and he hasn't cracked the top 10, either. Over the past 11 races he's averaged a 20.2 finish, been 20th or worse five times (including two DNFs) and led zero laps. In that span he's gone from eighth in the points to five spots and 75 points from one of the 10 guaranteed playoff spots.
In a move that could be chalked up as the culmination of all those weeks of frustrating results, Newman re-ignited his feud with Joey Logano at Kentucky.
Unhappy with the way Logano was racing him, he clipped the back end of the No. 20 Toyota and punted Logano into innocent bystander Clint Bowyer. While all parties kept their cool, Newman was all too willing to voice his displeasure with Logano after the race.
"I'm not really sure what's going on with the boy in that No. 20 car," Newman said. "He's got a few things to learn and I'm going to have to be the one who teaches him.
"He lost control in the first place, I went to go drive around the outside of him and I don't know if he half-way blocked me or what. It just about spun him around into the No. 15 [Bowyer] and I guess if the No. 15 wasn't there it would have. Then he raced me really poorly, lack-of-respect wise. That doesn't go very far with me, you can see from my past I react to that."
Self-inflicted, on-track incidents aside, Newman did show signs of life at Kentucky. He ran as high as fourth and 76.4 percent of his laps were run among the top 15, which was his second-highest percentage of such laps since that victory at Martinsville.
Though expecting Newman to carry the positives from that run into a much-needed top 10 Saturday night at Daytona could be a stretch, given his recent performances at both that speedway and in restrictor-plate races in general.
He was 21st in February's Daytona 500 and 36th in April at Talladega, and you have to go all the way back to Newman's win in the 2008 season opener to find the last time he finished better than 20th at Daytona International Speedway. But Newman is clearly in no shape to absorb another forgettable effort at Daytona.
According to PlayoffStatus.com, which "presents the probability that a driver wins different qualifying Chase spots" where "all future race outcomes are based upon probabilities derived from past race results," Newman has only an eight percent chance of moving up to the first wild-card spot (the 11th seed), and an 18 percent chance at the second spot (12th). By comparison, the probability Kyle Busch, who currently holds one wild card, finishes 11th is 23 percent and 12th is 24 percent, while Kahne's figures at 16 percent (11th) and 23 percent (12th). Logano (seven percent for 11th; 16 percent for 12th) is the only driver in play for a wild card with lower probabilities than Newman.
Where Newman will most likely end up, per the data, is on the outside looking in at the playoffs. He has a 73 percent chance of finishing the regular season 13th or worse.
Without question Newman, who was once in prime position to earn his fifth career Chase berth after he gave Stewart-Haas Racing its third win in four weeks, is in trouble. It's going to take another win to reach the playoffs, and his recent struggles make that seem unlikely.
Stewart-Haas' inconsistencies over the past two months aren't resigned to Newman. Teammate/owner Tony Stewart also been hit with five finishes of 24th-32nd in the last 11 events and you have to wonder if the organization's woes will impact where Newman, whose contract is up after this season, signs.
With Matt Kenseth likely headed to Joe Gibbs racing, a return to Stewart's stable is likely Newman's best option. But if Newman were to miss out on the playoffs it would be the fifth time he's failed to qualify in seven seasons and the second time in four years with Stewart-Haas.
There's still time. He has nine weeks before the regular-season finale at Richmond, nine chances to push himself back into the Chase picture. But the statistics and the results show, to hearken back to Newman at Kentucky, that this season might have gone up in smoke.
Daytona Prediction
Matt Kenseth. He's rarely thought of as one of the era's best restrictor-plate racers. Kenseth doesn't crack the top five in average finish among current drivers at either Daytona or Talladega. But he -- and teammate Greg Biffle -- has proven Roush Fenway Racing clearly tapped into something with its setup on the superspeedways.
For Kenseth, the three races since Daytona was repaved after the 2010 season include a win in the '12 Daytona 500, a second place in last July's race, and while he was 34th in the '11 edition of the 500, he ran as high as second before he crashed. Plus, he was also third in April in Talladega.
Look for Kenseth, who has been dealing with plenty of questions about his future and whether a lame-duck driver can contend for a title, give a statement of his own with his second win at Daytona this season.