Harvick, Kyle Busch win Daytona 500 duels, Danica holds onto pole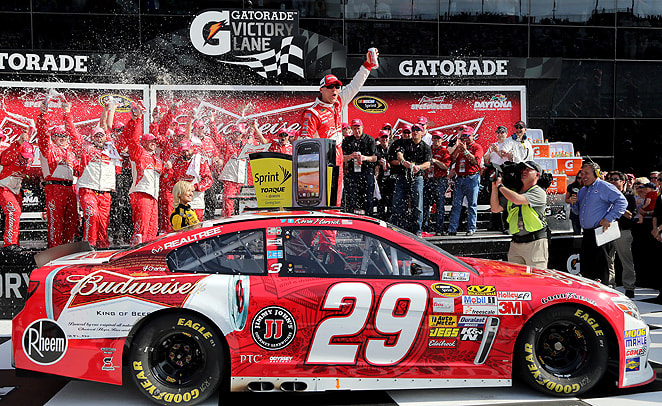 DAYTONA BEACH, Fla. (AP) -- Kyle Busch has won the second of Daytona's twin qualifying races by holding off a late challenge from Kasey Kahne.
Busch will join Kevin Harvick in the second row of the season-opening Daytona 500 on Sunday.
The two earned their starting spots by winning their respective 150-mile Budweiser Duel race on Thursday.
Kahne finished second behind Busch after failing to get close enough to attempt a race-winning pass. Third went to Austin Dillon, who earned a spot in his first Daytona 500.
Harvick won the first duel to make it 2 for 2 at Speedweeks. He also won last weekend's exhibition race.
The starting lineup for the Daytona 500 is set by the results of Thursday's races.
Danica Patrick played it safe and kept her pole position for the Daytona 500.
Patrick started on the pole for the first 150-mile Budweiser Duel on Thursday and led the field to green. From there, Patrick was a non-factor in the No. 10 Chevrolet. All she needed to do was keep her car intact to preserve the top spot for Sunday's Daytona 500. She faded into the field and finished 17th. She was nowhere near the four-lap sprint to the finish that saw Kevin Harvick hold off Greg Biffle for the win.
Patrick says there's a "sense of relief" she escaped the race without any major mistakes. She says it wasn't fun not being able to race hard at the end for the win.
Patrick became the first woman in history to win a pole at NASCAR's Sprint Cup series