Wreck shows NASCAR cannot fully guarantee fans' safety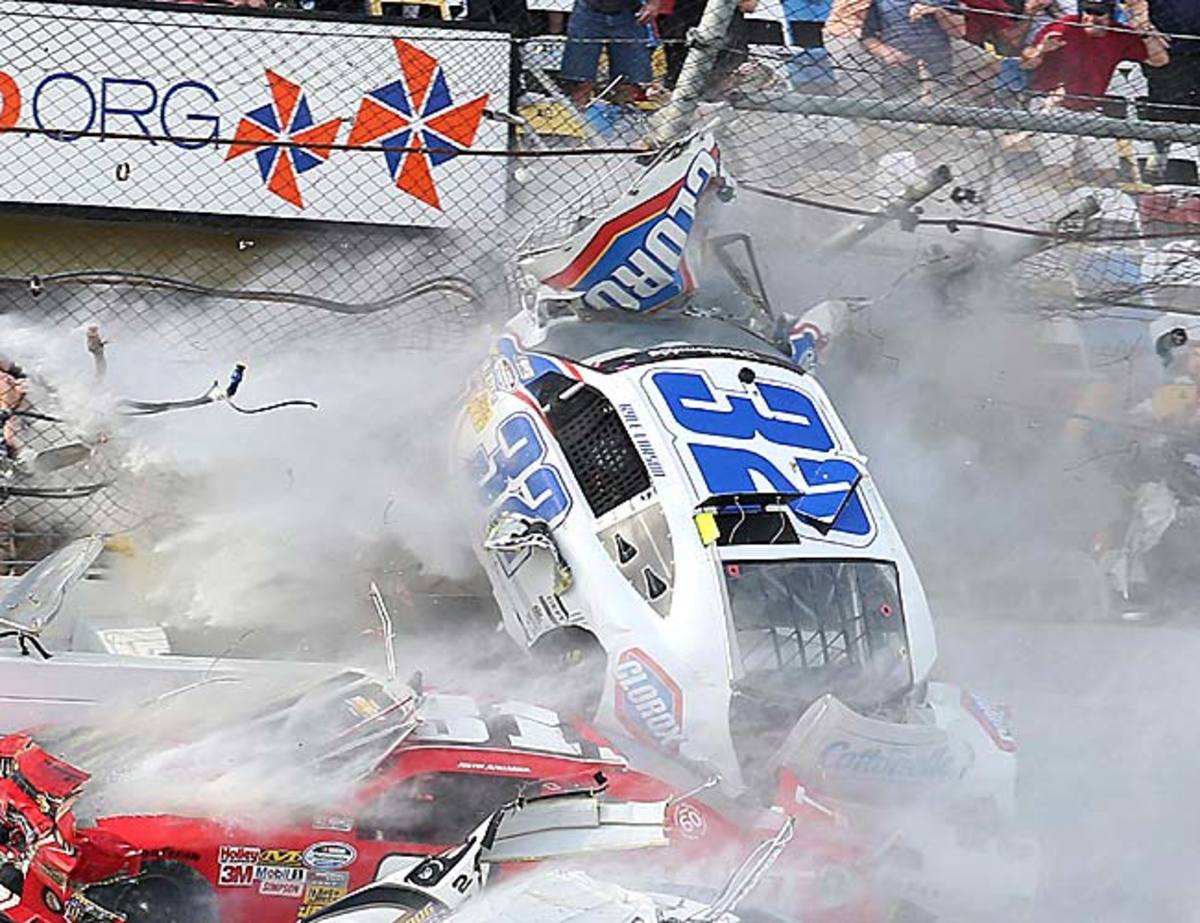 It was a long ago conversation, back in 2010, when Carl Edwards and I were talking about the scariest scenario in NASCAR: the prospect of a car -- and/or its parts -- hurtling into the grandstands at almost 200 mph. "It keeps me up at night, thinking about how bad it could have been," Edwards told me a few months after his No. 99 Ford had gone airborne at Talladega (Ala.) Superspeedway and slammed into the track's catch fence, sending pieces of his car flying like shrapnel into the stands, injuring eight spectators. "I just pray that something like that will never happen again."
Sadly, it did again on Saturday at Daytona International Speedway in the season-opening Nationwide race. You can get the details of what happened in the wreck here, but what we know as of this writing is that at least 33 fans were injured after Kyle Larson's No. 32 car went into the catch-fence on the last lap of the race. One of Larson's tires ended up in the ninth row of the grandstands and -- after his car was cut in half in the wreck -- his engine tore through the fence and came to a rest on a walkaway at the bottom of the concourse. I've been covering NASCAR for SI for a decade, and I've never seen a more horrific wreck.
GRAHAM: Photos, video, tweets from crash
Here are three quick thoughts about what may turn out to be the most harrowing day in the history of NASCAR:
1. There is no way to guarantee fan safety when a crash of this magnitude happens at either Daytona or Talladega, the two biggest tracks in NASCAR, where restrictor-plates are used and the cars travel around in big packs at nearly 200 mph. I've heard several commentators say that the fans need to be moved back from the track, but that ignores a simple fact of what happened on Saturday: a tire wound up in the NINTH row of the grandstands and some debris reportedly landed in the upper deck. When cars are traveling this fast, put simply, no one is safe. We should all remember that in the Indy 500 in 1987, a tire flew to the top row of the grandstands between Turns 3 and 4 and killed a spectator.
2. The reason this accident happened was because Regan Smith, who was leading the field as he was charging toward the checkers, blocked a fast approaching Brad Keselowski. If NASCAR sincerely wants to eliminate these last lap, massive wrecks -- and this has been going on now for 25 years, ever since NASCAR put plates in the engines to reduce speeds after Bobby Allison nearly flew into the stands at Talladega in 1987 -- it needs to tell drivers it's no longer acceptable to block a faster car. Should the sanctioning body do this? I'm honestly not sure, but it's a debate worth having.
3. ESPN and NASCAR did a poor job of handling this horrible incident in a variety of ways. Here are two points:
One: ESPN will frequently give viewers five different angles of a car innocuously spinning out in Turn 3 during a race, but the World Wide Leader showed just one replay of what could turn out to be the most significant wreck in the history of the Nationwide Series. Rather, they should have broadcast different replays of the actual on-track incident, not those injured in the crowd, so fans have an opportunity to really see what caused this horrific crash. A moment worthy of Edward Murrow, this was not. We all know that ESPN and NASCAR are in a multi-million dollar bed together, but the network's inaction should be appalling to anyone at ESPN who ever spent the time and money to go to J-School.
Two: I personally like Joie Chitwood, the president of Daytona International Speedway. He's a good, nice guy. But by my watch, he read a prepared statement that lasted all of 20 seconds in a press conference on Saturday night in which he referred to "the incident" before moving on to say "we will be ready to go racing tomorrow." I'm sure Chitwood understood the gravity of the moment, but it sure didn't come across that way. Fans who had paid money to come to his track were, at that very second, reeling. For NASCAR, an organization that essentially owns Daytona International Speedway and has recently retooled its communications staff, this was the height of PR tone-deafness.
I hope that "this incident" isn't what we'll remember about the 2013 Daytona 500 weekend, but I do know this: There are at least 33 lives that will never be the same after they went to a race on a sunny Saturday afternoon in South Florida.