Joe Gibbs Racing moving on after engine problems at Daytona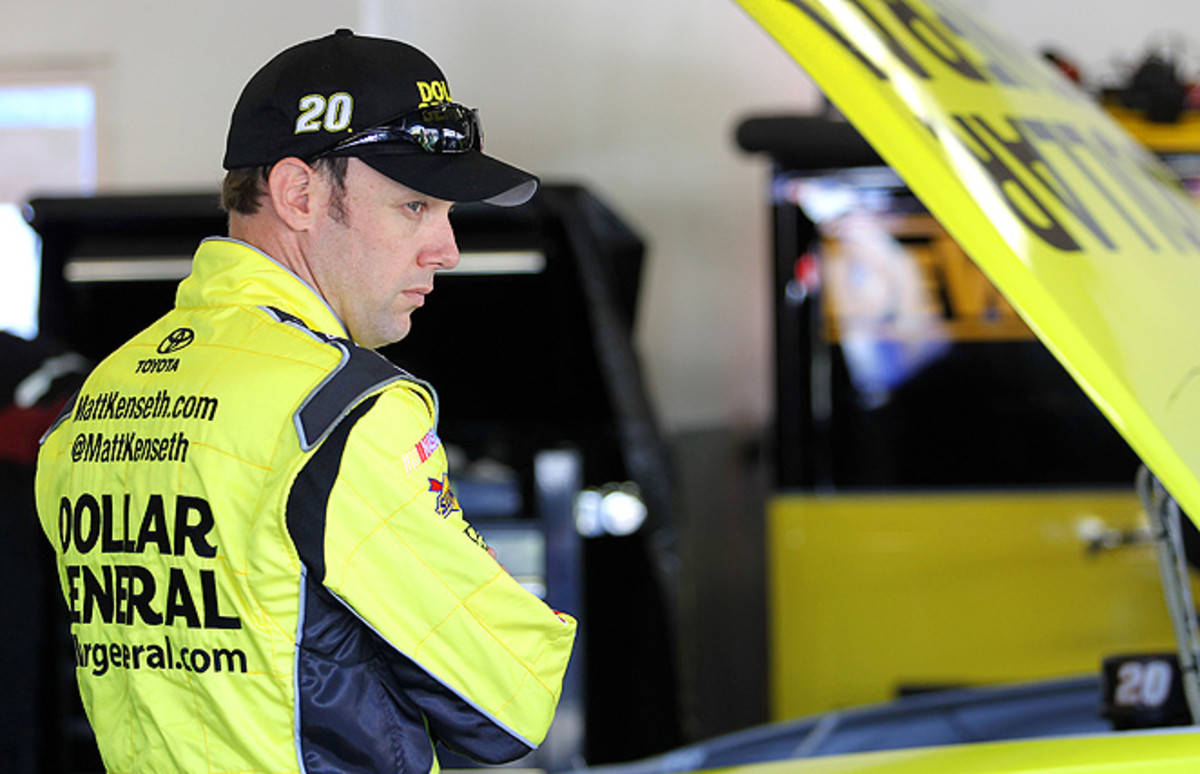 Nobody is as eager to get to Phoenix this weekend as Joe Gibbs Racing, the team that can only view the Daytona 500 as a disaster.
JGR was running 1-2-3 at one point of "The Great American Race" and in prime position to put one of its drivers in Victory Lane. Instead, Matt Kenseth went to pit road with an engine issue after leading a race-high 86 laps. Kyle Busch followed him a few moments later.
Both could only watch in street clothes as Denny Hamlin tried to carry the JGR banner. He led three times for 33 laps, only to get stuck in the wrong lane in the closing laps and fade to a 14th-place finish.
It was a bitter outcome for the organization and for manufacturer Toyota, which had put a huge emphasis on the Daytona 500 and had all six of its factory cars running 1-through-6 at one point of the race. In addition to Kenseth and Busch's engine woes, Michael Waltrip and Martin Truex Jr. didn't have full power at the end of the race.
As NASCAR moves into the desert for Sunday's race at Phoenix International Raceway, Kenseth said he believes JGR showed at Daytona it's a strong organization.
"Despite not getting the finish we deserved last weekend at Daytona, I'm really pleased with how our season began during Speedweeks," Kenseth said. "We had really fast cars and our No. 20 team had great pit stops so I'm excited with how we ran at Daytona and really thankful to be part of this team. I'm just looking forward to getting to Phoenix and building upon what we have already started for this year."
It was Kenseth's first race with JGR after leaving Roush Fenway Racing, and he was seeking his third Daytona 500 title.
Busch's disappointment showed Sunday at Daytona. He'd won his qualifying race earlier in the week and thought he had a shot at winning his first Daytona 500.
"I'm glad to go back to a race track where drivers matter and car handling matters," he said. "The best way to get over the disappointment of the Daytona 500 is to get back in the car and have another chance at winning the next one. I wish the race was today, to be honest. I'm ready."
Busch has made no secret that 2012, when he won only once in all three of NASCAR's national series, was the worst season of his career. Because his temperament often overshadows his talent, he's earning a reputation as a driver who may never win a Sprint Cup title.
He said this week he's more determined than ever.
"I'm here to work hard and I'm here to win and bring home trophies and championships, that's what my ultimate dream is," he said. "I don't know whether it's the Lord upstairs just making me wait or what. Even if I did win one championship, I'm not done, I'm not leaving. I still want to win more. You still have that same hunger and drive to get as many as you can.
"It just plays out as it does, sometimes. Sometimes it's your year and sometimes it's not your year."
*****
BIG FINISHERS: Jimmie Johnson was only partly joking when he likened the Daytona 500 to the lottery - every driver in the field had a shot at holding the winning ticket.
One glance at the finishing order proved Johnson's theory: Michael McDowell and JJ Yeley, who more often than not are forced to start-and-park their rides, both finished inside the top 10.
McDowell, who drives for Phil Parsons Racing, was ninth for his first career top 10 in 115 starts.
"For us, an under-funded team to come here to Daytona and get a top 10 finish is pretty cool," McDowell said.
The euphoria was short-lived, though. McDowell tweeted Wednesday night that his team has withdrawn from the Phoenix entry list because they are behind in building the new Gen-6 race car.
"Unfortunately (at)PPR98 will not be in Phoenix this weekend. We have fallen behind building new Gen6 cars and will be back on track in Vegas," he tweeted.
Yeley was 10th for his first top 10 since 2008, and he came from 41st and a lap down to get his finish. In his first season with Tommy Baldwin Racing, Yeley also hit a milestone with sponsor Golden Corral: Every time he gets a top-10 finish this season, kids eat free on Monday.
"After a long, hard-fought day at Daytona, we were able to log a top-10 finish for our first outing," Yeley said. "The best part of it all is making lots of kids happy when they eat for free as a part of JJ's Monday."
Team owner Baldwin thought it was a sign of how hard the organization has worked.
"We put in a lot of work over the offseason and to see JJ and the team make the top 10, that tells us that we did a good job," Baldwin said. "Seeing our team progress through the past several years, moments like this are why I started my own team."
*****
PT on TV: Paul Tracy has joined Sportsnet's Canadian coverage team, a prospect that means the 2003 CART champion will bring his humor and blunt analysis to IndyCar races he broadcasts this year.
Sportsnet has a five-year agreement with IndyCar for exclusive Canadian rights to the IndyCar Series and Firestone Indy Lights events.
Tracy will be in the booth for three races - the Indianapolis 500, the Honda Indy Toronto and one race yet to be determined. Tracy, who is tied with Dario Franchitti and Sebastien Bourdais for seventh on the career victory list with 31 wins, will be part of a broadcast team that features Canadian Motorsport Hall of Famer Bill Adam, pit reporter Todd Lewis and host Rob Faulds.