Kanaan's long-wished Indy 500 win may be crucial for sport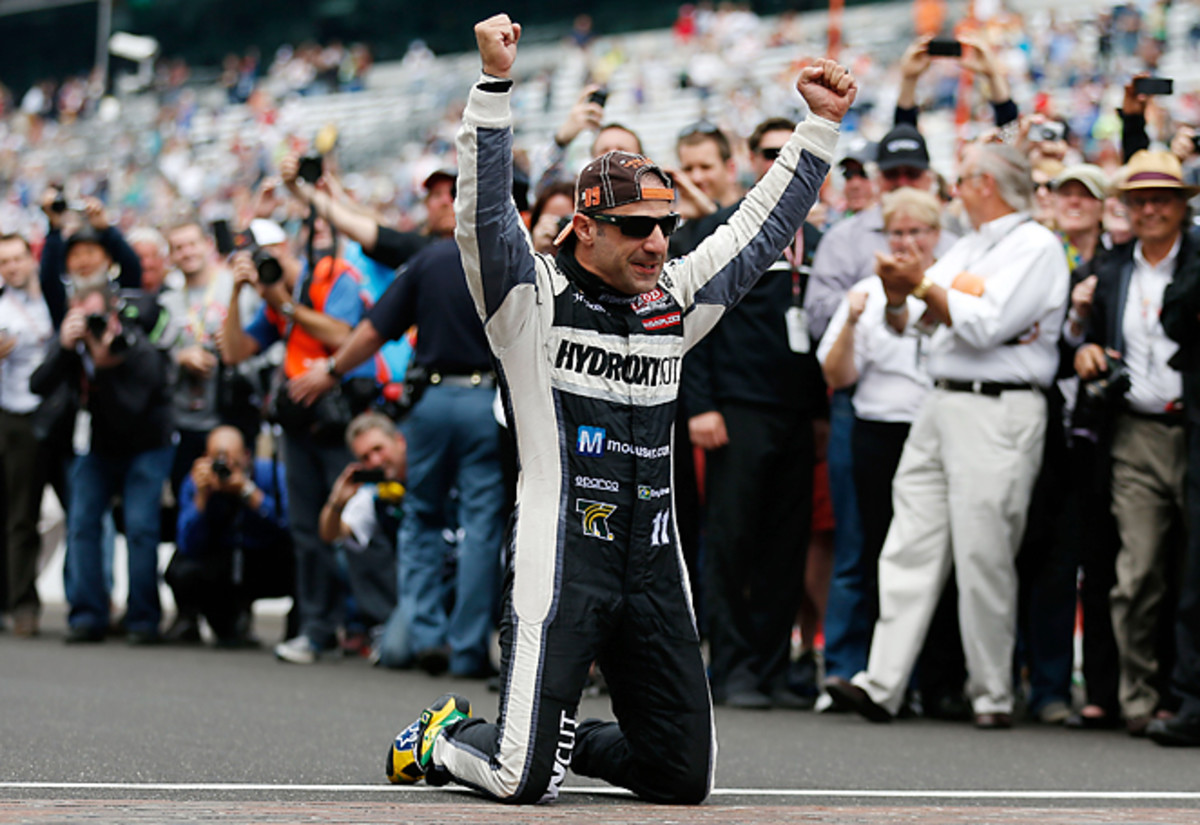 He moved from one driver to the next, embracing each one, wishing them good luck, looking them in the eyes and telling them to be "smart" out on the racetrack. An hour before the start of the 97th running of the Indianapolis 500, Tony Kanaan worked the Green Room at the base of the Pagoda Tower -- where drivers congregated minutes before walking into the gray Midwestern afternoon to be introduced to the crowd of 230,000 -- like he was the host of a party, smiling brilliantly at everyone. At age 38 and a 12-year veteran of IndyCar, Kanaan is one of the racing elders in the series, and he's universally admired among his peers because of his sense of fairness on the track and his sense of self-deprecating humor off of it. ("It was a chess game," he said after Sunday's race. "Funny enough because I don't know how to play chess.")
A native of Salvador, Brazil, Kanaan, the 2004 IndyCar series champion, had suffered more near misses at Indy than any driver in recent memory not named Andretti. In 11 starts in the 500, Kanaan had led 221 laps, the third most by a non-winner in history, trailing only Michael Andretti and Rex Mays. He was leading the race as rookie in 2002, but then hit a patch of oil and crashed. Two years later, after running up front all day, he was in second when the race was halted because of rain. In 2007 he was pulling away from the field at the midway point but then, after a rain delay, faded late. And last year he held the lead with six laps to go but was passed by winner Dario Franchitti.
So many opportunities lost, so many days at the Brickyard ending in disappointment. But there Kanaan was late on Sunday afternoon, ever the optimist, feeling like he was in the perfect position finally to break through at Indy. With eight laps remaining, the caution flag waved when Graham Rahal hit the inside wall on the back straightaway. Kanaan was in second, trailing American and reigning series champion, Ryan Hunter-Ray. In the first 480 miles of the race, it became clear that the car leading the race wasn't as fast as the second-place driver because of the aerodynamic drag the lead car created, which essentially sucked the second-place machine close and sling-shotted it past.
On the final restart on lap 198 of 200, Kanaan roared past Hunter-Rey as they dove into Turn 1 to seize the lead. Moments later, in the back of the field, Franchitti crashed in the short chute between Turns 1 and 2, bringing out the caution flag. This essentially cemented Kanaan's victory. Unlike NASCAR, IndyCar doesn't employ green-white-checkered finishes when the final lap is under caution, so Kanaan coasted across the finish line at about 60 mph under the yellow flag.
"You can't predict a yellow," Kanaan said. "I was second. When it went green, I went. I said, 'I'm going for the lead.' I was going to try to lead those last three laps. I said, 'I want to be first, because if something happens, I know because I've been back there [when a caution comes out].'"
Though this year's Indy lacked spectacular crashes and a stirring finish, the on-track action over the nearly three hours of racing was as compelling as it's been in over a decade. There were a race-record 68 lead changes (breaking the mark of 34 set in 2012), and there was precious little single-file, follow-the-leader racing, which Indy often devolves into, especially in the middle portion of the event. No, this was constant wheel-to-wheel drama. "This is as good as it gets if you love racing and passing," Mario Andretti said afterward as he stood on pit road near his grandson, Marco, who finished fourth. "This is riveting competition."
Agreed. But can it save IndyCar?
***
Helio Castroneves gazed out the floor-to-ceiling window on the 48th floor of the Chase building in downtown Indianapolis. He had just finished dinner at a private party last Thursday evening and now, through the half-light in the distance, he could see Indianapolis Motor Speedway, the site of his three 500 wins, 10 miles away. From this spot up near the clouds, Castroneves, a 15-year-veteran of the series, offered his 10,000-foot perspective on the state of IndyCar.
"We need to promote the sport better, there is no question about that," Castroneves said. "The series needs to be more active in trying to be as popular as it was in the 1970s and '80s and even '90s. Social media is huge. We need our drivers to be active on that. We need to change to the time of when we race. Right now, 1 p.m. on Sunday afternoon, the habit in America is to watch NASCAR. People won't watch two races in a day unless they are fanatics. But we need to look at racing on Friday nights, Saturday nights. We need to change habits. But I will say that the quality of racing right now is high as it's ever been since I've been racing in IndyCar. So we have the product. Now it's just recapturing that audience that we lost."
IndyCar's falling attendance and TV ratings can be traced back to when open-wheel racing split into two series in 1996, CART and IndyCar, which created confusion among fans. It opened the door for NASCAR to experience a boom in growth, which in turn caused elite young American drivers with open-wheel backgrounds like Tony Stewart and Kasey Kahne to leave the sport for NASCAR. The most recent big name to turn away from Indy racing was Danica Patrick, who left the series in 2011 for stock cars. And how low have TV ratings been? The first four races of the year averaged fewer viewers than NASCAR's Nationwide series, the Triple-A series of stock car racing. (The IndyCar series opener in St. Petersburg, Fla., drew a .26 rating, which translates to viewership of 388,000; the first Nationwide race of the season, at Daytona, earned a 2.2 rating with a viewership of 3.36 million.) Nine of the final 14 IndyCar races in 2013 will be broadcast on NBC Sports Network, where the series has struggled to attract eyeballs. But the problem for IndyCar -- and this may be the biggest one for the series -- is that there are still five years remaining on its contract with NBCSN. "That television contract," said one driver, "is just killing us. Even if you want to watch us, no one knows how to find us."
Still, there are reasons for optimism that IndyCar can regain the stature it once held when American drivers like A.J. Foyt, Johnny Rutherford, and Al Unser were competing for Indy 500 wins in the 1970s and '80s. For starters, the series now is as competitive as its ever been in its history. "Look at the storylines in this race," said owner Roger Penske before the 500. "You've got Ed Carpenter, a single-car team, winning the pole. You've got Takuma Sato, who runs for the legend A.J. Foyt, leading the series in points. And you have 15 to 20 guys with a real chance of winning. The playing field has leveled, which is good because it creates more competition, more passing, and makes for a better race. We're feeling more interest from sponsors, and that's because of the on-track product. I feel very good about where we're heading as a series."
Series officials, owners and drivers are particularly excited about the July debut of the 3-D movie Turbo, an animated children's film about a snail who dreams of racing in the Indy 500. Produced by DreamWorks Animation and distributed by 20th Century Fox, Turbo, which stars Ryan Reynolds, appears poised to be a summer smash -- and introduce a younger audience to IndyCar racing. The flick essentially is an extended advertisement for the series. "One of our biggest problems is that people just don't know about our sport," said driver James Hinchcliffe, noting that Dario Franchitti served as a technical advisor on the film. "Hopefully this movie will help change that."
***
Late on Sunday afternoon, nearly an hour after he had won the most important race of his career, Kanaan sat in the back of a Chevy convertible and took a victory lap around the Brickyard. But before he rolled off pit road, he spotted the man he had so closely identified with at Indy: Mario Andretti, who won the 500 in 1969 but then failed to repeat in 24 more attempts. Kanaan jumped out of the car and gave Andretti a long, tight embrace.
"Tony has raced here long enough that he deserves to catch a break and finally win this race," Andretti said. "He's a professional and has the respect of everyone in this sport. It's a feel-good moment. I just hope it continues."
And that's the question for IndyCar moving forward: Will this intriguing storyline -- and this highly entertaining Indy 500 -- help foster a rebirth for a sport that has been adrift for years? This is certain: As the crowd at the finish line lingered for more than an hour and then thundered when Kanaan kissed the bricks, it sure felt like it.