Sage Karam, Stefan Wilson try to move on from fatal wreck
At the Indy 500, drivers Sage Karam and Stefan Wilson are haunted by the wreck that killed Wilson's brother last year.
INDIANAPOLIS (AP) — Jody Karam returned from a bicycle ride and saw his son on the phone with race team owner Chip Ganassi. At the Karam home just 15 miles from Pocono Raceway, Sage Karam heard the news that would send the blonde bundle of energy into a depression,
IndyCar driver Justin Wilson was dead from injuries suffered in a wreck triggered by Karam.
''Sage just fell apart,'' Jody Karam recalled.
Like a good dad would, Jody immediately tried to console his son. He asked the promising IndyCar driver, who finished ninth in the 2014 Indianapolis 500, three questions: The first two were easy. Sage responded that, of course, there was no malice in the accident last August and that he would change the outcome if he could.
But the last one Jody hoped would stick: What would Justin Wilson want you do to right now?
Pressure driving IndyCar whiz kid Sage Karam toward greatness
''He said, `Go back to racing,''' Jody Karam said.
For the first time since that tragic July race in Pocono, Karam is behind the wheel for an IndyCar race. He's back racing and says he has learned to forgive himself for a tragedy he could not control.
Someone else will be racing for Justin Wilson in Sunday's Indianapolis 500: Two rows behind the 21-year-old Karam will be Wilson's brother, 26-year-old Stefan Wilson, an Indy 500 rookie.
What should be a joyous weekend for two drivers who struggled to land regular rides in the open-wheel series instead comes with the sorrowful reminder that Justin Wilson, IndyCar's gentle giant, is dead.
''It sort of really stands out that he's gone,'' Stefan Wilson said. ''There are certain times, certain days where you sort of feel Justin's presence and you feel good about it. But there are times you're at the track that makes it very real that he's not here.''
Wilson has forged ahead with honoring his brother, comforted that Justin Wilson's widow and two young girls are in Indy this weekend. He playfully put his nieces in his car following Indy qualifying. Fans and drivers have rallied around him and share their favorite Justin Wilson stories.
Karam pays homage as well, tossing his racing gloves to kids just like he remembered Wilson would do.
The drivers intertwined by tragedy met a week after the accident at last season's IndyCar finale. Wilson told Karam his brother's death was such a freak accident that there was ''no one to be angry with.''
Worst crashes in Indy 500 history
''He told me to take what you've learned from Justin,'' Karam said. ''Try and be the man that he was. He was a respected guy who always made people laugh. He never had enemies. Everyone thought he was a nice guy. That really stuck with me.''
While appreciated, Wilson's message did little to immediately lift Karam's sprits.
Karam had made a name for himself more as IndyCar's ambassador of fun than for his uneven IndyCar results. Two years ago, Karam was a hit at Indy with a makeshift prom held in the paddock for the high school graduate. He was pranked by his teammates last year and forced to drive a pink ''Kamaro.'' And just a day before the Pocono race, Karam brought his dog dressed in a ''Sage'' jersey to a news conference.
Karam led the Pocono race in front of his hometown crowd when he spun, he's still not sure why, and hit the wall. Wilson was the 12th driver to pass through the accident scene, and the nosecone from Karam's car bounced into his open cockpit. The piece shot high in the air after striking the 37-year-old British driver in the head. He died a day later at nearby hospital.
GALLERY: Justin Wilson's Racing Career
Justin Wilson's Racing Career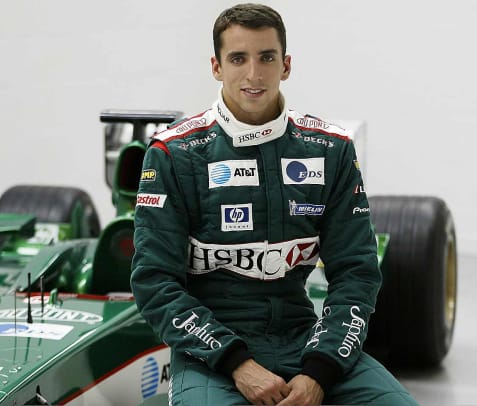 At the end of the season, sponsorship dried up and Karam lost his high-profile ride with Ganassi.
He didn't believe well-meaning friends when they told him Wilson's death was not his fault. Out of work, riddled by guilt, Karam moped around his house.
''That's when I would have awful thoughts,'' Karam said. ''I would say stupid things like I don't know if I'm going to be the same. I don't know if I want to do this anymore. But deep down, I didn't want to quit racing. It's all I knew. It's my love. It's still my love.''
He rarely left his Nazareth, Pennsylvania, house. When he told his parents he was headed out, he'd go no farther than the 7-11 and buy a Slurpee.
''There were times I would question if he was ever going to get back into race car,'' Jody Karam said. ''I thought maybe we should send him to college. It was a really tough time.''
Dad didn't have three questions for his son in the winter. He had the answers.
2016 Indy 500 coverage hub: news, SI Vault, video, photos, more
Jody Karam helped Sage reconnect with a sports psychologist who worked with him earlier in his career. Jody Karam is a successful high school wrestling coach and added Sage - a former varsity standout at Liberty High School - to his staff.
''Without question, the best move I ever made as a dad,'' Jody Karam said.
Sage found purpose again with early-morning workouts and the wrestlers lifted his spirits. He started laughing again and his carefree personality, on display again, was a hit with the kids. He added a few pounds of muscle and boasted he has video of his first ever double leg takedown of his father.
''I've gone to the place I needed to and have the meetings I needed to have,'' Karam said. ''I was sitting there for nine months on the couch racing and not driving anything. So when I think about racing, my last memory is that day.''
Karam, who wrecked on the first lap of last year's Indy 500, landed a one-off ride with Dreyer & Reinbold and starts 23rd on Sunday. He has no other IndyCar races lined up and signed a deal with F Performance Racing in a Lexus program in the IMSA series.
The Karams both said there was one track Sage needed to race to truly move on: Pocono.
''He needs to race there again, no question,'' Jody Karam said. ''He needs to move on and I think racing there would be the final bit of closure for him. It's got to be done.''
Wilson also faces an uncertain racing future beyond Indy. He'll make just his second career IndyCar start driving the No. 25 Chevrolet for KVSH Racing. He idolized his older brother, and can't roam around the track without running into someone with a pin or shirt that honored Justin.
Come Sunday, Indy is all business.
''As soon as the helmet goes on, the visor goes down, that's it,'' he said. ''We're just focused on doing the best job we can.''
Karam's family is with him this week and just being at the track again has helped his healing.
He's refreshed, refocused - and relieved of guilt.
''Now, today, I don't think it was my fault,'' he said. ''I know I couldn't control anything that happened after I spun the car. I didn't spin the car on purpose. I was going for the win. There was nothing I could do.''
He's back at the track doing what he loves and trying in his own small way to honor Wilson.
''He's now back and we think about Justin Wilson and his family every day,'' Jody Karam said. ''As tough as it was for us, I can't begin to imagine how tough it's been for them. But here we all are.''