Klinsmann assesses early U.S. camp, updates on Donovan, more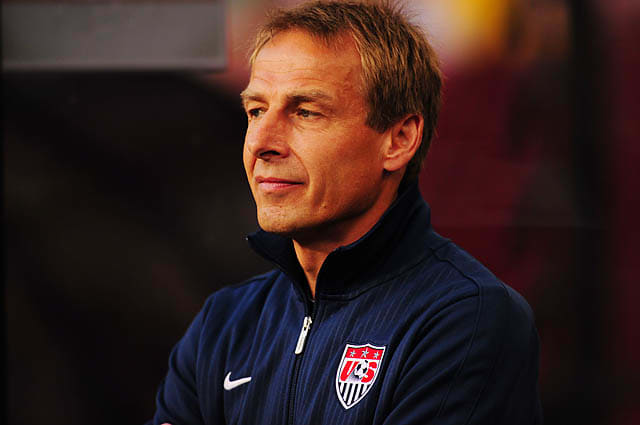 Jurgen Klinsmann has a great giggle. The U.S. men's national team coach uses it frequently, and he laughed like that a couple times during our phone conversation Wednesday night. Several of Klinsmann's U.S. players can do dynamite impressions of the Jurgen Giggle, just as they seized in the past on Bob Bradley's expressions ("We keep things on the inside ...") and Bruce Arena's Brooklyn accent.
Klinsmann is currently leading a three-week-long camp in Carson, Calif., for players from MLS, Scandinavian and German leagues leading toward a friendly with Canada on Jan. 29 in Houston. A few of those U.S. players will be joined by the U.S.' European-based first-teamers for the first game in the final round of World Cup qualifying: at Honduras on Feb. 6.
Klinsmann and I talked about a couple things for an upcoming SI magazine story, but he also had time for a few other questions about Pep Guardiola's move to Bayern Munich, Landon Donovan Omar González, the pressure of coaching the U.S. and his already started pursuit of World Cup training sites:
SI.com: Before we get into the U.S. camp, I wanted to ask you about the big news in world soccer this week with former Barcelona coach Pep Guardiola deciding to join Bayern Munich as its manager next season. You managed Bayern a few years ago. What's your sense of this move?
Klinsmann: It's going to be very interesting to see how he can implement his ideas, his philosophy, at a club like Bayern Munich where there's a lot that's "person-related," you know. The club is led by three elephants with [Franz] Beckenbauer, [Karl-Heinz] Rummenigge and [Uli] Hoeness, and they got a fourth elephant in there last summer [Matthias Sammer]. So it's all kind of "person-based," what's happened there. It's not philosophy-based, like it was at Barcelona. Barcelona continues the build-up from [Johan] Cruyff over 20 years ago, and now [Tito] Vilanova is the next one continuing that path. And Bayern is just a different type of world. But I think it's a fascinating decision for [Guardiola] to kind of jump into that water and give it a try.
SI.com: Your U.S. January camp has been going on for 10 days now. What are some of the things you've learned about players in this camp?
Klinsmann: What we're really pleased about is the way the players have handled themselves already in camp. I mentioned that to the players in December: This is not a preseason camp, this is a World Cup qualifying preparation camp. So if you want to have a chance of getting into that roster for Honduras, you need to present yourself in good shape. And they've done their homework. They came in very focused and ready to compete. That's exciting to see, players that we haven't seen directly in our camps like Omar González and a couple other players. A lot is happening right now because of the improvement of MLS over the last couple years. It's been a very good first 10 days so far.
SI.com: You mentioned González. He was the MLS Cup final MVP, and his club coach, Bruce Arena, says he thinks González can play internationally for the United States. What's your sense?
Klinsmann: I think it's his goal: To prove he can play the same way at the next level. Getting introduced now into the national team environment gives him a sense for it and demands from him to step it a notch up. He's trying to do that in every training session. He looks very fit, he looks sharp, and he has a great attitude. Now that we've gotten the physical side out of the way with the fitness training, we'll see in the scrimmages and against Canada where he is. I think he has huge potential.
SI.com: The final round of World Cup qualifying starts Feb. 6. The U.S. starts at Honduras, at home against Costa Rica and at Mexico. How many points do you think would be realistic from the first three games? Four? Five? Something else?
Klinsmann: I don't know enough to predict points, but obviously we don't want to lose any of those games. You want to go into Honduras and get three points. You want to go into Mexico and get three points. This is our approach. We're not going there and saying we'll go for a tie. Obviously, home games are must-three-points situations. So we have to get three points at home against Costa Rica, especially when we have three of our first four games on the road. For the team to build that mindset as an approach is really important. Before we fly to Honduras, we make that introduction right away in Miami when the European[-based] players join us. Guys, we have to start out on the right foot here. So: As many points as possible!
SI.com: For you personally, how would you compare the pressure of coaching Germany to the pressure of coaching the U.S.?
Klinsmann: It's a different type of environment. Obviously in soccer we're not baseball, football or basketball in this country. But it is going upward every year. It can only get better. I feel privileged that I'm in that role to help raise the bar going forward. On the social side of it, you don't feel the expectations in your daily life in the U.S. that you feel in a European nation. But you feel accountable. You want to help get things to the next level. You're accountable for hopefully getting things done in qualifying and having a good World Cup down in Brazil. So the expectations everywhere you go are there. But your social environment isn't as intense here as it would be in Germany or England or Italy.
SI.com: Landon Donovan's future is up in the air right now. Have you met with Donovan recently?
Klinsmann: No. We texted back and forth since the MLS Cup final. I've offered lunches, dinners, coffee. But he wanted to take his break, and I said that's fine. The last time was just recently in December when I texted him and told him since he didn't make up his mind until that point he wasn't in my plans for the January camp or the Honduras game. He responded that he understood because he still doesn't know what he wants to do. I said, "Well, if you feel comfortable, why don't you come by to the camp and say hello to the guys? Otherwise, let me know whenever you want to sit down and chat." That's how we left it.
SI.com: As with any national team around the world, it's smart to look into World Cup training sites even before qualifying is over. Has U.S. Soccer looked at any potential sites in Brazil yet?
Klinsmann: Yes. I was already in Brazil in December 2011 looking at sites. I think I was the first one! That's a little bit German, you know. We already spotted a couple places, not in a perfect combination yet that we're looking for, meaning training site and hotel. So it's going to be probably March when I go down the next time. We already put in our names for a couple venues just to have an option on them. The Germans were surprised that we were ahead of them!