Barcelona's Valdes doesn't deserve vitriol for leaving club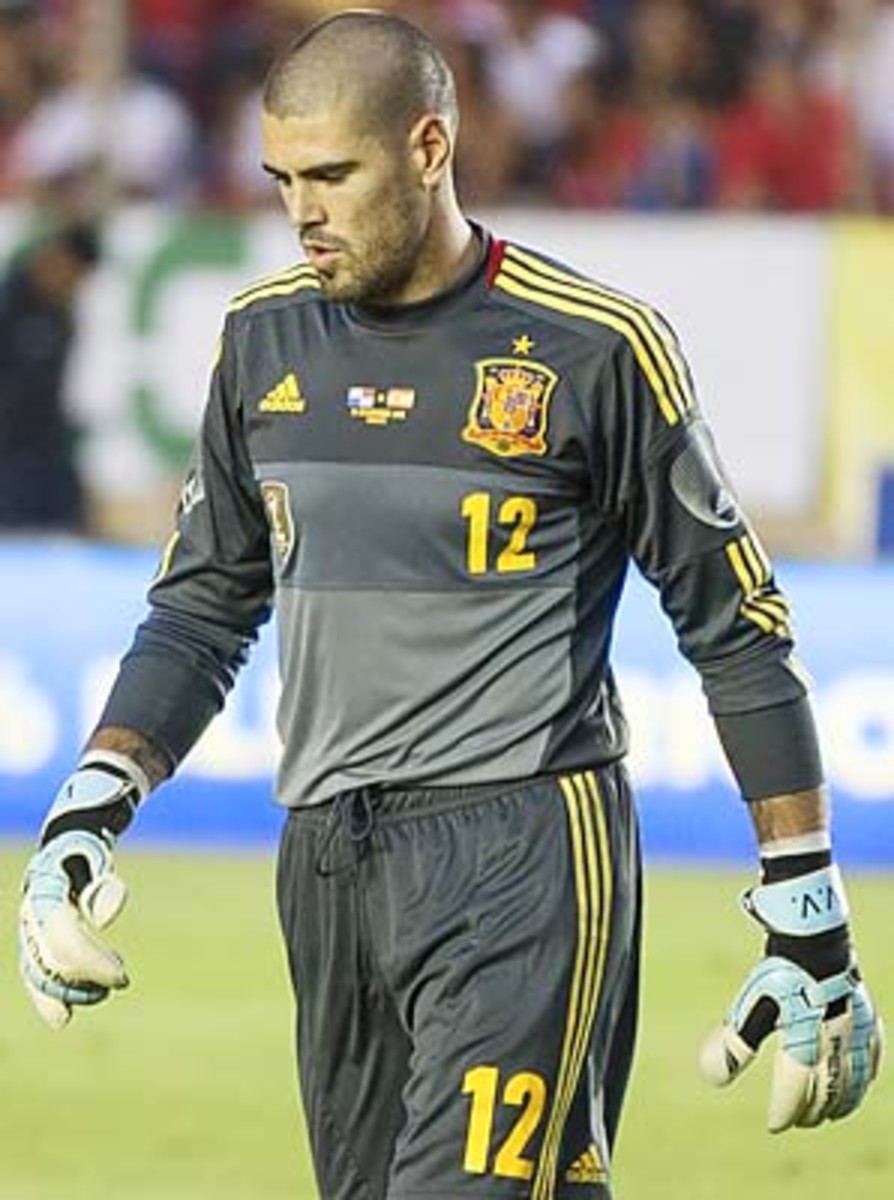 Víctor Valdés is leaving Barcelona. On Thursday, the agent for the club's longtime No. 1 goalkeeper released a statement through the Spanish news agency EFE announcing his "irrevocable decision" not to renew his contract with the club beyond summer 2014 when he will be 32.
It is exactly a month since Barcelona announced that Xavi and Carles Puyol will finish their careers at the club, having signed new deals. Lionel Messi, too, signed an extension to 2018, when he will be 31. Valdés will not be following suit.
Barcelona sporting director Andoni Zubizarreta recently said that things were "going well" when he was asked about Valdés' future. The next day Valdés' representatives pointed out that, in fact, there had not been any talks, still less talks that were "going well." When there were talks, there might as well not have been.
Valdés' father and agent met with Barcelona on Thursday. There was no negotiation because there was no point: Valdés had made up his mind that he would walk away in 2014. He had hinted as much during a Jan. 3 press conference.
"I'm not ruling out trying different cultures and a different type of football," he said. He also noted that he had been at Barcelona a long time, a club where "playing in goal is complicated" and the "pressure high." He added: "I have always been questioned."
The goalkeeper now has a year and a half left in his Barcelona career. Tito Vilanova admitted that he was surprised but insisted: "I'm not worried about it because I have no doubt at all about Víctor's professionalism."
Some in the media have. Valdés was on the front cover of both of the major Catalan sports dailies Friday morning. El Mundo Deportivo debated if it was the right decision, one journalist saying yes, the other no. In the latter column, it was described as an act of "treachery." The paper also asked if there would be a plebiscite in Camp Nou. How would the fans react? Would they whistle and boo him? Santi Nolla, the editor, insisted the announcement was not necessary.
"Valdés," he said, "has broken the rules."
That was nothing compared to Sport. It was furious; the (faux?) moral outrage was set to full blast, the aggressiveness of the response startling. "Valdés leaves Barcelona high and dry" shouted the cover. "He didn't even want to negotiate," complained the headline inside. In his column, the paper's founder, Josep María Casanovas, accused him of leaving a "time-bomb" ticking in the dressing room: "neither his father nor his agent wanted to even negotiate. How badly advised he is!"
Casanovas called the decision "irresponsible" and "intolerable," and Valdés "an ungrateful opportunist who wants to leave for money." Money? Worse than that: pasta. Dosh, cash, lolly, a word that somehow expresses something even more grubby.
"Does a player who acts in such a frivolous and irresponsible way deserve to keep on playing?" Casanovas asked. "He's shattered the peace in the dressing room, the balance at the club, and the happiness of the fans ... he has ruined his charisma at Barcelona and thrown his credibility overboard."
The title of the column written by his colleague and editor-in-chief, Joan Vehils, on the following page was "Ungrateful," and the tone was similar. Valdés' behavior, he insisted, is an insult to Barcelona. He asked what lay behind it. "The only human explanation," he concluded, was Valdés already has a deal with another club and will "blackmail" Barcelona in the summer.
The paper then threw another dig, describing Valdés' career as one: "marked by success ... and controversy." Controversy? Valdés once refused to rejoin the youth team having made it into the first-team squad. That was 10 years ago, when he was 21. And ... and ... and erm, well, that's about it. His contract negotiations with the club in 2007 were tough and at one point looked set to collapse, but in the end he continued, on a reported salary of 5 million euros a year, plus a signing bonus. At times he can be uncomfortably direct, to the point. He doesn't really go in for media platitudes and tends to speak his mind. From the outside he can sometimes appear a little surly. Controversial, huh?
Valdés told his agent a while ago that he did not want to continue. This was not about advice, it was about him. A personal decision. Once his mind was made, that was it. They communicated that decision to Barcelona and then communicated it publicly through the media, which was perhaps the biggest surprise and the thing that most causes Barcelona problems. Valdés joined Barcelona as a 10-year-old. As he himself admitted, the pressure at Barcelona is huge: there is something suffocating about most big clubs and about Barcelona especially. He has had the odd bad day -- some of them very bad -- and until quite recently there have been persistent doubts about him. But now he is largely unquestioned. He will be 32 when his contract expires, just a few years from retirement and facing his last chance to do something different. He would like to try football somewhere else, take in another country, another culture.
So?
So, it seems that is not allowed. Few people ever complain when a club decides to get rid of a player, but when a player decides to walk away from the club the reaction is very different. Take Fernando Llorente, for example, who decided to leave Athletic Bilbao. He did not want to see out his contract -- he would have preferred to leave this summer -- but Athletic decided to force him to stay until the end of the season, after he announced that he did not want to continue. The situation is currently far from ideal. Llorente became the target for abuse.
Now Sport seemed to be suggesting that the same could -- and should? -- happen to Valdés. The decision to announce that he is leaving now is an interesting, possibly daft one. He still has to play for Barcelona for 18 more months, in an atmosphere that will surely shift. Fans could even turn against him. That, at least, appears to be Sport's opinion. But here's the thing: there is little sign as yet of the fans sharing their outrage. Most recognize Valdés for what he is: arguably the best goalkeeper Barcelona has had.
Now Sport is talking about forcing him out, not letting him get his way. Making sure that Barcelona gets money for him and punishes him for choosing to leave. It is curious: there are constant complaints that contracts mean nothing, that they are forever broken, and when a player does fulfil his contract the complaints are even more vociferous. A player can't break his contract, but he had better not stop a club doing it for him. How dare he see it out and leave? How dare he not even negotiate? What they're basically saying is: how dare a person decide his own future?
How could he do this us? Do what, exactly? Tito Vilanova was far more measured.
"We think that Barcelona is the best city in the world and Barcelona are the best club, but everyone has a right to play at other clubs and get to know other cultures," he said. Other lines included: "there are two sides to every decision and it can't always be what the club wants [that wins out]," "I respect his honesty," and "we have until 2014 to find a goalkeeper."
Mr. Nail, meet Mr. Head.
Far from leaving Barcelona high and dry, Valdés took a decision and was honest about it. Far from bemoaning the fact that he did not even negotiate, as if that was the worst crime of all, the greatest act of treachery, there is an argument that suggests his decision not to negotiate is an honorable one. (This is perhaps one of the differences between Valdés and Llorente, incidentally: Llorente negotiated with Athletic and then said he wanted to leave.)
Not even reaching the point at which you talk about money is the best indication that his decision was not driven by money, still less a first step toward "blackmailing" Barcelona. Where else will Valdés earn the kind of salary Barcelona could offer? Few clubs can match what he is on now, still less what he might have been on after signing a new deal. And if nowhere else can offer the chance of success that Barcelona can, why shouldn't he leave that behind 12 years after getting into the first team and seek out a little tranquility, something new elsewhere?
By communicating a clear decision so early, Barcelona has time to sort out the succession, to think carefully about a new goalkeeper and bed him in. But the timing certainly is a problem in terms of the announcement and the damage that can cause. Barcelona would have been better served to keep it secret; Valdés might have helped them more had he kept quiet until the summer at least. In that sense, this has been badly handled.
And yet ... keeping silent now would almost certainly have meant lying, and Valdés has usually been direct, sometimes unnervingly so. The questions had already begun to be asked; rumors and uncertainty are often more damaging than the truth, even when it is an uncomfortable truth. We complain about dishonesty; now people are effectively complaining about honesty. People moan when players break contracts, and they moan when they do not. When a new deal is signed, it is always reported as "X is staying at X FC until X year." With Valdés, unusually, that was actually true.
Valdes joined Barcelona in 1992. He has lived in Barcelona all his life and lived in the public eye for over a decade at one of the world's most high-pressure clubs, one where Johan Cruyff complained of the infamous, asphyxiating "entorno." Twenty-two years later, he will walk away with his best years, spent at Barcelona, behind him. He will leave having never broken a contract at the club. He has played more games for them than any other goalkeeper ever, and won more Zamora trophies, too. He has collected 19 titles, including five leagues and three European Cups. In the next 18 months he will probably win more.
Yep, he's some traitor all right.