Stalwarts, surprises highlight opening day of MLS' 2013 season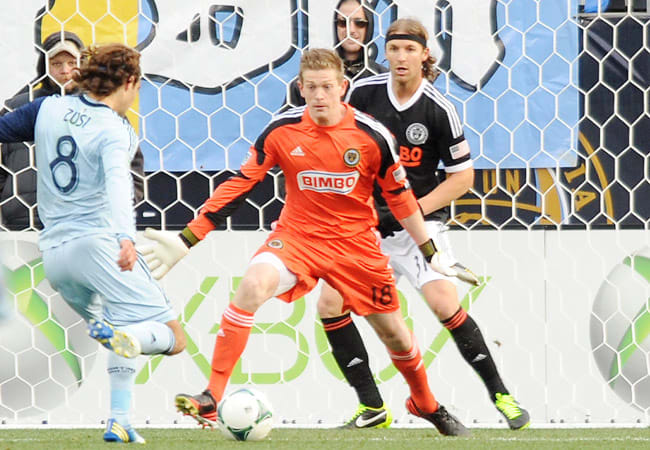 MLS is back, and the 2013 season kicked off with six matches Saturday. Here are my first impressions from opening day -- plus a quick look ahead to Sunday's fixtures, which feature the debuts of the league's two biggest clubs: New York and Los Angeles.
1. New season, old habits
Anticipation and fanfare make the opening weekend a hotbed of hype, but it is rash to draw lasting conclusions from what is, after all, the smallest sample size possible. Last year's MLS Cup winner, Los Angeles, lost its opener 3-1 to Real Salt Lake at home.
Yet it's hard not to see Sporting Kansas City's 3-1 win over Philadelphia Union as an eloquent foreshadowing of each club's future's prospects. It was a also a continuation of past years' trends: SKC found a way to win, while the Union found a way to lose.
Striker Sebastien LeToux, back at PPL Park after spending last season with Vancouver and New York, scored the first MLS goal of 2013, giving the Union the lead after just 17 minutes to rekindle memories of his prolific 2010 and 2011 seasons in Philadelphia. He then missed a simple chance to make it 2-0.
That's where everything went south for the Union.
Graham Zusi equalized shortly before halftime, then created SKC's second goal in the 66th minute with a free-kick that lured Union keeper Zac MacMath into no-man's-land, possibly because he recognized his defense was making little effort to repel it. Oriol Rosell had a simple finish. In the 83rd, new SKC Designated Player Claudio Bieler profited from a ball-watching Philly backline to steer in a stylish third.
Kansas City won its opening match for the fourth season in a row, and did so without playing anywhere near its best. Zusi was involved in all three goals, but Philadelphia largely was able to control the midfield, with Keon Daniel excellent and full back Sheanon Williams offering advanced support.
The Union, however, weren't in charge in the match's decisive moments. While possession and territory matter, they're just the journey, not the destination. And Philly was slack in each 18-yard box. John Hackworth's side had 17 attempts on goal, but only five were on target; SKC, meanwhile, scored with three of its four shots on target.
Will Sporting KC make the playoffs again? Will the Union miss out? Can Zusi challenge for league MVP honors? Remember: It was just the first game, with 33 more to go. But it's tough to argue against any of those following an afternoon that clearly reinforced preseason expectations.
2. Business as usual in Houston
A posse of pundits have backed the Houston Dynamo to have a stellar season and their logic is impeccable. Houston led the MLS Cup final with 30 minutes remaining last December before falling to L.A., and now its roster is even better. And come the end of the season, the savvy and experience of head coach Dominic Kinnear helps offset many of the vagaries that come with the inherently turbulent nature of playoff soccer.
There was a familiarity to Houston's 2-0 win over D.C. United, too. The result extended the Dynamo's regular-season home unbeaten streak to 26 games. United has never won in Houston. Ben Olsen's side lost in the inaugural match at BBVA Compass Stadium last May and again in the Eastern Conference final. Like those games, this was close and keenly fought but a Dynamo victory was deserved.
Had the game finished goalless, the poor officiating of Baldomero Toledo might have slithered its way to the top of the agenda. Near the end of the first half, Ricardo Clark was tripped by Chris Korb just outside the area as he ran clear on goal. But Toledo awarded a penalty rather than a free kick and cautioned Korb instead of sending him off. Bill Hamid saved Brad Davis' wimpy spot-kick and soon afterward made a superb stop to deny Giles Barnes after Korb cleared off the line.
As if to highlight D.C.'s futility in Houston, the opener was an own goal. James Riley crashed a header into his own net with 10 minutes to go. Then Clark confirmed victory with a thumping close-range shot in the 89th minute. The only downside for the Dynamo was a crowd far below capacity. The club deserves to be a hotter ticket.
3. Narrow loss for Nelsen
Toronto FC loses is not a headline that will raise anyone's eyebrows. But the team looked far from hopeless in Ryan Nelsen's MLS coaching debut, a 1-0 loss to the Vancouver Whitecaps.
The 35-year-old Nelsen opted for a 4-4-1-1 formation with promising debutant Kyle Bekker operating behind new striker Robert Earnshaw. Both were lively, but given that Earnshaw is the type of goalscorer who relies on teammates to create chances, that burden may weigh heavily on Bekker, who was the third overall pick in last month's SuperDraft.
Another youngster settled the game: Gershon Koffie, 21, scored the only goal in the 59th minute, concluding a neat team move that featured sharp close-range passing after Toronto failed to clear a long punt forward from Andy O'Brien.
Former Aston Villa and West Ham United captain Nigel Reo-Coker came on at halftime for his Whitecaps debut. He had "REO.C" on the back of his jersey -- nomenclature that makes him sound more like a rapper than a soccer player. Reo-Coker exuded leadership, which was fortunate for Vancouver since its captain and talisman Jay DeMerit limped off after only six minutes with a reported left calf strain.
Given that the 33-year-old has been struggling with an Achilles problem in the preseason, the center back's fitness figures to be a recurring worry for the Whitecaps, especially with B.C. Place's sapping artificial turf. The question is: Facing what likely will again be MLS' worst team, did it really make sense to risk DeMerit?
4. Tough start for Chivas, 'Chelis'
Chivas USA will be compelling this season, on and off the pitch. That's because its new head coach, Jose Luis Sanchez Sola, appears not to realize or care that too much honesty can be a dangerous thing. Ahead of the Goats' opener against Columbus, 'Chelis' told reporters he does not see himself staying in the U.S. for two years, would rather lose 5-2 than win 1-0 and misses "my home, my family, my friends, my seat, my TV and the ocean -- my ocean." Someone drive that man to Malibu via Best Buy.
The score was tied at the break but an exceptional strike from distance by Federico Higuain gave the visiting Crew the lead six minutes into the second period. "Chelis" then bolstered his maverick credentials by making all three substitutions by the 56th minute. His side was competitive -- it had 14 shots -- but goals by Josh Williams and Dominic Oduro salted away a 3-0 victory for Columbus.
Entertainment guaranteed; but who will be watching? Television pictures suggested there probably were fewer people in the Home Depot Center than you would find in an actual branch of The Home Depot on any given Saturday night.
Which, joking aside, makes the club the problem child of an otherwise thriving MLS. Amid all the discussion about possible new franchises in New York and Orlando, is Chivas USA becoming untenable?
5. Seattle stunned by Montreal
The best strike of the day came at Seattle's rainy CenturyLink Field, where Montreal pulled off an improbable victory in one of MLS' toughest venues.
The only goal came in the first half: Felipe chipped the ball beyond the Seattle back line with the delicacy of a golfer hitting a sand wedge, then Davy Arnaud beat Sounders keeper Michael Gspurning -- who was only six yards off his line -- with a precise lob from the edge of the box.
Sunday's games
The injury-plagued San Jose Earthquakes play host to Real Salt Lake, as Chris Wondolowski aims to continue his record-setting goalscoring form of last season. Elsewhere, Portland welcomes the New York Red Bulls in a fixture that may be the toughest calll of the opening weekend. Both clubs have new head coaches and have drastically overhauled their rosters.
While Landon Donovan is away on the sporting equivalent of a student's year out, the Galaxy begin their bid for a third consecutive MLS Cup title at home against Chicago. But while most of the attention has focused on high-profile striker Robbie Keane, don't overloook new goalkeeper Carlo Cudicini.
The Italian was first-choice at Chelsea in the early 2000s until the arrival of Petr Cech. Cudicini moved to Tottenham in 2009 and was again an understudy after being injured in a serious motorcycle accident. Now 39, Cudicini has played only one competitive game since last April and has not made 20 appearances in a season since 2003-04. Will he be rested, or rusty?