Three thoughts on the USA-Costa Rica SnowClásico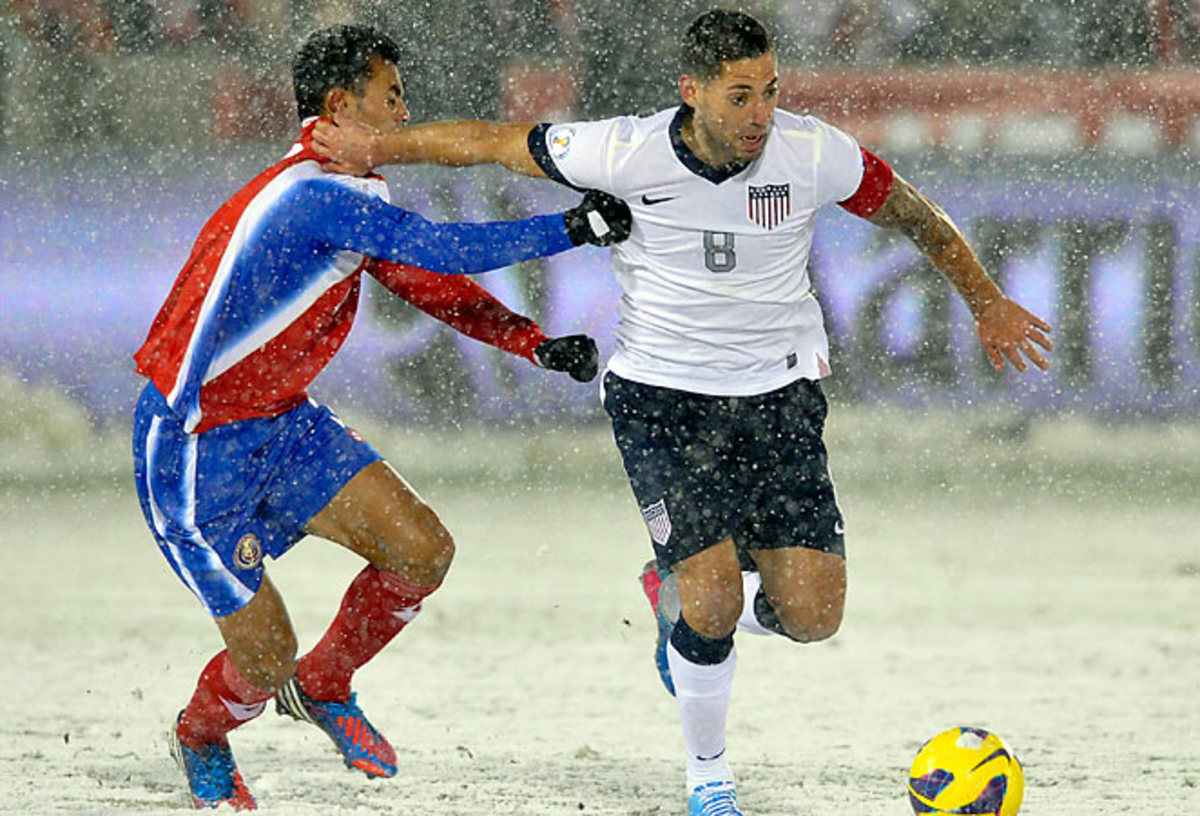 COMMERCE CITY, Colo. -- Three thoughts on the U.S.' 1-0 World Cup qualifying victory against Costa Rica on Friday:
CREDITOR: Beasley tops U.S. Player Ratings in win over Costa Rica
1. This game will forever be known for the snow. It was an unforgettable match, not so much for the action but for the blizzard conditions that descended on Dick's Sporting Goods Park, turning a World Cup qualifier into a snowy farce. Every classic game has a name, so what will we call this? The Mile-High Whiteout? The Sno-Fro Game? The SnowClásico? Whatever you decide, the U.S. got a huge three points to catapult itself from sixth place to second place in the craziest and most unpredictable Hexagonal tournament we've ever seen. There will be plenty of debate over whether the game should have been postponed - you can't call what we saw soccer - but Clint Dempsey's 16th-minute goal (off a deflection by Costa Rica's hapless Roy Miller) and the U.S.' immense reserves of toughness made the difference on a night that will take its place in U.S. Soccer's 100-year history.
PHOTOS: U.S.-Costa Rica in snowstorm
2. DaMarcus Beasley turned back the clock. It has been a long time since the 30-year-old Beasley has been a central figure for the U.S., but he reminded everyone on Friday that he still has something to offer. Pressed into duty at left back for the first time since 2009, Beasley covered a lot of ground down the left side and managed to make some actual soccer plays despite the snow. Beasley has been good of late for Puebla in Mexico, and his experience could be invaluable for a U.S. team depleted by injuries. Don't forget: Beasley has far more UEFA Champions League experience than any other U.S.-born player, and he has been on three World Cup teams. Whether or not he continues being a starter, his performance on Friday was the kind of huge unexpected spot duty that helps any team trying to qualify for a World Cup.
MCCALL: Dempsey puts in captain's effort
3. Suddenly the vibe around the U.S. has changed. This U.S. team had a harder edge than usual this week, due partly to the opening-game loss at Honduras and partly to theSporting News exposé in which 11 unnamed players criticized coach Jurgen Klinsmann. But good results can make you forget about such things awfully quickly, and now look: The U.S. has more points than Mexico heading into Tuesday's rivalry game in Mexico City. Should U.S. Soccer have picked Denver in March to host a World Cup qualifier? Probably not. But the unpredictability of sports is why we watch the games, and these U.S. players overcame all manner of obstacles, including a rash of injuries, to seize three points that absolutely had to be seized. Not bad. Not bad at all.