Sunderland fires Martin O'Neill after 15 months in charge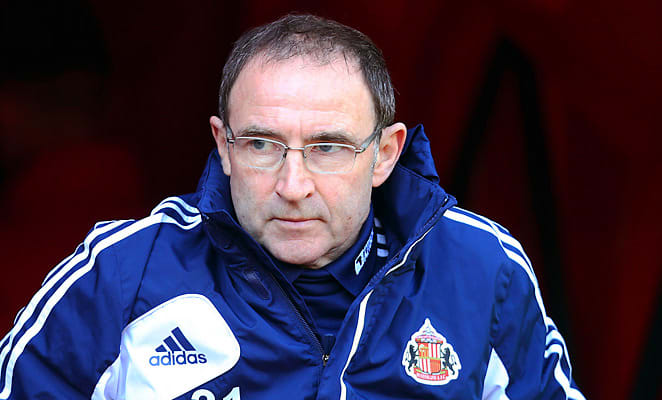 SUNDERLAND, England (AP) -- Sunderland announced the departure of manager Martin O'Neill on Saturday, hours after a 1-0 loss to Manchester United left the club just a point clear of the English Premier League relegation zone.
The optimism from the early part of O'Neill's 15-month reign has disappeared with Sunderland in real danger of going down after a run of eight games without a win, culminating in a limp performance against United at the Stadium of Light.
"Sunderland has announced that it has parted company with manager Martin O'Neill this evening,'' Sunderland said in a short statement.
"The club would like to place on record its thanks to Martin and wishes him well for the future. An announcement will be made in the coming days regarding a successor.''
Sunderland has seven games left in this campaign, with its next three matches against European champion Chelsea, local rival Newcastle and Champions League-chasing Everton. Both Aston Villa and Wigan have shown improved form in recent weeks and are only a point behind.
O'Neill joined his boyhood club in December 2011, returning to the Premier League 16 months after leaving Aston Villa, and was a popular appointment having built a strong managerial reputation during stints at Leicester, Celtic and Villa.
The Northern Irishman lifted the club clear of relegation danger at the end of last season and spent 22 million pounds ($33 million) on rebuilding the squad, including the signings of Scotland striker Steven Fletcher and England winger Adam Johnson.
However, the team has struggled since, with O'Neill presiding over a run of mediocre, labored displays that has left American owner Ellis Short to look for alternatives with less than two months left of the season.
O'Neill was clearly not expecting Saturday's announcement, saying after the United loss: "I am as buoyant now as . I was nearly going to say as I have always been.
"What is it - the half-full or the half-empty glass? I'm even going to the three-quarters full.''
Whoever does succeed O'Neill will be without Fletcher for the rest of the season because of injury, with the other main striker, Danny Graham, without a goal in seven matches since joining from Swansea in January.
Staying in the Premier League has never been so important in financial terms, with a lucrative, three-year broadcasting deal set to come into effect from the start of next season.
O'Neill is the fifth managerial departure in the league this season, after Roberto Di Matteo (Chelsea), Mark Hughes (Queens Park Rangers), Nigel Adkins (Southampton) and Brian McDermott (Reading).