Champions League preview: Barcelona-PSG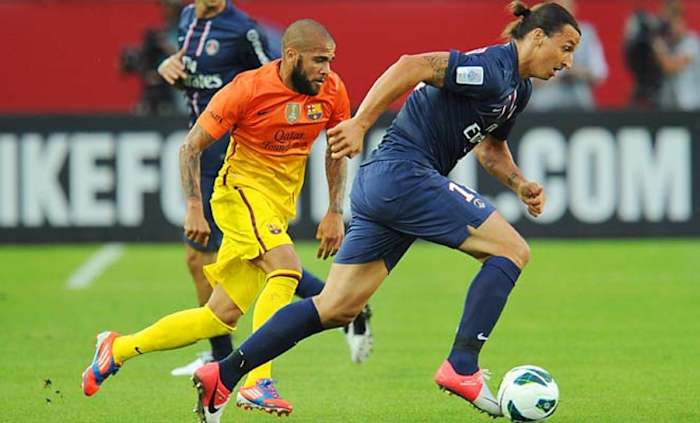 Paris Saint-Germain striker Zlatan Ibrahimovic described Barcelona as "the best team ever on this planet,'' saying limiting the amount of mistakes his team makes is the key to winning their Champions League quarterfinal.
PSG will have a clearer idea of its realistic ambitions this season in the home first leg on Tuesday.
PSG made world headlines for a huge spending spree that brought Ibrahimovic, defender Thiago Silva and highly rated Brazil winger Lucas, but it has yet to face a team anywhere near as good as the four-time European champions.
"We're playing against probably the best team today and the best team ever on this planet,'' Ibrahimovic said Monday. "They like to keep the ball. We'll have to find a solution how to play and disturb them as much as possible. The one who makes the less mistakes will win.''
It takes a lot to upstage Ibrahimovic, who has won league titles with Ajax, Juventus, Inter Milan and Barcelona.
But even the imposing Swede acknoweldges he is dwarfed by the achievements of Barcelona striker Lionel Messi, who has scored 56 goals already this season, nearly twice as many as him.
"Today for sure, Leo Messi is the best player. Maybe they should put the name Messi on the Golden Ball, because I think he will win it for a couple more years,'' said Ibrahimovic, who has scored 29 overall this campaign. "I think in the end he will play against himself only.''
Beating Barca would send a message that PSG can join Europe's elite clubs.
"PSG have great players, like (Ezequiel) Lavezzi, (Javier) Pastore, and we will have to give everything,'' Barcelona assistant coach Roura said Monday through a translator. "One of PSG's strength is the counterattack, but we are used to teams playing that way ... our way of playing won't change, even if we have analyzed their way.''
PSG is still heavily reliant on Ibrahimovic but is striving to replicate Barca's well-oiled teamwork, in which midfielders Xavi Hernandez and Andres Iniesta control the game through their brilliant understanding.
"It's hard to know how to stop a player of Ibrahimovic's caliber,'' Villa said, adding that Barca must avoid a repeat scenario from the last 16 in which it trailed AC Milan 2-0 before sweeping the Italian side away with a 4-0 home win.
"It's very important to get an away goal and we'll do everything to score,'' Barcelona forward David Villa said through an interpreter.
Ibrahimovic was set to miss Tuesday's game after receiving a two-match ban when he was sent off late in the first leg of the last-16 match against Valencia. But the suspension was reduced to one game after PSG appealed.
He has 25 French league goals and only needs four more to reach a career high. But those statistics pale in comparison to Messi's. He notched his Spanish league-leading 43rd goal of the season in Saturday's 2-2 draw at Celta Vigo and has 30 goals during his unprecedented run of scoring in 19 straight matches.
"I think it's very hard to stop a player with his qualities,'' PSG coach Carlo Ancelotti said. "But I think it will be very difficult for Barca to stop Ibrahimovic, too.''
Barca has received a timely boost with two much-admired figures - left back Eric Abidal and head coach Tito Vilanova - back from illness.
Abidal was back in the squad on Saturday for the first time since receiving a liver transplant last year. Vilanova returned last week from a 10-week medical stay in New York, where he received treatment after the removal of a throat tumor in December.
Both will travel to Paris and Vilanova will get his first taste of team duties since recovering.
"He will be with us on the bench tomorrow, and all of Barcelona is happy to have him,'' Roura said.
Center back Carles Puyol is out with injury but Barca will be glad to have goalkeeper Victor Valdes back following his impressive performance for Spain in the 1-0 win at France last week. Xavi and left back Jordi Alba have shaken off niggles.
"We will decide after training (on Monday evening) whether they can play, but they are making good progress,'' Roura said.
Ancelotti welcomes back Lavezzi and Lucas has recovered from an ankle injury. But holding midfielder Thiago Motta failed a fitness test, increasing Beckham's chances of being involved.
"He has big impact, big experience, big quality. He is a fighter, he has a big heart,'' Ibrahimovic said of the former England captain. "He is a winner and especially at this stage of the season it is important.''