Lewandowski, Dortmund set likely all-German Champions League final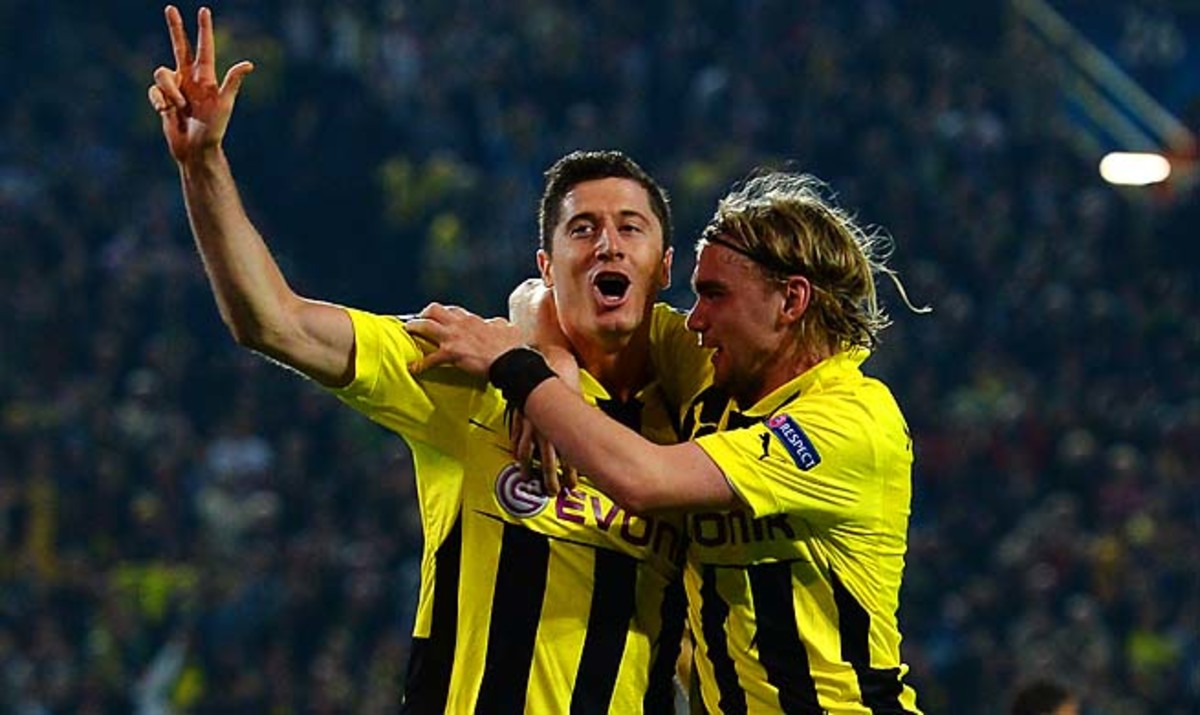 Real Madrid's "Decima" dream, to win a 10th European Cup, is almost over after Robert Lewandowski scored four sensational goals to give Borussia Dortmund a 4-1 win in a stunning game in the Ruhr.
Lewandowski provided a master-class in finishing as Dortmund took a giant step to setting up the first all-German Champions League final against Bayern Munich next month. And while all the pre-match buildup focused on Dortmund's Mario Götze, whose ?37 million move to Bayern Munich this summer was announced yesterday, it was Polish forward Lewandowski who stole the show with four magnificent strikes.
Madrid had briefly threatened, with a breakaway Cristiano Ronaldo goal just before halftime; but any fears that this young Dortmund side would collapse in the second period were short lived as Lewandowski scored twice in the opening 10 minutes after the break.
The dramatic "Lewy Show" began after just eight minutes, when Götze showed what ?37 million can get you these days. His inch-perfect cross from the left was volleyed in on the stretch. Lewandowski brushed off the attentions of Pepe to give Dortmund a deserved lead. Minutes earlier, goalkeeper Diego Lopez had pushed away Marco Reus' shot after a solo run only inches from the onrushing Pole.
Pepe might be relieved to sit out the second leg: he was only picked because of Alvaro Arbeloa's suspension (Sergio Ramos moved to right back), and Lewandowski gave him a torrid night, not for the first time this season. Referring to the group games between these sides (Dortmund won 2-1 at home, drew 2-2 away), Jose Mourinho claimed the four goals his side conceded were down to individual mistakes: three of them, though, were Pepe's. On this night, he was responsible for three more.
At that stage, Madrid was limited to a series of free-kick chances: three Xabi Alonso crosses from out wide, and a Ronaldo sighter that Roman Weidenfeller punched away. At the other end, Reus was a constant menace, terrifying the Madrid defenders every time he ran at them.
What could have been the game's turning point happened on 42 minutes, when Reus fell to the ground as Raphael Varane chased him back. The host was convinced it deserved a penalty. Replays seemed to show that Reus had actually clipped Varane's ankle, rather than the other way around, and as the players protested, a fatal loss of concentration cost them dearly. Mats Hummels, before then outstanding, under-hit a back pass, and Gonzalo Higuain, whose previous contribution had amounted to a magnificent tackle on Jakub B?aszczykowski in his own area, pounced on it. He squared it to Ronaldo, who gratefully smashed it into an empty net.
It was his 50th goal in the competition all time, his sixth consecutive scoring game in the competition, and his 51st of the season (and at that stage, with Lionel Messi facing Champions League elimination, he looked favored to dethrone the quadruple-winning Ballon D'Or). Halftime was the big test for Dortmund coach Jurgen Klopp: what would he tell his side? How would it cope against a buoyant Madrid? Nothing changed, in fact, as Dortmund played with its first-half intensity and, in fact, gave Madrid even more problems. Five minutes in, Lewandowski reacted smartly to a Reus shot by controlling the ball and poking it past Lopez for his second.
It looked offside, but once again, replays showed it was a good call; that man Pepe had played him on. Even better was to come, as Lewandowski controlled Marcel Schmelzer's fizzing drive with his left foot, and after a drag back with his right, smashed the ball into the roof of the net to become the first player to score a European hat trick against Real Madrid.
It's astonishing to think that Dortmund paid just ?4.5 million on signing him from Lech Poznan in 2010, after which Klopp gushed: "He is the most exciting player I have seen in the past 10 or 15 years. We needed the quality I could see in Lewandowski. We needed someone who is very good with his back to the goal, who has a very good technique and who is a great finisher -- with a real desire to score goals."
He only scored nine goals in his first season but since then has managed 30 (last season) and 39 (so far this season); the nickname Kicker gave him, "Lewandoofski," proved short lived. The fourth goal was a penalty after Xabi Alonso shoved over Reus; Lewandowski smashed the spot kick high into the roof of Lopez's net.
There were other brilliant performances from Dortmund: Reus, whose hero status will rise after Götze's defection, given that he actually rejected Bayern to join Dortmund; and Ilkay Gündogan, who almost scored the goal of the season with a jinking run past four players and a rising shot that Lopez tipped over. Die Zeit called him "a better Schweinsteiger," after Germany beat France 2-1 back in February, and you could see why.
While Bayern's destruction of Barcelona 24 hours earlier heralded talk of a new era in European football and a new super club at the table, the post-mortem here may be tinged with fear: can the club keep this team together? The German press has been reporting for months that Bayern wants Lewandowski as well as Götze; what if he moves to Munich as well?
In the short term, what the hell would these two guys do in a Champions League final against their future employer? But beyond that, how can Dortmund compete among Europe's elite if this exciting side is broken up? Let's just hope it's not.
As for Madrid, it pushed for a second goal, only threatening Weidenfeller late on, but he was sharp to clear Ronaldo's effort. There was little else that Ronaldo, or indeed Mourinho, described by Süddeutsche Zeitung as the "egomaniac of Setubal," could do: the star had been outplayed and the coach out-thought. During the game, German paper Bild reported that Mourinho's next destination would be Chelsea. Few in Madrid would mourn his departure.
Tonight, though, was all about Dortmund and Lewandowski. Germany is the new darling of Europe, and the big boys from Munich, who pluck off its rival's best talent, await in the final. What a night.