U.S. Soccer president Sunil Gulati: On FIFA, World Cup, Copa America, more
RIO DE JANEIRO — The Copacabana Palace hotel is the fanciest hotel on the world's most famous beach, which is why nobody should be surprised that it's the place housing all the top executives from FIFA at the World Cup.
One of them is Sunil Gulati, the president of U.S. Soccer and a member of the FIFA executive committee. On Thursday, Gulati sat down with a small group of journalists and answered questions on a range of topics, from the U.S.'s World Cup performance to the future of the national team program to his take on what's happening with FIFA these days.
Here are some of the most intriguing things that Gulati said:
• On how the U.S. played at this World Cup
What's next for USA? For Klinsmann, improvement starts with mental side
"Not as well as we're capable of, but showing progress. I think there are games where we played very well for parts, but we didn't sustain that. The Portugal game for quite a long time, the Ghana game for parts of it. But we didn't sustain that."
Gulati pointed out that the U.S. is among a select group of countries that has made the second round in the last two World Cups and in three of the last four tournaments.
"So we've been consistent that way," he said. "Where we're not consistent is in our performances throughout a game and being able to raise it to a level of Germany, Argentina, Brazil."
• On young U.S. players Julian Green and DeAndre Yedlin against Belgium
"I thought having two young players perform in that game—one for not very long but obviously making an impact on the game in Green—and DeAndre Yedlin was a revelation to everybody I think in how good he was and who he was matched up against [Eden Hazard]. So those are huge positives, and you look forward to the future.
"This tournament … was never about the future and leaving players out. This was about doing well here. But having said that, now that the tournament is over, you might have started penciling in what a team might look like in '18, and none of us can get the guys that we don't know about yet. Face it, two months ago none of us would have thought DeAndre Yedlin was going to have the sort of game he did matched up against one of the best players in the world."
• On whether he thinks it's possible for MLS to become one of the world's best leagues by 2022, as commissioner Don Garber has said it will
"Yes. But it's going to take a lot of effort and additional investments. I think we've hit so many of the benchmarks we've set along the way—and some we haven't hit and some we've changed—that I would think it's possible. At this point, in terms of the players and compensation levels around the world, there's one league and then you get some tax situations.
"The Premier League is the destination for many, many players. There still aren't lots of first-level Spanish players or Italian or German players. But just about everywhere else, that's where players are going to … I think MLS is going to continue to grow. I can't put a percentage on that, does it take five or 10 percent improvement on the field? We can't measure it that way. Clearly the economics of MLS are getting better, which means they can afford to retain top players and try to go out and get more top players. That's the only way you're going to get to that level."
• On the possibility of getting the combined Copa América 2016 in the U.S. onto the official FIFA calendar
"The two presidents of the confederations are optimistic and working hard on that. We've had discussions. That scheduling meeting will happen [at FIFA] in September, and we're hopeful that it'll be on the calendar or in some other way allow all the players to participate, even if it can't be officially on the calendar but in a way that will allow all players from 16 participating teams to play in the tournament. That would be absolutely critical. We think it'll be a terrific event once that's accomplished."
• On how much of the new eight-year, $720 million TV deal with Fox Sports and ESPN goes to U.S. Soccer and how much goes to MLS
"We [U.S. Soccer] have a comprehensive arrangement with MLS and Soccer United Marketing. It's not just based on television ratings. It's also about our commercial rights other than TV … The U.S. national team ratings are clearly higher, but there's far more programming of MLS. It's impossible to run straight metrics."
• On how far he's gotten in convincing fellow FIFA executive committee members and president Sepp Blatter to publicly release how much money they make from FIFA
"Nowhere yet. I've got three or four colleagues who think we should absolutely do it, and it's a very difficult issue. Here's why: It's not the norm everywhere else in the world, and so when I raise it with colleagues or with FIFA staff, the view is: 'We understand that's absolutely the norm in the U.S. for a non-profit, it's just not the norm [elsewhere].' And so it's pretty hard to say we must live by an American standard when most of the world [doesn't].
"This isn't just a question of Swiss banking laws. Most of the world doesn't do this. That's the reality. It's an organization with 209 members. So that's hard. The problem here is for me, if the rules didn't preclude me from doing it, I would be happy to disclose it. As it turns out, everyone gets exactly the same thing, so by disclosing it I'm not only disclosing mine, I'm disclosing everyone's other than the president. In an institution that's decided not to do that and is within their rights not to do that. The better way to do it is to convince them they should do it. Not just the executive committee but beyond that. We're not there yet. If you're going to stand for transparency, that would be a plus."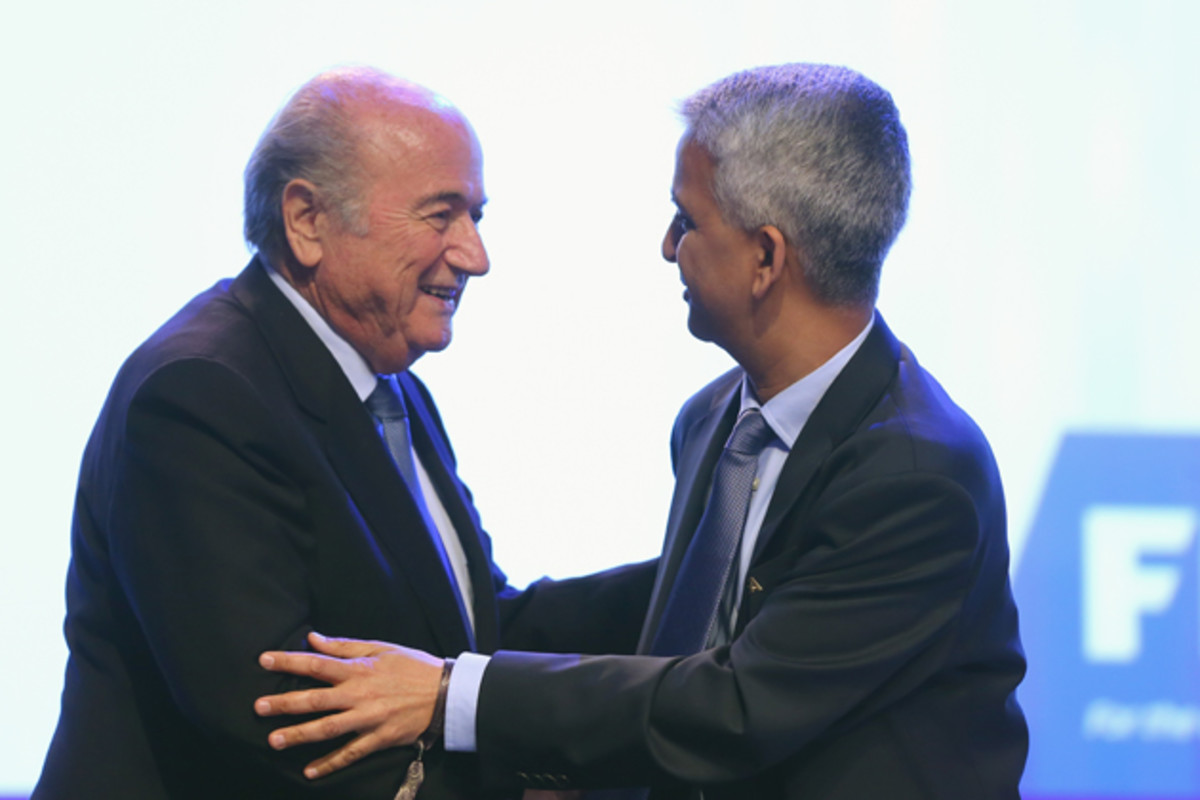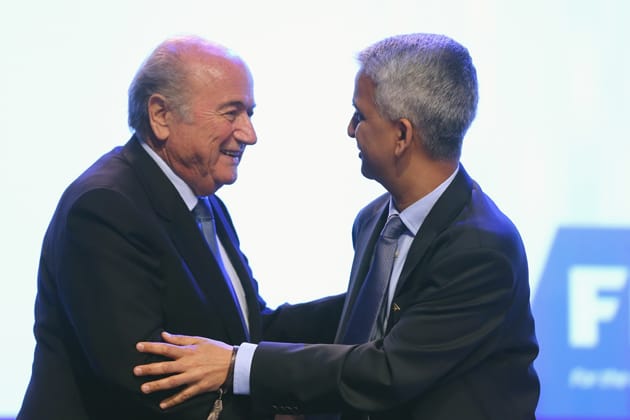 • On whether he thinks FIFA leaders care about their public image
"For sure they care. I don't think there's anyone that serves on the ExCo that doesn't understand the image was damaged quite badly over primarily two election-type processes: the World Cup decision [on 2018 and '22] and the presidential election [in 2011]. I don't think there's any doubt they care about the brand and image of FIFA. A number of things that have happened are hugely positive. Where I disagree with some of my colleagues is that we've done enough. I don't believe that's the case. We need to do more.
"But some of the things that have happened, for a big organization like FIFA, one of the key precepts of a membership-based organization is that everything is internal. Thou shall not go to court. Thou shall exhaust administrative remedies. It's within the family, as it were. So now to have independent jurisdiction for an ethics committee on investigative and adjudicative panels, to have an independent audit and compliance function, those are big steps for FIFA."
• On whether Sepp Blatter is a friend of U.S. Soccer
"Yes. I think he's been very supportive of most of our efforts over the last 25 years, including hosting the World Cup."
• On what it will take for the U.S. to bid for World Cup 2026
"If we're going to bid we want to see some changes in the rules. Some of that may come out of the analysis of the past procedure that [FIFA lead investigator Michael] Garcia is doing. We'll see. But I think some of the basic things the IOC did after the Salt Lake issues should be put in place. I don't think decision-makers should be traveling to the countries on inspection visits. The IOC did that, a relatively straightforward change, especially when the voter base is much broader [now that FIFA has changed to have World Cup hosting votes come from all 209 member nations].
23 for 2018: A first projection of the next USA World Cup roster
"I think the technical reports should be meaningful and form some substantive part of the decision if we're going to get hundreds of hotels to sign contracts for an event that's more than 10 years away and stadiums and economic proposals and guarantees. That should be taken into account. And I think it should be a public vote. People can do whatever they want in terms of how they vote, but they're representing federations, and they should stand up and say who they voted for and defend that decision."
• On U.S. women's national team goalkeeper Hope Solo's recent arrest
"I spoke with Hope last week. I think her comments, which she put on her Facebook page and other places, reflect how she feels about the whole situation. I think her apology was appropriate and appreciated certainly by us. I think the rest we're have to wait and see what happens with the legal process. Hope certainly understands that it's not a right to play for the national team, it's a privilege, and certain responsibilities come with that. And we would much prefer to have her in the news for great goalkeeping performances than anything else. We had a good conversation."
• On whether this (so-far) successful World Cup will cause FIFA to think all its problems are solved
"Obviously the World Cup has been successful to date, and hopefully it'll close that way over the next 10 days. That shouldn't disguise any of the other issues the organization faces, either internally or externally, whether that's match-fixing issues or racism issues or the governance issues. Those are still there. Putting on a successful event is extremely important because it's the biggest vehicle for promoting the sport. But they're independent. We shouldn't allow success at the World Cup to do anything other than highlight the fact it's been a phenomenal event."
• On how many national federations have a higher annual income than U.S. Soccer
"I don't know. The [English] FA certainly, the [German] DFB certainly. Spain not by a lot but yes, Mexico yes, Brazil yes. Japan, I don't know. My guess is it's not more than 10. Certainly in Europe the Italians probably do."