As anticipation builds over Zelalem's future, Arsenal prospect keeps focus
HARRISON, N.J. – Gedion Zelalem is not a finished product. Not close to it. And after 45 mostly quiet minutes in Arsenal's friendly against the New York Red Bulls Saturday, his future is no more or less promising than it was before.
Still, though, at long last, U.S. fans – you figured there were some among the 25,219 mostly Arsenal-clad supporters at Red Bull Arena – were treated to a live glimpse of the 17-year-old they hope gains U.S. citizenship, picks the USA over Germany (and Ethiopia, to be diligent) and becomes the latest recruiting coup for Jurgen Klinsmann on the path to Russia 2018.
Zelalem, of course, is playing it coy, and it's easy to forget he's just 17. He gushed at the opportunity to share the field with Thierry Henry ("Another dream come true. I watched him when he was at Arsenal in his prime. To play with him tonight was great," Zelalem said), and he has plenty he has yet to experience on the field. The immense expectations bestowed upon him and the anticipation of his international decision remain at the forefront, though.
"At the moment I'm just trying to break into the first team of Arsenal," a prepared Zelalem said after Arsenal's 1-0 loss to the Red Bulls. "They're both great countries. The U.S. is on the rise. Germany is already a great country. So whichever country I choose will be a good choice."
That choice is largely dependent on his father gaining U.S. citizenship prior to the Berlin-born Zelalem turning 18 in January, as per the Child Citizenship Act of 2000. Neither Zelalem nor his father, Woldyes, has U.S. citizenship yet, and that's something that Zelalem said remains in the process of being pursued (Asked whether he owns a USA jersey, Zelalem flashed a smile before departing Red Bull Arena before offering, "My dad does"). 
Klinsmann has stated his desire to have Zelalem, a star on the U.S. youth club circuit when he lived in the Washington, D.C., area between the ages of 9 and 15, join the U.S. program, and Zelalem said the two have been in touch (while slyly saying that he rooted for both the USA and Germany in the 2014 World Cup).
"We've talked on the phone a few times, but nothing advanced," Zelalem said. "Just a little."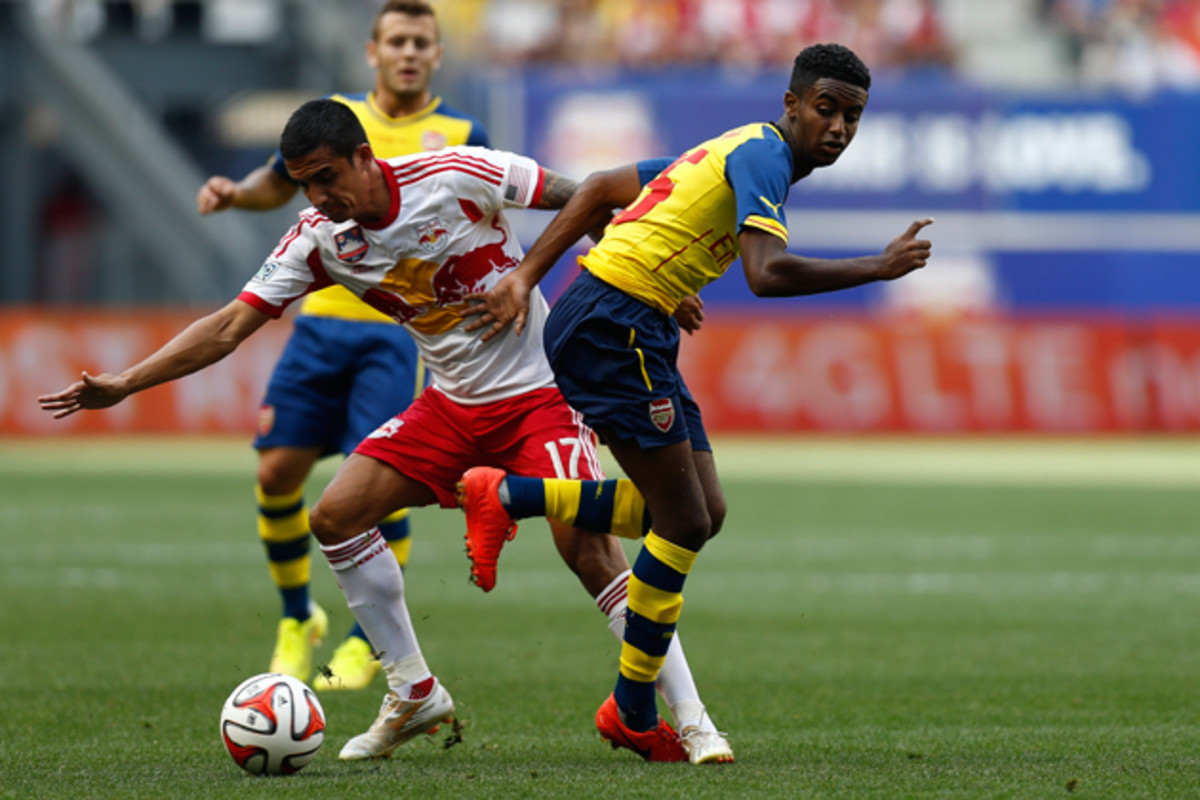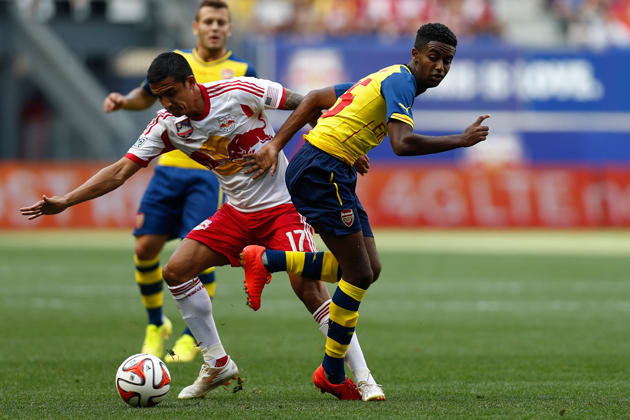 ​
As for his current manager, Arsenal's Arsene Wenger has said Zelalem has some growing, physically, to do to fulfill his potential. And whether that potential eventually belongs to the USA or not remains to be seen.
"He is a player with a good eye and good technique and is very agile," Wenger told SI.com in an exclusive Q&A this week. "He has the ambition to find the ball on the field. So he's the kind of player who could be of use to the United States. He's in some ways the type of player the U.S. was missing in the World Cup.
"He is potentially an international player, for sure. But the next two or three years he will have to show he has the mental qualities to fill that potential. That's what's at stake for him now. If he grows physically, since he's slim, and continues to develop his mentality, the potential is there for him to be a top professional player."
Starting for Arsenal against the Red Bulls on the right wing and donning the No. 35 shirt, that physical element was evident. The 6-foot-1 Zelalem was physically overmatched and bumped off the ball on occasion by the likes of Roy Miller and Tim Cahill, two World Cup veterans. Zelalem, though, showed his awareness and attacking acumen in the 38th minute, as he was robbed of a would-be assist on Arsenal's best chance of the game. After carving out space for himself in the Red Bulls box, Zelalem one-touched a ball to Jack Wilshere off a give-and-go only to have Luis Robles make a point-blank save on the England international. 
"The main thing is his talent," Wilshere said. "He has so much natural ability. If he can just work on it, keep working and have the right attitude toward the game, naturally he's going to develop physically and get stronger and playing with great players he's only going to improve. 
"You can tell he's just one of those kids who enjoys to play football. He wants to get out there and do his thing. He played on the right wing, which probably isn't his strongest position, but he's done the job, and the manager asked him to play there and he's done it."
Zelalem has one first-team Arsenal appearance to his name, that coming in the 2013-14 FA Cup fourth round, and he's likely to spend the bulk, if not all, of the season with the club's reserve and youth teams. 
In the same way that the hope for the USA is that Julian Green, who scored on his first World Cup touch, develops into a world-class attacking talent with Bayern Munich, the hope is that Zelalem continues his upward trajectory at Arsenal to give the USA another attacking cornerstone for the coming decade-plus. 
First things first, though, in terms of Zelalem's international decision, in terms of the reality of where his game currently stands as opposed to where most hope it winds up and in terms of his focus, which currently remains on breaking through at Arsenal. There's nothing ordinary about Zelalem and his situation. And there's certainly nothing ordinary about a teenager not old enough to vote in the U.S. breaking through at a Champions League regular. For now, that is promising enough. The rest will come in time.