USA youth development progresses, but what system tweaks are needed?
PORTLAND, Ore. — The first Homegrown Game as part of Major League Soccer's All-Star festivities celebrated how far the league's development system has come in a short period of time. However, if the United States wants to use its academies as a springboard to a World Cup, the battle has just begun.
At the 2014 World Cup, the U.S. squad benefited for the first time from its Development Academy, established in 2007, as former players Aron Jóhannsson and DeAndre Yedlin wore the American shirt. Their time in the system was fleeting, though, as Jóhannsson played one season for the IMG Academy, and Yedlin played one year for the Seattle Sounders.
As more players filter through the academies from a younger age, the thinking is that the number of homegrown players on the USA's World Cup squad will only increase. Without some serious changes to the framework of the system, that process could be much more arduous than necessary.
Game of the future: Three thoughts on inaugural MLS Homegrown Game
"It's kind of difficult for some of those kids sometimes because if you step out of your university at 23, 22 or 24, like they do sometimes here — for example, a kid in Europe will be training every day since he's 13 years old," Thierry Henry said at the All-Star press conference on Monday. "That amount of time that you're losing is huge in the end. Somehow, you guys get guys like I have on my left here [Clint Dempsey and Matt Besler] performing, but you've got to concentrate on your youth. That's very important; that's the future of the game."
The college soccer system has become outdated, already in the process of being replaced with the strengthening academies at each MLS franchise. Still, many of the best coaches of younger players still coach at the collegiate level.
In response, a task force of coaches and administrators have put together a proposal to submit to the NCAA that would change the college calendar. As it stands, players train and play from August to December, with a six-week spring season that isn't as heavy on training or matches.
The new system, presented by West Virginia University athletic director Oliver Luck to an MLS committee in Portland this week, is focused on "modernizing the collegiate paradigm from its current state, to better parallel the administration of the sport of soccer, both domestically, and internationally."
MORE: USA youngster Julian Green eyes Bayern Munich breakthrough
It would split the college season into two halves, one in each fall and spring, with only three midweek games allowed per semester and a minimum of three nights between games. The proposal presentation states that it would allow for better periodization, less possibility of injury and would require student-athletes to miss less school.
MLS president Mark Abbott said the league is supportive of the idea, although it will change the league's schedule with regard to its player combine and draft, both of which are usually held in January.
"We're supportive because of a belief that it's good for college soccer, and what's good for college soccer and good for player development is ultimately good for us," he said. "We haven't decided yet how to deal with it from a draft perspective and a combine perspective. That's something that we're still thinking about and studying."
Portland Timbers and MLS All-Stars head coach Caleb Porter, who coached at the University of Akron before joining MLS, said college soccer will always be viable. Two of the players who made the best impression in the Homegrown Game on Monday, Cristian Roldan and James Moberg, are teammates at the University of Washington.
MLS All-Star Notes: Mark Abbott on expansion, Blatter; Training contrast
"The two biggest things, I think, that go into developing players are the environment and time. The sooner you can get kids into a high-level environment that's as close to being professional as possible, the more time you get in that environment, the more you develop players. In saying that, there are going to be guys that for whatever reason, don't go directly into the professional leagues," Porter said. "I agree with Thierry: kids coming into the pros at 22, 23 years old, it's tough. For a lot of guys, it's the first time they haven't played or started. For a lot of guys, it's the first time they've been tested and suffered. So for me, I think we need to start earlier, and we need to develop better environments from top to bottom."
Some players will inevitably fall through the cracks of talent identification, and the college system could become a good secondary recruiting tool for professional teams. At the same time, there has to be a way to marry the European academy model of development with the American cultural tradition of most young adults going to college.
ALL-STAR: Liam Ridgewell replaces injured Kyle Beckerman
MLS's partnership with USL PRO franchises could be vital in this, as well as perhaps some well-placed tweaks to the roster rules that would encourage teams to use those avenues, much as they currently encourage signing Homegrown Players.
Despite that encouragement, teams are still not justly compensated for developing players if they move on to other teams. European and Mexican clubs are poaching players as young as 10 years old without paying for them because American clubs are not subject to FIFA's regulations on training compensation.
"There are issues with respect to compensation with respect to players that are not in contract in the United States generally that are not just related to soccer, but generally," Abbott said. "So it's kind of a technical issue, but there are issues with respect to that, so it's not something that we have here."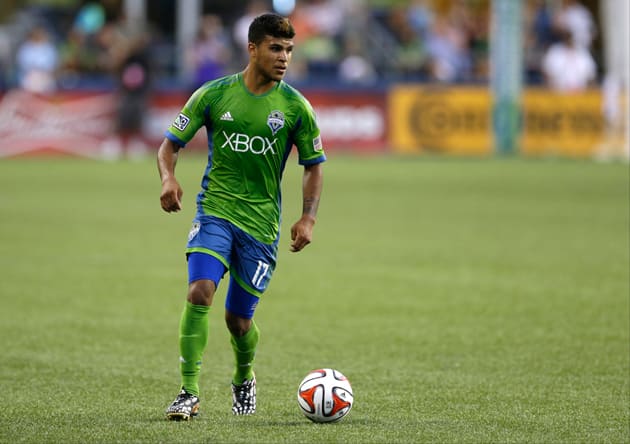 The FIFA Regulations on the Status and Transfer of Players states: "Training compensation shall be paid to a player's training club(s): (1) when a player signs his first contract as a professional and (2) each time a professional is transferred until the end of the season of his 23rd birthday. The obligation to pay training compensation arises whether the transfer takes place during or at the end of the player's contract."
Every club that has a hand in the player's development must be paid. In Yedlin's case, that would mean Emerald City FC, Crossfire Premier and the Sounders would be paid in case of a transfer such as his rumored move to Europe after the World Cup. Child labor laws and other legal issues with the exploitation of children also plays a role in the U.S. not following the policy.
Another problematic policy is the pay-to-play model in the U.S. In other nations, including World Cup-winning Germany, players of all ages play youth soccer for free. The trade-off is that not as many coaches are full-time professional coaches as they are in the U.S., but it ultimately provides for the improvement of the talent pool.
Since 2002, the German federation built 52 national schools and 366 regional training centers and employed over 1,000 coaches to staff them full-time. In Belgium, teams are strongly urged by the federation to play the same system from top to bottom, instilling a style of play that everybody studies intensely from the time they start playing until they earn caps for the national team.
MORE: Promotion-relegation will never happen in MLS, says league president
The unique American challenges of vast geography and a large population base make free play an approach that isn't quite cost-effective, but investors must understand that footballing development has to come first for the system to work. Monetary reward comes from developing players and selling them on, not gouging them and their parents for fees to play.
Even in the Development Academy, where a larger number of teams don't charge players for their top teams, the costs fall on younger players' parents, who still have to pay. MLS academies are in the process of filling out from under-12 to under-18, which would alleviate some of that stress for the best identified players, as those teams are all free.
The youth programs in Germany, now seen as the crown jewel of development after their 2014 triumph, have a common understanding that their investments are for the greater good: a push to win World Cups. Their willingness to cooperate with one another and plumb the darkest corners of the country for talent comes from the embarrassment of failing to make it out of the group in Euro 2000.
MLS All-Star Game caps USA's fun two-week summer spectacle
Since then, the vast undertaking has resulted in a staggering number of homegrown players in the Bundesliga and a lack of reliance on foreign imports that often run afoul of UEFA's Financial Fair Play regulations. That's another boost to the investors' pocketbooks: being able to pick players from the academies instead of spending millions on players from other leagues.
Perhaps the problem, paradoxically, is that the U.S. has been just successful enough on the world stage to avoid embarrassment. Performances at the 2010 and 2014 World Cups were good enough to insulate the status quo, but to make real progress, a disaster on the scale of Germany at Euro 2000 would be helpful.
Until then, the U.S. will struggle to improve as quickly as it could without widespread changes to its development system. As Germany showed, it only takes one generation of players coming through a reformed system to reap the biggest possible reward.