Insider Notes: Abby Wambach's future; France in line to host '19 WWC
Abby Wambach announced on Wednesday that she won't be playing in NWSL this year, and while it's disappointing news for the Western New York Flash, Wambach tells me it does not mean that she is retiring from professional club soccer.
USWNT flips the script, defeats France 2-0 to capture 10th Algarve Cup title
​Wambach only would have played in three club games before the World Cup, and she says the four U.S. games and pre-World Cup camp will have her ready for the big tournament this summer. Wambach did say that she was open to potentially trying out European club soccer for a year, but she doesn't have any specific club plans set as of yet. She said she's still aiming to compete not just in this year's World Cup but in next year's Olympics as well for the national team.
Wambach is women's soccer's all-time leading international scorer with 178 goals and won the 2012 FIFA Women's World Player of the Year award.
Here are a few more insider notes from around the world: 
France in line to host 2019 WWC
FIFA will announce the host country of the 2019 Women's World Cup on Thursday. The two candidates are France and South Korea. The FIFA Executive Committee will vote for the winner, and one source who's involved tells me while it's not guaranteed, the tea leaves are saying: France.
Men's World Cup confederation allocation still TBD
CONCACAF president Jeffrey Webb out to enact change in region, FIFA
Qualifying for World Cup 2018 has already started, but strangely we still don't know how many tournament slots each confederation is going to get. Nor will the answer come at this week's FIFA Executive Committee meeting, a source tells me. This is where things get really political. The FIFA presidential election is coming up in May, and president Sepp Blatter has been working to push back the World Cup slots announcement until after the election.
The reason: He doesn't want to alienate potential voters. CONCACAF is hoping to move from 3.5 to four slots, and there's a lot of jockeying going on right now.
MLS biding its time with Miami expansion
Minnesota, Miami are on deck, but Sacramento ready for MLS expansion
In MLS expansion news, I'm told this round of expansion is only going to have one team: Minnesota United, which could be officially announced in the next couple weeks. MLS has decided to give David Beckham's pursuit of a Miami stadium more time, mainly because the league doesn't want to pull the plug on the project. That means Sacramento, which says it's ready to put shovels in the ground for a stadium, is going to have to wait. MLS wants Miami to happen.
The earliest Sacramento could get an MLS team would by the end of the year, and even then only if the Miami bid flounders.
Soccer at Baseball Stadiums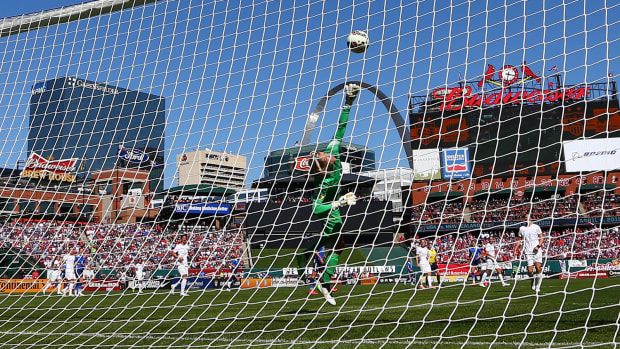 ​