USWNT's Rampone, Boxx, Rodriguez give new meaning to 'soccer moms'
There is a definition of the term "Soccer Mom" that concludes:
"This stereotype tends to connote a certain crass materialism and the notion that a woman who ought to be liberated and independent has chosen to be a homemaker (and yet is more aggressive about the lifestyle choice than women of previous generations.) In actual fact, many women of all types are proud to call themselves soccer moms in that the term signifies a true dedication to their children. The term, which first gained wide currency in the 1990s, will undoubtedly evolve over time and take on further, often contradictory, shades of meaning."
This is a story about the evolution of the term.
Unlike men, U.S. women's World Cup roster lacks shocks, surprises
Meet Christie Rampone, Shannon Boxx and Amy Rodriguez, players on the U.S. women's national team that will play in this summer's Women's World Cup in Canada. But first, they will spend Mother's Day playing Ireland in a friendly match in San Jose, California.
"I actually can't remember a Mother's Day when I wasn't playing," says Rampone. "Whether it was with the national team or my club team, Mother's Day has always meant gameday."
Soccer Moms, indeed.
Rampone, 39, is about to play in her fifth World Cup, her third as a mom. She has a pair of daughters, Rylie, who's 9, and Reece, who's 5, who've grown up around the team. Rampone is the captain, a fairly shy leader-by-example type, who also helped Boxx and Rodriguez realize they, too, could have children, be devoted mothers, and continue to play professional soccer.
Inspirations: Stories of athletes who defy odds, overcome obstacles
"Christie made it look so easy," says Boxx, a 37-year old midfielder and mother to 14-month-old daughter Zoe. "I have learned while it's amazing, it's also time-consuming. It's harder to do when you're in camp, like we are now. But overall, it's a great experience and, now, I can't imagine doing this without Zoe. Seeing her smile when I come home from practice, it's like starting a brand new day. Even if I've had a bad day, I'm like, things are pretty good now. I think that's a balance I may not have had before. Having her around keeps things in perspective, for sure."
Rodriguez, 28, is the only one of the three U.S. Soccer moms with a son, 18-month old Ryan. A native of Southern California, Rodriguez has not only dealt with the grind of national team duty since becoming a mother, she also had to handle a trade from her club in Seattle to Kansas City. None of it, she says, has been easy. Especially as she prepares for her first World Cup.
"It's so hard," Rodriguez says. "But I've really enjoyed it, especially on the national team, because we've got a team that supports moms and has a history of supporting moms."
Indeed, dating back to 1995, the women's national team has always had at least one mother on it's World Cup roster. The trailblazers were Joy Fawcett ('95 and '02) and Carla Overbeck ('99). Rampone (formerly known as Christie Pearce) has played on every World Cup team since 1999 and joined the ranks of moms in time for the 2007 World Cup. Having seen Fawcett and Overbeck handle the dual roles, she never had a doubt she would continue her career.
"I was able to see them come back from pregnancy," Rampone says. "Before that, I never really thought I'd play while I had kids. Watching them do it erased any doubts I may have had. So, when I was trying to get pregnant, and was pregnant, I knew I would be coming back to play. I didn't know if I'd make the roster, but I always knew I'd make the effort to come back."
Boxx and Rodriguez then followed Rampone's lead, not only in dealing with pregnancy and getting back in competitive shape, but also in seeing how to make it a fun experience for their babies. It seems all the ladies who've been a part of the U.S. team have had a chance to bond with Rylie and Reece Rampone, who've often been a part of the team's traveling contingent.
"There are times," Rampone says, "where Rylie now says she's going down the hall in the hotel, to hang out with some of the girls. Being around so many great women role models has helped both of my girls become strong and independent. And they seem to love every minute of it."
Boxx's daughter Rodriguez's son are already receiving similar treatment.
"Ryan's the only boy baby, so he gets a lot of love," Rodriguez says. "He loves playing with the girls and so many are willing to step up and help me, when maybe I need a little alone time."
Boxx, who's preparing to play in her fourth Women's World Cup, has Zoe with her now, as the team is in camp, heading into a series of friendlies. Watching her receive the attention of the players on the team brings back memories.
"Christie is one of my best friends," Boxx says, "and I've seen her go through so many experiences with two kids. I always wondered how she did it. Now that I'm going through it with one, I see you just do it. You become a mom and instinct kicks in. It's been funny in some ways to watch my own transition from someone who was all soccer all the time to now."
It's a recurring theme with all three women, that having children helps keep the game in perspective. Whereas during the years before parenthood, they might have come home and stewed after a bad practice, or maybe tough conversation with a coach, they now walk off the field to see the face of someone who really doesn't care that they're having a rough day.
Rampone says women athletes from all over the world have reached out to her, to ask her about how she's managed to have such a long professional career while also being a mom.
The Year in Photos: U.S. Soccer in 2015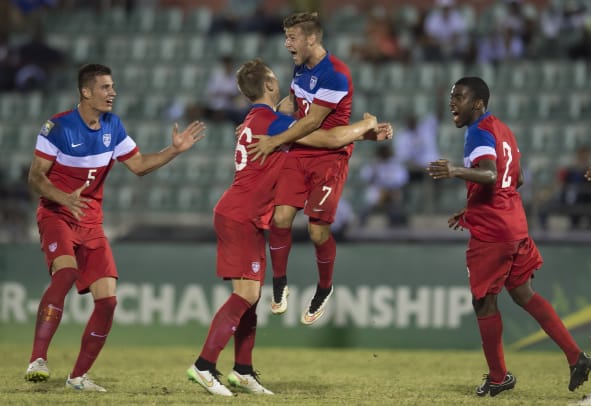 "All moms want to feed off each other," Rampone says. "So the conversation goes from, 'I can't believe you do it,' to 'How do you do it?' I just tell them, 'It's not about me anymore.' The kids are first and I'm second. It's become important for me to talk to other athletes who want to have children and keep playing. I think it's important, in women's athletics, to see this is possible. Women athletes can aspire to do two things at once. To be a mom and still be an athlete."
Boxx and Rodriguez, while new moms, also say they're hearing from women.
"I hope we are, and I think we are, inspiring moms out there," Boxx says. "We are moms so we're always going to put our children first, but it's also important to take care of yourself. Having this job has helped me show others that it's possible. I know Zoe won't remember much of this, but I hope one day, we can look back at pictures and she'll say, "Wow, my mom did this."
Soccer Moms, indeed.