Timbers create their own brand of luck en route to MLS Cup victory
Through the postseason, the Timbers received a number of positive bounces that made their MLS Cup run appear to be fated. In reality, Portland was just using their own brand of do-it-yourself luck.
COLUMBUS, Ohio—Two days before he became an MLS champion, Portland Timbers coach Caleb Porter was asked if he believed in destiny.
"That's a deep question," he said.
But it's not one that necessarily come out of nowhere. There was something special and a bit supernatural about the run his team was on. Portland missed the playoffs in 2014 and as this October opened, it was in seventh place in the Western Conference, winner of one of its previous six games and outside the league's generous postseason picture.
Nagbe, Borchers the keys to success for Portland Timbers' MLS Cup run
Two months later, it entered the MLS Cup final here at MAPFRE Stadium on an eight-game unbeaten streak. The Timbers survived a knockout-round penalty kick shootout against Sporting Kansas City that featured a potential match-winning effort from the visitors that hit both goalposts and bounced out. Portland beat second-seeded Vancouver on the road to clinch the conference semifinal, then survived a scare at FC Dallas when veteran defender Nat Borchers blocked a goal-bound shot that could have sent the series to overtime.
The bounces clearly were going the Timbers' way. Was it fate?
"I think when you put the work in, then you earn it—maybe not short term, but long term," Porter said in response to the destiny question. "To succeed, you're going to have to suffer some."
In other words, you're going to have to work hard, leave no stone unturned, admit failure, address weaknesses and capitalize on opponents' mistakes. In short: you've got to make your own luck. And on Sunday night here in Columbus, that's exactly what the Timbers did. Their 2-1 triumph over the Columbus Crew, which brought the soccer-mad city of Portland its first league title in 40 years, was gritty rather than glamorous. But it was fashioned from the stuff that championships are made of—defensive commitment, tactical flexibility and intelligence and the composure necessary to anticipate and then master key moments.
• STRAUS: How Portland GM Wilkinson built an MLS Cup winner
"We've been a successful MLS team," Portland owner Merritt Paulson told SI.com in the victorious visitors locker room on Sunday evening. "We had every chance to win it in 2013 and we just worked our way to this thing, worked our way, worked our way, and stuff started coming around. We started getting some bounces. You work hard enough and you've got enough quality in between the lines and coaching the team, and it's going to work out."
MLS Cup MVP Diego Valeri is highly regarded as a creative attacking force and he's a two-time member of MLS's Best XI. But "defending isn't his strength, always," Porter admitted Sunday night. Nevertheless, it was Valeri's hustle and pressure off the ball that staked the Timbers (18-11-11) to a stunning first-minute lead. Crew goalkeeper Steve Clark misplayed a pass from midfielder Wil Trapp and surely figured he had time to recover. But the Argentine midfielder had chased down the play. Valeri slid and knocked Clark's clearance into the net. Twenty-seven seconds had elapsed, and already host Columbus (17-14-8) would be chasing the game.
• WATCH: Timbers jump out to 2–0 lead seven minutes into MLS Cup final
"We know that they take risks to play," Valeri said. "That's their way and we know that aggressiveness in the first 20 minutes for us has to be there. And we tried to press them because most of the situations that they create come from the back line, so we tried to press, to be aggressive."
Six minutes later, Portland doubled its lead on another make-your-own-luck play. The Timbers played a pass beyond the touchline but the assistant referee on the stadium's east side failed to raise his flag. Nevertheless, Columbus midfield Tony Tchani slowed up and rolled the ball back toward the sideline, believing the play was dead. Portland's Darlington Nagbe had other ideas. He collected the ball and tore through midfield unopposed. By the time the Crew collected itself, the newly-minted U.S. national teamer had slipped a pass to Lucas Melano. The Argentine's cross was perfect and Rodney Wallace headed home at the left post.
"I think you could see a little bit of nerves," Columbus coach Gregg Berhalter said of the brutal start.
MLS Cup Winners Through The Years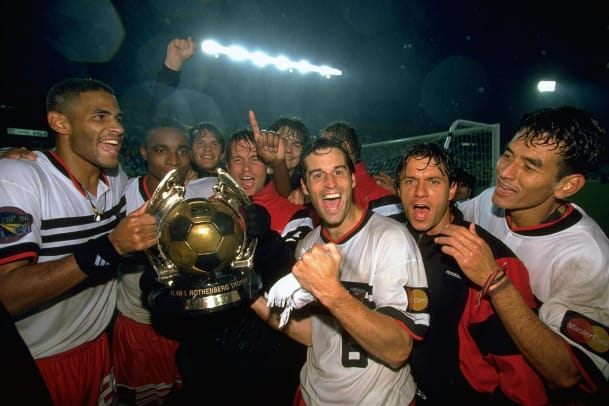 ​
Portland, meanwhile, was prepared.
"Obviously, there are mistakes that happened but those are things that we talked about pregame in terms of trying to force them into positions that maybe they're a bit uncomfortable in early in the game and try to capitalize," said veteran midfielder Jack Jewsbury, who's been with the Timbers since they entered MLS in 2011 and earned a couple minutes of priceless playing time on Sunday. "Even early on in the season when the results weren't going our way, we believed in our system and the approach that we were taking. For whatever reason, it kind of turned at the right time for us."
Infographics of MLS Cup history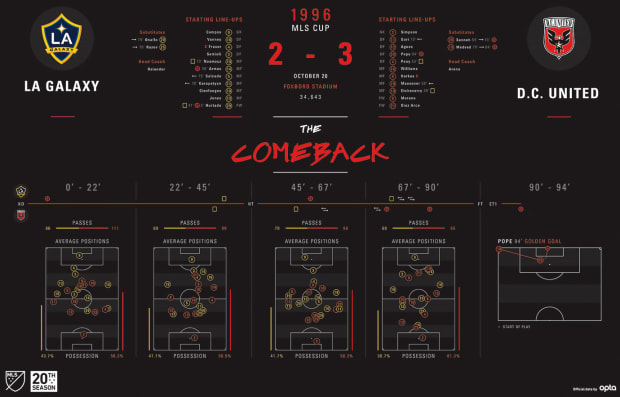 Columbus pulled a goal back in the 18th minute when Kei Kamara rifled a low bid through traffic, but that would be the Crew's only shot on goal. This was a team that had scored 58 times during the regular season, the second-highest total in MLS. But it was neutralized on home turf in the biggest game of all. That was a testament to the Timbers' organization and the club's commitment to focusing on improving its defending. English veteran Liam Ridgewell signed last year and then Nat Borchers arrived from Real Salt Lake over the winter. Both center backs were outstanding on Sunday. Meanwhile, left back Jorge Villafaña shut down dangerous Columbus winger Ethan Finlay.
"The way we defended in that second half, I know personally, two or three years ago, that's a club I didn't have in my bag. To be able to absorb, not just absorb and be up against it but to do it comfortably—we were never in danger. We were comfortable and tight," said Porter, a coach enamored of proactive, possession soccer who won a championship thanks to pragmatism.
"We had a game plan. We wanted to press them. We wanted to put them under pressure," Borchers said. "They were saying things like our defense isn't that tough and they were saying things like they like the match-up. And that's great. We liked the match-up as well and I thought we executed our game plan well. It was just a fantastic group effort."
• SI.com's Complete coverage of the 2015 MLS Cup
Porter made a significant change toward the end of the regular season as well, moving Nagbe from the right flank to a central position next to Valeri. It allowed Nagbe to find the ball more frequently and attack the defense from a variety of spots. It also opened the door for contributors like Melano and Dairon Asprilla, who scored critical playoff goals. The tactical shift was another example of Porter's ability to impartially assess his team and his own coaching and make a decision that helped the club. 
"There's no failure. There's just feedback," Porter said Sunday. "If you're a growth-mindset person, then you take the feedback and you learn from it and you get better … Privately and internally in this locker room, we have a group that looks at ourselves in the mirror and if it's not working, there's honesty and we change it. We correct it. We're not naive. We're humble and we knew what we needed to do to win games."
MLS commissioner Don Garber Q&A: On 20th season, expansion, more
In the 60th minute on Sunday, Wallace took a shot that hit Crew captain Michael Parkhurst on the goal line. Kamara tried to clear the ball but wound up striking the underside of his own crossbar. The ball fell, hit Parkhurst on the upper arm then bounced off the right post and rolled away. There was no handball call and no goal. Eleven minutes later, Portland striker Fanendo Adi sent a header off the same post that then bounced off Clark and out for a corner kick.
"I worried the woodwork was going to come back after the Kansas City game to get us, because I don't know how a couple of those balls didn't go in," Paulson said.
But Portland didn't need any more bounces. They'd fashioned enough of their own good fortune to see out the game and win a long-awaited championship.
"You see it with this group that when we got rolling and we got confident, it was going to take something special to stop us," Jewsbury said.
"I had a poster on my wall when I was young that said, 'Some succeed because they're destined to but most succeed because they're determined to," Porter said. "I've had a lot of [ebbs and] flows. I've had some bitter disappointments that could've derailed me. There are times you question, how did that happen? But I think really what it is, it's just football. It's a very cruel sport. But if you do things right, eventually it turns. It always turns."