Salman will be FIFA president and more: 12 predictions for 2016
Grant Wahl makes 12 fearless predictions for soccer in 2016: Sheikh Salman will win the FIFA presidency, USWNT will win Olympic gold, more arrests in the FIFA scandal and more.
The calendar says it's January now, but I'm already thinking ahead to the time from June 3 to July 10. That's when the U.S. will host the Copa América Centenario and France will welcome the world to Euro 2016. So get ready for Euro games during the U.S. day and Copa games at night. Get ready for wall-to-wall TV coverage featuring the best players in the world. Get ready for a summer soccergasm.
I'm getting excited just typing these words.
But those are hardly the only enticing events coming in 2016 on Planet Fútbol. The U.S. women will try to win another Olympic gold medal. Barcelona will go for another UEFA Champions League title while seeking to hold off Pep Guardiola as he hopes to finish his time at Bayern Munich with the biggest club trophy in the world. And over in England, Arsenal is gunning for its first Premier League title in 12 years—while Leicester City hopes to continue its inspiring run near the top of the league.
Here are my 12 fearless predictions for 2016:
Sheikh Salman will win the FIFA presidency.
For the first time in 18 years, a new FIFA president will take charge on February 26 in Zurich. The winner from the five (tremendously named) candidates—Tokyo Sexwale, Jérôme Champagne, Prince Ali, Gianni Infantino and Sheikh Salman—will be Sheikh Salman, the current president of the Asian confederation. With the help of Kuwaiti power broker Sheikh Ahmad, Salman will reach a deal with Infantino, the UEFA general secretary, that gives Europe plenty of influence but lets a non-European run FIFA (which is especially important to the vote-heavy African and Asian voting blocs). Salman comes with some significant baggage—he's from Bahrain, which has been accused of torturing its citizens, including pro soccer players—though Salman denies that charge and cleared a FIFA "integrity check." Will he really change FIFA for the better? It's hard not to be skeptical when all the candidates are FIFA insiders.
• 2015 in review: Best stories | U.S. year in review | MLS year in review
More U.S. Department of Justice arrests will come in the FIFA scandal.
It's like pulling on a ball of string, isn't it? With a sweeping series of arrests in May and December, U.S. attorney general Loretta Lynch has already overseen more than 40 arrests of global soccer officials. Some of the most compelling soccer writing of the year can be found in the updated U.S. indictment. Look for more arrested officials to work out plea deals that lead to more arrests in 2016, including those of soccer pol from Europe, Africa and Asia (who have largely escaped the long arm of the U.S. law to this point). Also keep an eye on the U.S.'s pursuit of those involved in the decade-old ISL scandal, for which the DOJ recently requested the Swiss files.
The U.S. women will win their fourth straight Olympic gold medal.
They were the biggest U.S. soccer story of 2015, with a domestic average TV audience of 27 million watching their 5–2 thrashing of Japan in the Women's World Cup final, and the clear lesson of their last two WWC games was this: When the U.S. is on, no team in the world comes very close to them. The emerging stars in 2016 will be forward Crystal Dunn, the reigning NWSL MVP, and midfielder Morgan Brian in the wake of Lauren Holiday's retirement.
Jurgen Klinsmann will keep his job.
The U.S. coach had a rough 2015 by any measure, but the fact remains that his continued tenure is almost entirely dependent on World Cup qualifying, where the U.S. got a cupcake draw for the semifinal round (Trinidad and Tobago, Guatemala, St. Vincent and the Grenadines). With the help of being a seeded team and playing at home, the U.S. will advance to the semifinals of the Copa América Centenario before bowing out with dignity against a powerhouse South American team, but questions will remain about the U.S.'s lack of identity. The player to emerge in 2016 will be Darlington Nagbe, who possesses skills on the ball that set him apart from other American players. And the U.S. Under-23 team will be disappointed when it falls to Colombia in March and fails to qualify for the Olympics.
Here are my predicted winners of 2016.
Belgium will win Euro 2016, realizing the full potential of a golden generation of talent. Argentina will win the CopaAméricaCentenario, with Lionel Messi finally getting his national team over the hump. Bayern Munich will outduel Barcelona for the Champions League crown in Pep Guardiola's farewell. Arsenal will hold off Manchester City to win its first Premier League title since 2003-04. Barcelona will defend its Spanish league title and Bayern will win again in the German league, while Inter will hold on in a crazy Italian league race. Brazil will win the men's Olympic gold medal for the first time—and on home soil, no less. And the New York Red Bulls and Portland Thorns will win the titles in the U.S. men's and women's top flights.
The Year in Photos: U.S. Soccer in 2015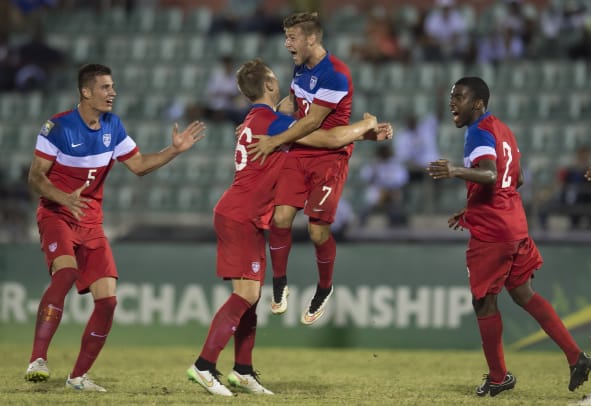 Carlos Vela will join the Chicago Fire.
Chicago needs to start making itself relevant again, and the first big step in doing so will be the signing of Mexican star Vela from Real Sociedad. Additional MLS predictions: Jordan Morris will turn down a Bundesliga offer and sign with the Seattle Sounders. Frank Lampard will have an upbeat year at NYCFC, while Steven Gerrard will struggle with LA. Jason Kreis will be the available coach mentioned most often with every MLS job, and there will be plenty of talk with coaches being on the hot seat with Colorado, Orlando, Philadelphia, Salt Lake and Toronto.
The little guys will have their day.
In one of the greatest soccer stories in recent soccer history, Leicester City will finish in the top four of the Premier League and qualify for Champions League. Even better, the Foxes will use the big jump in Premier League TV money and their Champions League windfall to not only keep its best players but make the team even better. Meanwhile, upstart Iceland will show that it's no fluke in Euro 2016, its first major tournament, by advancing from a group that includes Portugal, Austria and Hungary.
​The Qataris will become part of David Beckham's Miami MLS ownership group.
Qatar Sports Investments, which already owns Paris Saint-Germain, will join Beckham's Miami MLS group and help pay for the soccer stadium that's being built in Miami. Beckham has kept close ties with QSI since he finished his playing career at PSG, and it's striking that MLS commissioner Don Garber has maintained that he thinks World Cup 2022 will still end up taking place in Qatar. Having the Qataris join MLS will draw some negative feedback, but MLS will reason that it won't be any different than bringing Abu Dhabi money into the league for NYCFC. Miami will officially announce that its first year of MLS play will be in 2018.
The managerial merry-go-round will spin into overdrive.
Pep Guardiola, the most wanted manager in world soccer, will turn down major pushes from Manchester United and Chelsea and decide to sign with Manchester City. (He'll then instantly have City finalize the purchase of Thiago Alcântara.) Chelsea will land Diego Simeone of Atlético Madrid, while Man United fires Louis van Gaal early in 2016 and replaces him with … José Mourinho. The buzz and entertainment value of the Premier League will thus go even higher through the roof, while its giant TV money influx (which helps the bottom Premier Leagues outspend, for example, the top Italian teams) will continue the surge of parity that we've seen with Leicester City this season.
USWNT players will get more vocal about their treatment vs. the USMNT.
We've already started to see rumblings of discontent from the U.S. women against U.S. Soccer, from their refusal to play on an unacceptable artificial turf field in Hawaii to Abby Wambach saying she wished she had taken a stand more often for equal treatment during her playing career. The U.S. women's last collective bargaining agreement with U.S. Soccer ended in 2012, and since then they have operated under a "memorandum of understanding." But new USWNT players rep Rich Nichols is taking a more aggressive stance with U.S. Soccer than his predecessor, John Langel, and the U.S. women see no reason why the U.S. men should get more business class travel than they do, or money per World Cup group point (when the USWNT gets none).
2015 Year in Review: U.S. men's national team missed its marks
​Copa América success will increase calls for more Americas cooperation.
It's still remarkable that FIFA approved putting the Copa América Centenario on its official calendar, but the success of this summer's tournament (with full NFL stadiums) will cause more people than ever to make the case for more cooperation in the Americas, whether that means more combined Copa Américas, U.S. participation in the Copa Libertadores and/or the outright merging of CONCACAF and CONMEBOL, with or without the Caribbean countries. From a soccer perspective it would certainly help the U.S., but there would still be plenty of roadblocks, from extensive travel to FIFA's potential disapproval to, you know, just about every CONMEBOL federation president being implicated in the ongoing FIFA scandal.
Coach Jill Ellis will make some tough Olympic roster choices.
Ellis can take only 18 players to Brazil (compared to 23 for the World Cup), so the question lingers: Aside from Crystal Dunn, which non-World Cup players could make the Olympic roster? Five World Cup players are out of consideration: Abby Wambach, Lauren Holiday, Lori Chalupny, and Shannon Boxx (all retired) and Amy Rodriguez (pregnant), while Megan Rapinoe (ACL surgery) faces a real challenge to be ready. My prediction: Rapinoe and 40-year-old Christie Rampone won't make the final roster (they'll be alternates), and forward Lindsey Horan, 21, will be on the final list.