Introspective, healthy Alex Morgan sees opportunity to seize in 2016
Grant Wahl sits down with U.S. women's national team star Alex Morgan for a wide-ranging interview.
HOUSTON — In her first competitive game of 2016, it took only 12 seconds from the kickoff for Alex Morgan to score a goal for the United States. But her lightning strike against Costa Rica on February 10 wasn't just the fastest goal in U.S. Soccer history. It was also a symbolic moment for the most popular player in American soccer, a player who sees 2016 as a giant opportunity to recapture her glory from another Olympic year (2012) when she racked up a remarkable 28 goals and 21 assists.
After dealing with injuries for much of the past three years, is the 26-year-old Morgan on the verge of becoming the world's most dangerous striker again?
"For me, [the goal] was a nice way to just validate everything I've been working on the last couple months," Morgan told SI.com here ahead of Friday's Olympic qualifying decider against Trinidad and Tobago (NBCSN, 8:30 p.m. ET). "With all of the injuries and all the Victory Tour games, it was like, 'O.K., we have moved on, we mean business.'"
Morgan sets famously high standards for herself, and so 2015 was a complex year for her. On the one hand, she won the World Cup, which speaks for itself. But on the other hand, Morgan scored just once at Canada 2015, even though she also drew the penalty that turned the tide against Germany in the semifinals.
"2015 was … complicated to explain how I felt going through it," Morgan said in a wide-ranging interview at the U.S. team hotel. "At the end of the day, I knew my role on the team, and I did my role well because we won the World Cup. But I also felt like I didn't play my best soccer that I know of myself. As a forward I want to score goals, so having scored one goal in the World Cup—less than my last World Cup—was in a way a little defeating for me to think back on.
"But at the same time, the World Cup is the best award and the best thing you can accomplish as a footballer. So it's complicated to explain. Looking back on it, I feel like I was really hard on myself, because I knew that injuries were holding me back and there was nothing I could about it but bring to the table what I had at that time. There was really no more preparation I could have put into the World Cup. When it came, I had to be ready even though I had just taken off four weeks time.
"So it was really hard for me after the World Cup knowing that although we won, I don't feel like it was the best version of me. That's why I think I do have such an optimistic outlook on 2016, just because I went into 2015 in a different role on this team and with a different outlook because of my injuries. It just feels really good looking forward. In 2015, I just felt like I could never catch a break. It just feels right right now."
Morgan is injury-free these days, and she's also doing more to prevent future injuries from taking place. She now starts warming up at the hotel an hour before every training session, paying attention to her body in ways that she never did before. (Previously, she says, she would start 15 minutes before a practice and just tape her ankles and go.)
What's more, in October and November Morgan worked six days a week with a personal trainer in Orlando, where she now plays her NWSL ball for the expansion Orlando Pride. One focus of the work was on her first two steps and improving her explosion and changes of direction.
"Even though people think of me as a fast player, my acceleration and decelerations could have improved," Morgan said. "So I worked on those a lot, the things that you really don't have time to work on when you're in a team environment. There are so many things you put on the back burner when you're in a team environment that when you actually get the time, which isn't very often, I feel like it's important to take advantage of that time and really know what your body is telling you that you need."
A lot has changed for Morgan in 2016, both on and off the field. Her mentor, Abby Wambach, retired, leaving a leadership void for Morgan to fill. And the U.S. forward corps has changed dramatically from the World Cup with the retirement of Wambach and the pregnancy-related absences of Sydney Leroux and Amy Rodriguez.
Morgan was introspective Thursday, which is something that happens when you get older and take on a bigger leadership role. She was so open, in fact, that it makes sense to present her comments as a Q&A (edited lightly for length and clarity):
U.S. Women's World Cup Team: Alex Morgan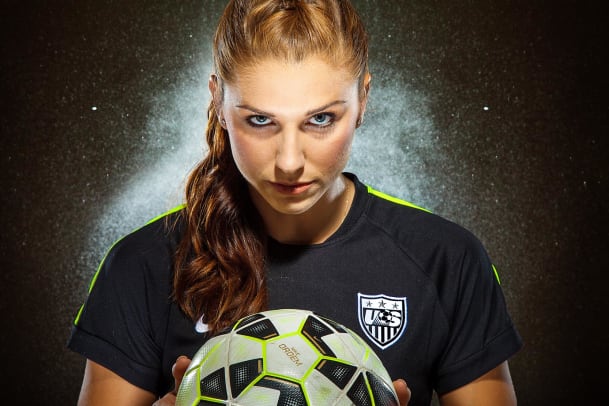 SI.com: You scored a goal 12 seconds into your first competitive game of the year. Looking at the year ahead, is there something symbolic about that?
Morgan: I think people were really drawn by that "12 seconds," just the fact that we started off the tournament really well. But for me it's more of two different things. One, that we started off the tournament well, and that I was able to help contribute to that. So it was more of just starting off a tournament on the right foot, especially with a roster of so many young new players on this team. That was just a really big confidence boost for everyone, not only the starters but the entire team.
The second thing was just for me, it was a nice way to validate everything I've been working on the last couple months. With all of the injuries and all the Victory Tour games, it was like, "O.K., we have moved on, we mean business."
SI.com: Was that kickoff play that created the goal the same play you've been working on for a long time now?
Morgan: Pretty much (smiles). Yeah, we do the play often. It's not every game, but when we choose to do it, it doesn't always translate onto the field as much as we practice it or see it on video. But I don't think it could have been played any better. It was a perfect set piece, and we've been working on set pieces. At the end of the day, that's what wins and loses big games.
SI.com: You mentioned what you've been working on for the last couple months. Are you doing specific things to try and prevent injuries?
Morgan: I feel like because I know my body a lot more and I've been through injuries that have made me compensate in certain ways, I feel like I get ready for every training differently than I used to. I prepare a lot more. I pay attention to my body a lot more. I start warming up before training an hour before at the hotel. That's not because I feel old and my body needs it. It's because it's prehab. It's preventing those injuries. I wish I had that 18-year-old body, so in a way it is because of my experience and history of injuries. But it's also in order to help prevent that in the future.
SI.com: In the past, how much time would you take to get ready before training sessions?
Morgan: Like 15 minutes, and I'd tape my ankle and I'd be good to go. But it's something I feel like you don't learn unless you feel like your body needs the warm-up or unless you've had those injuries. That really makes you pay attention to your body. I don't think it's something I could have learned otherwise, really.
SI.com: I know you're a Barcelona fan, and obviously they're playing great right now. But I wanted to ask you about a revealing moment recently with Luis Suárez. He had just scored two goals in a game, and as he came off the sideline reporter asked him if he knew how many goals he had scored this season. And instantly he said 35, which was correct. I was wondering if that says something about a striker's mentality. So I'll ask you: Do you know how many international goals you've scored? Be honest!
Morgan: No, probably not. I probably could tell you like plus- or minus-two, but that's more because that's in the media and I'll see it on Twitter, not because I'm counting. I don't know if that's a good or bad thing. I feel like it's something that just goes along with what motivates someone. For me, I don't want to focus on the goals that I haven't been scoring or the goals I have been scoring.
SI.com: For what it's worth, you're at 59 international goals.
Morgan: I feel like I'm so forward-thinking that it's not something where I'm like, "I'm at 59, oh, I have to get to 60." It's a way for me to not think about goals even though that's what consumes us as forwards.
| | | | | | | |
| --- | --- | --- | --- | --- | --- | --- |
| YEAR | GOALS | GAMES PLAYED | MINUTES PLAYED | GOALS/90 MIN. | TOTAL U.S. GAMES THAT YEAR | % U.S. MINUTES PLAYED |
| 2016 | 6 | 5 | 365 | 1.48 | 5 | 81.1 |
| 2015 | 7 | 22 | 1547 | 0.41 | 26 | 66.1 |
| 2014 | 5 | 7 | 418 | 1.08 | 24 | 19.4 |
| 2013 | 6 | 12 | 811 | 0.67 | 16 | 56.3 |
| 2012 | 28 | 31 | 2319 | 1.09 | 32 | 79.7 |
| 2011 | 6 | 19 | 654 | 0.83 | 20 | 35.2 |
| 2010 | 4 | 8 | 232 | 1.55 | 18 | 14.3 |
| TOTAL | 62 | 104 | 6346 | 0.88 | 141 | 50.3 |
*Table updated through Feb. 19, 2015
SI.com: When you look at the raw numbers, do you enter 2016 thinking this is an opportunity to have a big year like 2012, also an Olympic year, when you had 28 goals? Is that something you're aware of or wanting to have happen?
Morgan: I'm aware of the opportunity I have for 2016 and the success that we can create for ourselves, that I can create for myself. It can be a great year for me, and I'm really optimistic. I think I've started off well this year from the San Diego game to going through the Olympic qualifiers. You can't help but look back at your successful times as a professional, as a footballer, and think back to what made you like that and how can you replicate that or even perfect it even more? I definitely do think about the times that I was very successful before my injuries and how I can even surpass that success that I had.
SI.com: With Abby Wambach retiring, how does that impact you on this team?
Morgan: Abby retiring definitely impacts my role on this team. But it's not all of the sudden out of nowhere that this is happening. I feel like she's almost been grooming me to take over that role that she's left behind. No one can really follow anyone's footsteps. No one can take over the loudness that carries with her (smiles) and her personality that she has. But in a way I feel like I've grown so much on this team with her because she knew that leaving after this World Cup or when she was ready, she wanted a forward to be able to step in and take that spot. I feel like it's been as smooth a transition as possible, but my role has changed dramatically.
SI.com: Among the U.S. forwards on the World Cup team, the U.S. has lost Leroux, Rodriguez and Wambach. How are the forwards and you on this team adapting to those changes, some of which weren't expected?
Morgan: It's hard, because in the World Cup we had our forward group. We had Abby, A-Rod, Syd, [Christen] Press and me. That was the forward group, and we stuck together. But now because we're playing a different [one-forward] formation and we're trying new things in games, there's not necessarily a forward group. You have Mal [Pugh], who's sometimes a forward. You have Steph McCaffrey, who's sometimes a forward. You have Kelley [O'Hara], who plays all positions. You have Carli [Lloyd], who maybe floats up top but isn't necessarily considered a forward.
You have Crystal [Dunn], who's also sometimes a forward. So it's difficult because we almost have more forward players on paper, but it's not really that forward group. I think I can do a better job of rallying that next forward group. It's brought to my attention that it's more mixed in terms of players playing different positions.
SI.com: In pure soccer terms, how does the new formation influence what you do?
Morgan: I feel like it's less moving side to side and basing my runs off of the forward in front of me. I'm not checking if they run behind, or if they check I'm the one running behind testing the defense. It's all about me being the one who makes the first move unless we have a run from in behind. It's a lot different. And I also need to play that post-up role as well, instead of flicking it or assuming that someone is going to be higher than me. But I enjoy the role, because the games where Carli and I do play well, it's so on. It feels really good and so natural. We just need to try to replicate that every game.
SI.com: I wanted to ask about the labor situation. The players union has taken a tougher stance vs. U.S. Soccer. If the players get their way, a court could decide in March that you guys have the right to strike before the Olympics. How unified are the players in your stance?
Morgan: I mean, players being on the same page and being unified is not only important for CBA negotiations, but it's important for a team just going into a major tournament. It's important to be on one wavelength. I truly think that's why we won the World Cup, because we all put our differences aside and we all bought into what Jill [Ellis] and Tony [Gustavsson] asked of us and we all bought into our roles regardless of whether that's the role we wanted to be in. That's the reason we won, I think. So it shows just how important it is to have one voice and be unified. I think that carries over from soccer-related thing to continuing to edge forward women's soccer globally.
SI.com: There's also a lot of talk of Zika virus in Brazil ahead of the Olympics. Hope Solo said if the Olympics were today she wouldn't go, while other players have been more reserved at this point. Where are you on that?
Morgan: I think there are going to be more things revealed in the months to come. It's a little premature to be talking about Zika in Brazil when we haven't qualified yet. For me, I'm just interested to hear more about it. The effects on pregnant women or women who want to get pregnant getting the Zika virus are a lot more consequential than the Zika virus in general for males or women who don't see pregnancy in their future. I think that's our main concern for this team and women in general going to Brazil.
I honestly believe if the virus gets so bad that it has spread that much in Brazil, I think the Olympic committee would do right by moving the location. I don't think players or Olympians need to make that choice. It's the Olympics that has to make the ultimate decision. I think we're a couple months away, and it's too far away to be able to say anything too early in the game.
The SI Extra Newsletter Get the best of Sports Illustrated delivered right to your inbox
Subscribe
SI.com: In the past year it seems like your willingness to voice group concerns publicly has increased. That's part of leadership, part of getting older. I'm thinking of what you said about the field conditions in Hawaii and your tweet about hotel conditions in the NWSL. Is that something where you have a growing sense that you have this standing to be able to voice concerns like that?
Morgan: You know, it's difficult because with teammates everyone is on the same page. I feel like you have to use the platform you're given to voice concerns and also to praise things when they need to be praised. So I don't want to be the one who's always voicing concerns and complaining, you know. I want it to go both ways. I want to be able to say positive things about the NWSL and U.S. Soccer and playing conditions this year and looking forward to playing on grass this whole year [with the U.S.].
There are things that I feel like because of my social media following and other things involved that I'm able to get the voice of the collective across to more people than maybe someone else would. So I feel like I do pick and choose my battles. But I feel more comfortable with the role I'm in on this team and the fact I do have a platform to speak up and continue evolving the women's game and continue pursuing gender equality. In that regard, I feel like I owe it to myself, and I'm held accountable by women in this country and women's footballers who aren't given the same opportunity to speak up.
SI.com: Looking ahead to 2016, you've been through an Olympic year before. What do you see as the biggest challenges?
Morgan: I think the biggest challenge just thinking about myself and as a team is just staying in it mentally. Because it is exhausting not having the break that I think a team needed after World Cup, but understandably so because we have a big tournament the year after the World Cup with the Olympics. Just mentally and emotionally staying in it and not getting exhausted before the tournament comes. Because it is hard, and that's the reason we're all at this level is because mentally we can handle so much more. It's being able to withstand everything for eight more months.