Cristiano Ronaldo's roller-coaster Euro group stage ends with heroics
Cristiano Ronaldo has misfired, trashed Iceland and thrown a reporter's microphone into a lake, but he put Portugal on his back vs. Hungary.
When Cristiano Ronaldo's celebrations having headed the ball into the net against Austria in the second group game were cut short by a linesman, those at the Parc des Princes laughed. The sound of several thousand people laughing is a strange one and that that was the response suggests two things: firstly that Ronaldo, with his preening and his demand that he or at least his immaculate abs are always at the center of attention provokes a remarkable level of Schadenfreude for one so gifted. And secondly, that his misfortune in that game had reached the level of the absurd.
Two goals against Hungary in the third group game only partly straightened the glitch. This Portugal team should not be finishing third in this group and for its their best player has to take the bulk of the responsibility. The nature of international football is that some teams will always have one player who is significantly better than his teammates. The question is how he deals with that pressure, and at this tournament both Gareth Bale with Wales and Marek Hamsik with Slovakia have done so rather more inspirationally than Ronaldo.
Watch: Ronaldo becomes first to score in four Euro tournaments
He could legitimately argue that in all three group games he came close to winning the game by himself. To which the answer is that if he stopped trying to do so he might not have to.
Portugal is significantly less than the sum of its parts, and too often Ronaldo has been a sulky figure, raging at his teammates for not living up to his level when he could be cajoling them.
For those who see everything in terms of Messi-Ronaldo polarities, it can't have escaped notice that Lionel Messi, returning from his back injury, has been in sensational form in the Copa America, scoring five goals including a stunning free kick in the semifinal win over the USA.
In each of the first two games in the group, Ronaldo had 10 shots, meaning that in total he had had more than nine of the other 23 sides in the competition–without scoring. Against Austria, he hit the post with a penalty that had been awarded for a foul on him as he'd charged into the box. Twice he was denied by excellent saves from Austria goalkeeper Robert Almer. In the first half he made a surging run to the near post and turned a cross just wide.
Everything, in other words, was just a fraction off. This wasn't some kind of meltdown. It was one of the greatest players in the world just needing a little calibration. This, perhaps, was a knock-on from the injury that clearly affected him in the Champions League final, even if he was weirdly unable to acknowledge the fact.
GALLERY: Classic pictures of Cristiano Ronaldo
Rare Photos of Cristiano Ronaldo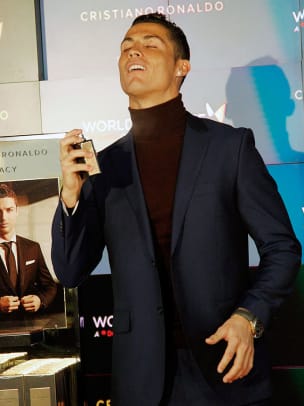 The other concern is that Ronaldo is now 31. If he is not declining yet, he will begin to soon. In terms of clean living and looking after himself, he has lived an exemplary life and should be able to keep going as long as anybody. But aging cannot be stopped. There will come a point when the explosive pace deserts him. When he no longer has quite the same spring. Already his game is beginning to change. It's been a while since he was the willowy kid on the wing, tracing his arabesques in a hair-gelled shimmer, but increasingly he is becoming a penalty-box player, somebody whose prime talent is his capacity for goals.
Cristiano Ronaldo's Euro 2016: Two goals, lots of drama
Of course, Ronaldo brings much of the mockery on himself.
Throwing a microphone into a lake is never going to look good, no matter how annoying it might be to be interrupted on a morning stroll.
And coming after the night he'd had against Austria, of course, it just provoked a series of jokes on social media about how at least held finally hit the target.
Similarly refusing to let journalists ask questions at the post-match press conference following the Hungary game was petty, making a mockery of his role as captain and the notion of a press conference. Quite apart from anything else, Portugal fans have a right to know from its on-field leader why it hasn't won a game at this tournament.
His comments about Iceland after it had held Portugal to a 1-1 draw were absurd: of course Iceland has a "small" mentality: it is small, literally the smallest nation ever to qualify for the Euros. It would never do anything at the tournament? It just had, scoring its first goal and taking its first point. Ronaldo, presumably, has no idea who or what Iceland is and so is incapable of empathy. The jeers of the Iceland fans as news flashed on the scoreboard of Hungary's goals suggested how much they had taken his comments to heart–and they won, taking two points more than Portugal and finishing above them. 
That he has taken 40 free-kicks at major tournaments without scoring is also ridiculous. It probably is time to let somebody else have a go. But his self-belief is apparently unconquerable. The penalty he missed against Austria was his fourth failure from the spot (shootouts excluded) in his last five. Nobody, of course, would dream of suggesting he takes a break.
And yet Ronaldo, even when off color, is capable of moments of brilliance. His pass to Nani for the first equalizer against Hungary was superb. So, too, was his back-heel flick for the second equalizer, as he became the first player to score in four European Championships. And it was Ronaldo who got the third equalizer as well, heading in a Ricardo Quaresma cross.
Portugal creeps through as a top-four third-place side and, if Ronaldo fires on all cylinders, it could yet have a major say in the tournament, but if it and he are to do so, it will need a major improvement on the group stage.