Learning from past mistakes, Red Bulls bring their form, distinct identity into playoffs
The Red Bulls have a tortured past and have had some late-game slips amid a lengthy unbeaten run, but Jesse Marsch & Co. are confident they've hit the right balance to succeed in the playoffs.
HANOVER, N.J. — Dax McCarty is great at a lot of things. When he's irked, hiding his frustrating isn't one of them. And on July 17 in Chester, Pa., McCarty was irked, and with good reason.
His New York Red Bulls had conceded two second-half goals to draw 2-2 with the Philadelphia Union. It was their ninth MLS game outside of New Jersey or New York in 2016, and their ninth such game without a win.
"We have no spine on the road," McCarty said flatly afterward. "If you're going to be nervous, if you don't want the ball, teams smell blood."
Manager Jesse Marsch expressed a similar sentiment. "We just find ways to shoot ourselves in the foot," he lamented.
Roundtable: Our 2016 MLS Cup, playoff predictions
Neither coach nor captain knew it at the time, but the Philadelphia debacle was just the beginning. It was the first of five blown two-goal second-half leads over a string of 10 matches, a remarkable run of misfortune, and one that prompted intense meetings and soul-searching in northern New Jersey.
As McCarty had said that evening in Philly, "We're not going to win anything this year if we don't figure out a way to do better on the road."
Three months later, with the playoffs looming, McCarty swaps out the exasperation for introspect. Perhaps it's the post-practice yoga (a weekly activity) on this brisk Wednesday afternoon. Perhaps it's the knowledge that all of that—the road woes, the recurring collapses—is behind him and his team.
"It was strange," he says of the disheartening pattern that bled into September. "Sometimes we conceded off crosses, sometimes off set pieces, sometimes off freak plays. There was no one problem area. It was just a collective mentality. When we're tired—when our brains are tired, when our legs are tired—we have to become stronger."
Bradley Wright-Phillips fends off David Villa for MLS Golden Boot
Or perhaps McCarty's calm demeanor stems from the fact that the Red Bulls head into Sunday's playoff opener in Montreal having won four in a row, and having not lost a league match in 119 days. They're in prime position to win the franchise's first MLS Cup and tie a bow on the most successful two-year stretch in club history.
The second year under Marsch didn't bring a second straight Supporters' Shield. Technically speaking, it was a regression. But the flip side of all those squandered leads and coughed up points is that, aside from those five calamitous second halves that elicited five draws, the Red Bulls were sensational. They were exhilarating. They were suffocating. They were brilliant.
Hold on for those five wins, and New York would have been one short of a league record for points. Don't concede a late equalizer in June at Columbus, and Marsch's team could have broken it.
GALLERY: 20 years of MLS Cup champions
MLS Cup Winners Through The Years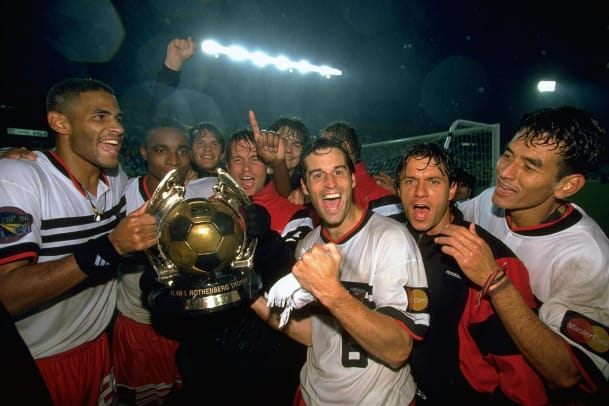 By the same token, though, those 10 points dropped are an inescapable chapter of the 2016 Red Bulls story. They're a side-effect of Marsch's breathtaking, break-neck style that is the reason New York is both so tough to beat and so entertaining. It asks for not only incessant running, but incessant focus. It's that focus that kept cracking.
"We know how much physical effort we have to put into games, and it's high. It's very high," McCarty says. "But in those moments, we have to tell ourselves that if we think we're tired, we can give five more minutes, we can give 10 more minutes at a maximum level and see games out… Mentally, we have to be able to push through the fatigue."
Young attacker Alex Muyl offers an explanation for how all the high-intensity running actually fosters that in-game mental acuity that needs to be sustained.
"Honestly, sometimes sitting back is more tiring than a high press," he says. "Because high press, at least you feel like it's right there—if we win this ball, it's a goal, it's a chance. That, mentally, is exciting, and it keeps you engaged."
Common sense would argue that tired legs give in late in games. But it's tired brains, both within the spectrum of 90 minutes and of nine months, that Marsch is just as concerned about. According to McCarty, the team occasionally ditches soccer talk to discuss athletes like Michael Jordan and Muhammad Ali, and the tools they used to overcome mental roadblocks.
"Our ability to be locked in and concentrated at the highest level has grown," Marsch says. "And ultimately that's what I think has made us better."
Piatti, Mancosu lead Drogba-less, dominant Montreal by D.C. United in playoffs
It's natural to be wary of the sustainability of a system like Marsch's over a grueling nine-month season. But eight months in, the Red Bulls are trending upward because Marsch has been wary, too. He's modified training loads to ensure the physical stress on his players isn't overbearing. He's also given them more days off over the past month-plus to allow them to recharge. He knows, he says, "that mentally they'll benefit from not having to listen to me for one day."
The foundation for New York's success is the personnel. The willingness of the players to execute the scheme is a prerequisite. That's what makes Marsch's machine churn. Golden Boot winner Bradley Wright-Phillips is as workmanlike as he is clinical. Sacha Kljestan is the best two-way No. 10 in the league. McCarty is a pugnacious, relentless force in midfield.
But even if one of the "stars" is struggling, that machine doesn't break down.
"We don't just have one guy teams can zero in on," McCarty says.
Young midfielder Sean Davis speaks of the system as one in which "there's not one player that's more important than any other. Every single play, every single player matters."
That's one of many reasons the Red Bulls are also enthusiastic employers of youth. Davis has deputized in midfield, and Muyl has been a regular starter on the wing ever since Lloyd Sam was sold to D.C. United in July. Both are homegrown players, and both are products of Red Bull II, the club's USL reserve side, where they learned a system and philosophy nearly identical to that of the first team.
Feilhaber delivers sarcastic gem of an interview after Sporting KC's playoff loss
That's all part of the The Plan, the broader vision of the club. Even on Wednesday, four days before the conference semifinals begin, training is littered with reserve teamers, many fresh off a 5-1 victory in the USL final. The hope is that someday, homegrown products like Derrick Etienne and Tyler Adams will be starting in MLS playoff matches, too.
But for now, it's likely Muyl's turn. Earlier Wednesday he was talking with Adams, 17, about the prospect of stepping out onto the Stade Saputo pitch on Sunday.
"That's crazy, man," Adams told him.
For a moment, Muyl was prematurely awestruck by the occasion too. But then he snapped to reality. Why should he be? He's comfortable in the system, just like the other 10 that will out there alongside him. And many of those 10 will have the experience of last season, and the 2-1 aggregate loss to Columbus in the conference finals, to draw upon.
"Last year, there was still an unknown, this was like the next season for a team that had still only been together for nine, 10 months," Marsch says. "Whereas I think now we're much more aware of what the biggest games are like."
Marsch has grown over 12 months as well. He says he's learned to adapt and adjust on the fly using a set of in-game hand signals that his players have come to comprehend. He's found success tweaking his tactics based on opponent, and feels prepared to combat the alterations others make to try to best him. But he also knows that there's no reason his team can't succeed in November and December doing exactly what they've done over the past half year.
"There's always little modifications," he says. "But there's not a real change in philosophy or approach. We will stick to what we do and who we are."
Maybe, just maybe, this is the year that'll be good enough to claim the ultimate prize.