Mock MLS Expansion Draft: Which players should Atlanta, Minnesota pick?
With 259 names available for selection, including some big-money DPs, MLS-tested veterans and young players alike, here's who we see Minnesota and Atlanta picking in the expansion draft.
With two more teams joining MLS in 2017 comes yet another expansion draft.
The mechanism has been hit-or-miss (OK, mostly miss) for past teams, who have plenty of other ways and methods to go about building their rosters. In this year's edition, the draft has been chopped in half, with both Atlanta United and Minnesota United only selecting five players. Furthermore, once an existing team has had a player selected, the rest of its unprotected players become off limits, so a total of 10 teams will lose one player apiece.
The goal for teams in these drafts, generally, is to fill needs and acquire depth, doing so at points of value. You rarely see a big-money Designated Player swap teams in these drafts, just because teams who are putting millions in investment into their marquee players typically like to do so on their terms and with their scouting and background work. 
Time ticking on Beckham's Miami MLS team amid deadline, Las Vegas speculation
Atlanta, for instance, has already acquired Miguel Almiron and Hector Villalba as Young DPs, and the word from SI's Grant Wahl is that Mexican star Andres Guardado could be on the way from PSV Eindhoven later this winter as well.
Minnesota is considerably behind Atlanta in the roster-building process–the club has just three players signed, and they're all defenders–so it might be looking for more impactful players.
In the priority draft between the two sides, Atlanta earned the right to pick first in the expansion draft (Yes, that's right, a draft to decide different drafts. Never change, MLS), and it will do so Tuesday afternoon. But before the two Uniteds make their picks, we figured we'd make some of our own.
With Avi Creditor picking for Atlanta United and Alexander Abnos picking for Minnesota United, here's how our mock MLS expansion draft unfolds for the league's newcomers (for reference, MLS released its full lists of protected and unprotected players, which can be seen here):
ROUND 1
Atlanta - Chris Duvall, D, New York Red Bulls (Red Bulls exempt from the remainder of the draft)
AC: An Atlanta-area native, Duvall comes at a price tag that's appealing to anyone (he made $63,000 in 2016 according to MLS Players Union documents), fills a need area at right back and could slide into the lineup immediately. 
Minnesota - Chris Seitz, GK, FC Dallas (FC Dallas exempt from the remainder of the draft)
AA: Was one of the most consistent goalkeepers in MLS last season, posting a career high in games (28) and earning 10 shutouts, second-most in the league behind the Red Bulls' Luis Robles–despite playing six fewer games. Seitz has been around the league a while and is well-respected everywhere he's been, even if it hasn't been as a starter.
Stefan Frei's transcendent save sparks Seattle Sounders to first MLS Cup
ROUND 2
Atlanta - Harry Shipp, M, Montreal Impact(Impact exempt from the remainder of the draft)
Shipp was a rising star in Chicago, quickly fell out of favor for new manager Veljko Paunovic and had modest returns (two goals, three assists) in Montreal last season. No matter, the 25-year-old is a capable midfielder who can add to Tata Martino's attack while not causing the club to break the bank ($129,500 in 2016).
Minnesota - Mohammed Saied, M, Columbus Crew SC(Crew SC exempt from the remainder of the draft)
A solid two-way midfielder who wasn't as instrumental to the Crew as he might have been without both Wil Trapp and Tony Tchani on the roster. Saeid's versatility and quality will be useful for Minnesota in an important position. He'll be 26 when the 2017 season starts and made a reasonable but not lavish $120,000 in guaranteed compensation last season. He'd take up an international roster spot, but he'd be worth it.
ROUND 3
Atlanta - Mark Bloom, D, Toronto FC(TFC exempt from the remainder of the draft)
Another local-area product! Bloom hails from Marietta, played for the NASL's Atlanta Silverbacks and provides depth in defense at a reasonable cost ($101,848 in 2016). In building an identity and culture, it behooves a club to have players with whom fans can identify, and Duvall and Bloom go a long way in complementing the star power Atlanta is already attracting.
Minnesota - Baggio Husidic, M, LA Galaxy(Galaxy exempt from the remainder of the draft)
A key contributor to the Galaxy for the last three years, Husidic is like Saeid in that he is a steady central midfielder, but has a little more attacking panache than his supposed new teammate up north. Husidic has experience abroad and in MLS, and he has an MLS Cup to his name.
GALLERY: Future, potential soccer stadiums in America
Potential, future soccer stadiums in America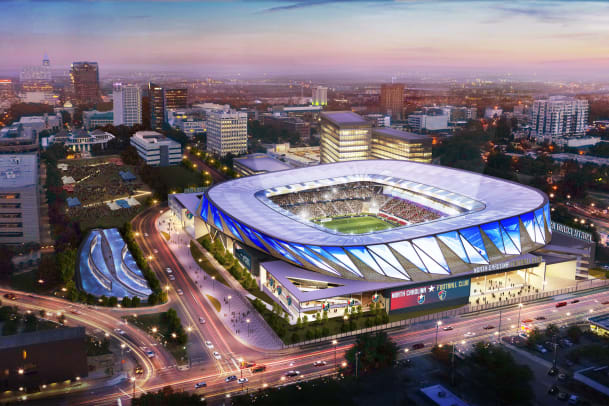 ROUND 4
Atlanta - Chris Klute, D, Portland Timbers (Timbers exempt from the remainder of the draft)
Another defender, and another one with roots to Atlanta. Klute isn't from the area, but he, like Bloom, played for the Silverbacks in NASL and excelled there before parlaying that into bigger things. Atlanta is light on defenders, so snagging a third isn't overkill. And at $91,921 in 2016, he comes at a palatable number. 
Minnesota - Luke Boden, D, Orlando City SC(Orlando City exempt from the remainder of the draft)
One of Minnesota United coach Adrian Heath's first signings as manager with Orlando City in the team's USL days, Boden rose with the team to MLS while remaining a contributor at left back—one of the hardest positions to fill effectively in the league. Boden may not be the best option based on pure talent, but he's solid and Heath obviously trusts him.
Insider Notes: MLS to significantly increase TAM spread across the league
ROUND 5
Atlanta - Michael Stephens, M, Chicago Fire (Fire exempt from the remainder of the draft)
Martino is going to want midfielders who can play with the ball at their feet, and in Stephens, he can add just that. The UCLA connection to technical director Carlos Bocanegra doesn't hurt, either.
Minnesota - Connor Hallisey, M, Sporting Kansas City (MLS expansion draft concludes)
Hallisey is a winger who seemed to be constantly on the cusp of a breakthrough with Sporting Kansas City, but could never quite put all the pieces together despite a big increase in starts and minutes this season. Still, he has useful tools, is still fairly young at 22, and should demand a reasonable salary. This is a "change of scenery" pick as much as anything.
Seattle Sounders lifer Brian Schmetzer gets just reward with MLS Cup berth
Other players to consider on the draft radar
AC: This is a considerable risk because he's coming off a knee injury and comes at a lofty price tag (a TAM signing at $601,312), but Gaston Sauro hails from Martino's town of Rosario, Argentina, and was a key cog in Columbus's MLS Cup finalist back line in 2015. Considering that Atlanta already acquired his center back partner, Michael Parkhurst, you wonder if the club would roll the dice and open the checkbook to reunite them. 
FC Dallas's Zach Loyd is another MLS-tested defender that would help, and he comes at about a third of the price of Sauro ($221,666). A Parkhurst-Loyd tandem in the center would be sorely undersized, though both are versatile enough to play on the outside. Colorado's Jared Watts is a considerably younger and cheaper option at the position, too, and came off a productive year for the league's stingiest defense.
AA: Blessed with blistering pace but with struggles in front of goal and reported attitude issues, the Timbers sent Dairon Asprilla out on a year-long loan in June. If he were available for an entire season (or if Atlanta or Minnesota could cancel his loan), he'd be an intriguing pick.
Elsewhere, Dilly Duka is a versatile midfielder with 138 games of MLS experience, comes with a very cheap price tag ($62,000 in guaranteed compensation) and has shown the ability to contribute either as a starter or a substitute.
Finally, Kofi Opare was in line for a bigger role with D.C. United this year but suffered a dip in performance and a concussion, which limited him to just 10 games. Still, Opare is fairly young at 26, still athletic, and has a salary hovering around $100,000 in guaranteed compensation. If you're looking to build a back line from scratch using only available players, you could do a lot worse.
Report: U.S. goalkeeper Brad Guzan will sign with MLS expansion club Atlanta United
Current rosters (as of December 12)
Atlanta United
GOALKEEPER: Alexander Tambakis
DEFENDERS: Michael Parkhurst
MIDFIELDERS: Miguel Almiron, Harrison Heath, Kevin Kratz, Junior Burgos, Chris McCann, Andrew Carleton, Chris Goslin, Jeffrey Otoo
FORWARDS: Kenwyne Jones, Romario Williams, Brandon Vazquez, Hector Villalba
MANAGER: Gerardo "Tata" Martino
Minnesota United
DEFENDERS: Kevin Venegas, Justin Davis, Joe Greenspan
MANAGER: Adrian Heath