MLS expansion city profile: Sacramento
Sacramento Republic FC is vying for one of the next four expansion franchises in Major League Soccer.
Market Analysis
It's overshadowed by the larger cities along the coasts, but Sacramento, California—the capital of an economy with the world's sixth-largest GDP—is bigger than you think. Most are surprised when they hear it, and that comes from the preconception Sacramento has been battling since its USL team, the Republic, took the field in 2014: Sactown anchors the 20th-largest DMA (or media market) in the USA. And it's the only member of the top 20 with only one major league sports franchise (only two have fewer than three). There's plenty of merit to Sacramento's claim that it's the most underserved pro sports market in the country.
It's a diverse city—around one-fifth of the population is Hispanic or Latino—at the heart of California's Central Valley and a metropolitan area that's the country's 25th most-populous. A study conducted by Texas-based Conventions Sports & Leisure found that Sacramento would rank ninth in MLS in median household income and fourth in sports spending per household. The regional economy is growing.
Sacramento's nearest MLS rival would be the San Jose Earthquakes, who play about 120 miles to the south in Avaya Stadium.
Ownership Group
Republic's MLS effort is spearheaded by club co-founder and president Warren Smith and lead investor Kevin Nagle, who founded health care and pharmaceutical benefit management company EnvisionRX Options. Rite Aid bought it last year for $2 billion. MLS likes investors with pro sports experience/connections, and Republic has two of them. Jed York and his family, who own the San Francisco 49ers, have a significant minority stake. And the Sacramento Kings won't be the competitor MLS may have feared. They're invested in Republic as well (Nagle also owns a share of the NBA franchise).
UPDATE: Apparent ownership discord has threatened to jeopardize Sacramento's bid; read full details of what's transpiring.
Stadium Plan
Republic is ready to roll as soon as it gets the green light from MLS. The club has access to a plot of land in the 224-acre Railyards district just north of downtown, where a massive redevelopment project already has been approved by the city council. It's supposed to include a medical campus, offices, retail, more than 1,000 hotel rooms, parks and a new, 19,000-22,000 seat MLS stadium. The city is handling the bulk of the required Railyards infrastructure and Republic will finance construction of the arena. The club and city signed a term sheet in 2015, and the environmental impact report and basic architectural and design elements have been approved. Work on the finer details is well underway, although a stadium naming rights sponsor has yet to be secured.
MLS has no interest in admitting Republic before the stadium is ready, meaning there won't be games in a temporary facility. But the league also doesn't plan to add a 25th team before 2019, at the earliest. So there's time.
GALLERY: Potential, future soccer stadiums in America
Potential, future soccer stadiums in America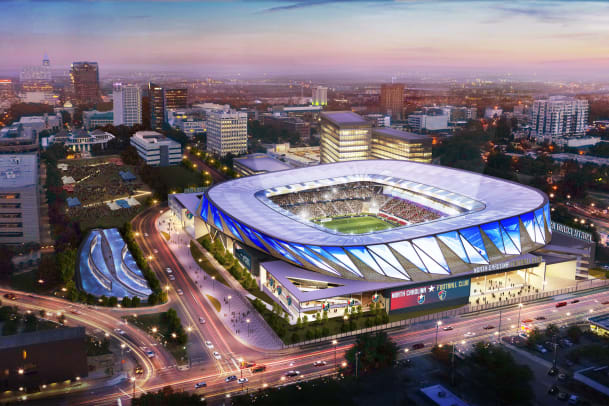 Soccer and Sports Scene
Sacramento has a decent history of supporting its teams, both in the stands and at city hall. The Kings were famous for their sellout streaks at ARCO Arena. And when the NBA team threatened to leave town without a newer, larger building, the city and then-mayor Kevin Johnson—the former Phoenix Suns star—helped recruit a new owner and then kicked in around $220 million to help build Golden 1 Center. It's been full so far this season. Johnson's successor, Darrell Steinberg, is supportive of Republic and the Railyards development.
Before he got into soccer, Smith helped bring the Sacramento River Cats to town. The San Francisco Giants AAA affiliate plays just across the river from downtown and led all of minor league baseball in attendance from 2000 through 2007. Their average crowds ranked second in 2015 and sixth this season. The Cats have won four Pacific Coast League titles.
But that's about it, and the relative lack of competition has helped Republic put down roots quickly. Sacramento can claim to be a soccer town as well. The club averaged more than 11,200 fans during its 2014 inaugural season—a USL record—and then surpassed that total in 2015. This year's average of 11,514 ranked second all-time thanks to FC Cincinnati's astonishing gates. Republic also has set league records in season ticket sales (it currently has more than 8,000), sponsorship, merchandising and other metrics—the sort of stuff MLS looks for—and it's attracted foreign clubs like Newcastle, Sunderland, West Brom and Rangers for midseason friendlies. Republic won the 2014 USL title and finished first in the Western Conference this year.
Despite a somewhat limited history with the sport (with all due respect to the 1979 ASL and 2010 NPSL champion Sacramento Gold) Sacramento has demonstrated its soccer support off the field as well. The CS&L study claimed the market had the sixth-highest U.S. TV rating during the 2014 World Cup and ranked fifth for last year's Women's World Cup. It's per capita rate of adult and youth league soccer participation ranks second.
There's no reason Republic can't become another "smaller-market" MLS powerhouse like Sporting Kansas City, Real Salt Lake and the Portland Timbers.
MLS Pros
If the league wants a club that's ready to play right out of the gate in 2019 or 2020, Sacramento is the low/no-risk choice. The stadium deal is done. It already has an academy up and running that's fully-funded down to U-12. It has a jersey sponsorship agreement signed with the UC Davis Health System, which is the city's third-largest employer. And that shirt is pretty nice—the Republic brand, its California-flag inspired crest and unique burgundy-and-beige color scheme is tremendously and deservedly popular and would bring value to the league. So would its natural rivalries with the Earthquakes and LA Galaxy. The latter already has blossomed in USL.
Republic also is a good story. Sacramento was not a city sought out by MLS. It wasn't given a pass on any of the league's criteria—in fact, MLS arguably has raised the barrier of entry to Sacramento higher than any other market. But each time, Republic raised its game, leaving MLS almost no choice but to say 'yes.' MLS commissioner Don Garber told fans during a spring visit that, "We hope and expect Sacramento will be an expansion team very soon."
MLS Cons
Sacramento can throw out all the statistics it wants—it's still not a city that would bring a whole lot of big-league cache to MLS. Clubs like Sporting KC and RSL can overcome that, of course, but the competition is a lot tougher now. There's concern in some quarters that it's too close to San Jose and an Earthquakes club that still hasn't broken through in the Bay Area. That 120-mile separation is similar to the one between Washington and Philadelphia. Those are bigger cities with a lot more people and corporations between them.
The Quakes can't stop Republic from coming in, but they may be concerned about competition for sponsorship. There are no Fortune 500 companies headquartered in Sacramento, although many do business in the state capital. The same CS&L study cited long-term support from corporations and premium ticket buyers as the key issues facing Republic's expansion bid. The city would rank 18th in MLS in the number of companies with more than $5 million in annual sales and at least 25 employees.
Commissioner's Thoughts  
"We've always said to both the mayor and Kevin Nagle and his partners that we'd be establishing a formal process …. In no way have we used any market to leverage any other. Sacramento, like all other expansion prospects, will have to go through the formal process so that they're sure they have all the pieces in place to ensure their success and certainly we'd want to understand the same," Garber said last week during a conference call with reporters.
"What I will say is that I spent a lot of time with Kevin and his group, and I've come away being impressed with what they've been able to put together. We probably speak to him more than any other expansion prospect, quite frankly. We're encouraged by their corporate support and I know they put a great deal of time and effort into their effort to bring MLS to Sacramento."