MLS schedule revealed: Key dates, matches, break for Gold Cup in 2017 season
The 2017 MLS schedule is out! Here are the highlights from the release of the slate, which includes expansion teams Atlanta and Minnesota.
Get your planners out: The entire 2017 MLS regular season schedule has been released, which means you can finally start marking your calendars with key dates from another summer of soccer in the United States. This season features the addition of two expansion teams in Minnesota United FC and Atlanta United, a couple of new stadiums, and a greater presence on broadcast television than before.
It all kicks off March 3 in Portland, when Minnesota takes on the Timbers at Providence Park (the league had previously released the home openers for every team) and picks up steam from there.
Here are some key takeaways and dates to circle from Thursday's schedule's release: 
Gold Cup break
The league will observe a break in play for the Gold Cup group stage for the first time, remaining off from July 7-16, with Sporting Kansas City and Philadelphia playing the last game before the break on July 6. Matches will also be played on July 1-5, which means multiple teams will still be without their international players involved in the Gold Cup for at least one game, if not more. 
MLS play resumes on July 19, three days after the end of the Gold Cup's group stage. 
Unusual urgency prevalent at Arena's U.S. January camp after Klinsmann's dismissal
Key dates for expansion teams 
Minnesota welcomes MLS Cup champion Seattle to Minneapolis on Aug. 5, then travel to the home of the champions on on Aug. 20 in a nationally televised game on FS1. Minnesota head coach Adrian Heath only faces his former team Orlando City once—when the Lions visit the Twin Cities on Saturday, May 27. The Loons have two obvious geographic rivals in Kansas City and Chicago; They host Kansas City on May 7 before traveling to Children's Mercy Park on June 3—those games will be nationally televised on FS1 and ESPN, respectively. Minnesota faces Chicago once, in Chicago, on Aug. 26. 
Atlanta United gets an early test with its ambitious roster, visiting the champion Sounders on March 3 in a nationally televised game on FS1. Atlanta plays its closest geographic rival Orlando City three times: At Orlando on Friday, July 21 on ESPN, then nine days later when it hosts the first event at the new Mercedes-Benz Stadium on FOX. Atlanta plays Orlando once more at home on September 16 on Univision. 
Potential, future soccer stadiums in America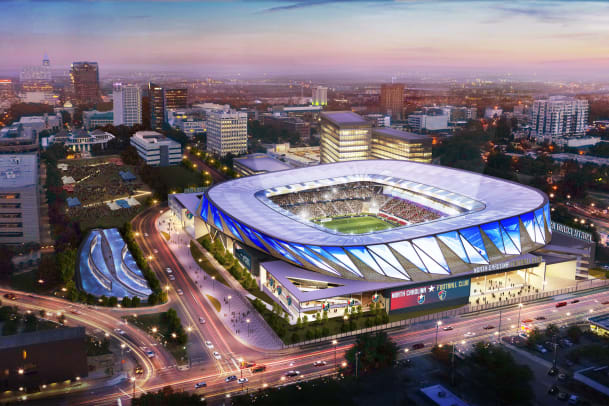 New York, Cascadia derbies
MLS expansion in recent years has introduced two of the most highly anticipated rivalries to the league: The Hudson River Derby between NYCFC and New York Red Bulls, and the Cascadia Cup between the Seattle Sounders, Portland Timbers, and Vancouver Whitecaps. 
In the case of the Cascadia Cup, each of the three matches between Seattle and Portland will put the last two MLS Cup winners against each other. 
Cascadia Cup
Friday, April 14 | Seattle at Vancouver, Time TBD on MLS Live/TSN
Saturday, April 22 | Portland at Vancouver, Time TBD on MLS Live/TSN
Saturday, May 27 | Portland at Seattle, 3 p.m. on FOX
Saturday, June 25 | Seattle at Portland, 4 p.m. on ESPN
Sunday, July 23 | Portland at Vancouver, 6 p.m. on FS1/TSN
Wednesday, Aug. 23 | Seattle at Vancouver, Time TBD on MLS Live/TSN
Sunday Aug. 27 | Portland at Seattle, 9:30 p.m. on FS1
Wednesday, Sep. 27 | Vancouver at Seattle, Time TBD on MLS Live/TSN
Sunday, Oct. 22 | Vancouver at Portland, 4 p.m. on MLS Live/TSN
Hudson River Derby
Saturday, June 24 | NYCFC at Red Bulls, 1:30 pm on FOX
Sunday Aug. 6 | Red Bulls at NYCFC, 6 p.m. on FS1
Friday Aug 25 | NYCFC at Red Bulls, 7 p.m. on ESPN
MLS's top 10, worst 10 Designated Players since David Beckham's signing
MLS Cup rematch
The Seattle Sounders and Toronto FC will meet in a rematch of the 2016 MLS Cup final on Saturday, May 6 in a nationally-televised game on ESPN. This time, though, the Sounders will have home-field advantage at CenturyLink Field. 
Games on big FOX
The main FOX broadcast network will carry four MLS games over the course of the season:
Orlando City SC vs. LA Galaxy on Saturday, April 15
Seattle Sounders FC vs. Portland Timbers on Saturday, May 27 
New York Red Bulls vs. NYCFC on Saturday, June 24 
Atlanta United vs. Orlando City SC on Sunday, July 30 
How does the Chargers' move to Los Angeles impact the Galaxy, MLS expansion?
Decision Day
Sunday, October 22, will be Decision Day, where any down-to-the-wire playoff chances or Supporters' Shield races will get decided. All 11 games in the league that day will kick off at 4 p.m. Among the more interesting matchups on paper is Sporting Kansas City's visit to Real Salt Lake in a rematch of MLS Cup 2013, Portland hosting Vancouver in a potential Cascadia Cup decider, and D.C. United hosting the New York Red Bulls in another edition of those teams' long-standing rivalry–in what could be the last MLS match played at RFK Stadium.