Sacramento's MLS expansion bid thrown in to jeopardy over power struggle
The lone MLS expansion bid that appeared to be a lock suddenly is surrounded by questions and uncertainty.
One of American soccer's most authentic, feel-good stories took a distressing turn Tuesday evening, and now the lone MLS expansion bid that appeared to be a lock suddenly is surrounded by questions and uncertainty.
Sacramento had "checked all the boxes," MLS officials said. It was a "matter of when, not if," they said. And while other expansion candidates worked to nail down their stadium plans or prove their market's support for soccer, Sacramento Republic cultivated a fan base in the country's 20th-largest media market, connected with a community, drew record crowds, sold lots of scarves and won a USL championship. The team is only three years old, but on occasions it felt like it's been around for three generations. Fans loved the colors and knew the staff. A culture was established and that, along with the established brand equity, looked like an asset MLS just couldn't ignore.
Then the bid books were submitted to the league's Manhattan headquarters on Tuesday, and it turned out that it was Sacramento's own expansion effort that seemed to be ignoring that asset. The "shovel-ready" Railyards stadium plan was in place as was lead investor Kevin Nagle, a pharmaceutical entrepreneur leading a group that included the Sacramento Kings, the San Francisco 49ers and, most recently, Hewlett Packard president and CEO Meg Whitman. But the bid material was scrubbed of the Republic logo. The club's website said nothing about expansion. There was no press release, even as teams that weren't even teams were making their announcements on Tuesday afternoon. Nagle removed the SRFC from his Twitter handle. Republic fans panicked. Nagle and the club stayed silent.
MLS expansion: An in-depth look at the many bids for the league's next four clubs
Was there a civil war in Sacramento? Did Nagle, a minority investor in Republic, use its popularity to build momentum for his own MLS bid then cut the USL team loose? Was Republic simply asleep at the wheel? Rumors of discord between Nagle and Republic founder and majority owner Warren Smith circulated, and two sources told SI.com that there indeed had been friction in the past. Smith got Republic off the ground, but he needed many more millions to get them across the finish line. A potential tug-of-war wasn't surprising.
Nagle finally broke his silence late Tuesday, telling The Sacramento Bee, "My preference would be to keep the Republic name."
It sounded like lip service, and Republic ratcheted up the tension when it released its statement Wednesday morning. Somehow, the team that had been gunning for MLS since its inception had no clue it was omitted from the application.
"We are just as surprised as our fans to hear that various news outlets are reporting that a bid was submitted to MLS for Sacramento which does not reference Sacramento Republic FC," the statement read. "If these reports are true, this is deeply troubling to us. This journey has always been an endeavor to elevate your team, Sacramento Republic FC, to MLS. If the bid submitted yesterday by Mr. Nagle did not include Sacramento Republic FC, it was in violation of our agreements and without our authorization; and we will take this up with the appropriate parties immediately. We want to thank all of Sacramento Republic FC's fans for your continued support. This is, and always will be, your team."
Potential, future soccer stadiums in America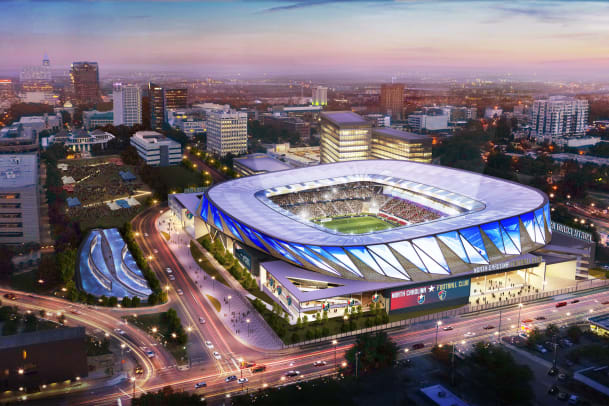 Fans and the Tower Bridge Battalion supporters group threatened to pull their backing, and in a conference call with reporters later Wednesday, MLS president Mark Abbott tried to clarify the situation. With Nagle and his partners fronting the MLS bid and Smith controlling the brand, some kind of agreement needed to be reached. And there was none when applications were due on Tuesday. One source said Nagle was advised to remove any Republic branding from his bid for legal reasons.
"There has been ongoing discussion between Kevin Nagle and his group and Warren Smith and the Sacramento Republic about coming together with a joint bid. … The league was involved in those discussions. The commissioner personally was involved in those discussions last fall," Abbott said. "Recently it became clear that they had some issues that still required resolution before they could come together and present a united bid. But the deadline was yesterday, so Kevin and his group moved forward submitting a bid."
Abbott stressed that it was Nagle's intention to "continue the discussion with Warren and the Republic and it remains their intention to seek a situation where they can present a united bid."
MLS receives 12 applications by expansion submission deadline
Although expansion applications were due Tuesday, the league is in no rush to identify its next two teams and has said only that it plans to announce them by the end of 2017.
Later Wednesday, Nagle issued a full statement:
"Our pursuit of MLS has, is, and always will be driven by our respect for the fans, and love for Sacramento," it read. "In that pursuit, we submitted a compelling application to the league yesterday that clearly outlines the three necessary components for supporting a team: a viable stadium plan, a credible ownership group and a proven market.
"We have the utmost respect for SRFC and firmly believe that we further strengthen our case by presenting a united front with them. We have always been and are committed to finalizing a compelling partnership and we will work with all parties in good faith to ensure this happens.
"Most importantly, we are confident that these factors will result in Sacramento being awarded the MLS expansion team that it deserves. The fans have earned it. And we will not rest until that happens."
Sacramento Mayor Darrell Steinberg, who just succeeded Kevin Johnson, followed soon thereafter.
SI.com understands that Republic has agreed to a meeting.
If Nagle didn't realize it before Tuesday night, he surely must know now: Republic, the colors and the community that's been built around the club means too much to too many people for a bid to gain much traction without it or them, especially considering the level of expansion competition. If Smith holds on or holds out, he could derail the dream so many have pursued. If he sells the brand to Nagle, he very well could be signing his own pink slip and that of his staff.
What could have been cause for celebration Tuesday instead became the source of immense tension. Perhaps Steinberg can help resolve the problem. But perhaps the damage already has been done. The harmony that once existed between Republic and its supporters now has been eclipsed by the issues between Nagle and Smith, as well as an obvious lack of communication between the MLS investors and the Republic front office that left fans and media grasping.
Abbott said Wednesday that MLS was more than willing "to let the discussions play out" before drawing any conclusions about the state of the Sacramento bid.
"I would like to minimize some of the brouhaha and hysteria around this. I think this is fairly straight forward," he said. "The groups, at least from Kevin's perspective, continue to want to be in negotiations about presenting a unified front and that is their ideal situation. From the league's perspective, [the best option] is to allow that process and those discussion to continue. And I think that's going to happen."
Abbott may think its "fairly straight forward." But after three years of inexorable momentum in Sacramento, it's also most unexpected.