MLS expansion latest: Tampa Bay's vote; Beckham's new investor; a pulse for St. Louis?
Stay up to date on the latest across the MLS expansion landscape, with the league continuing to churn on its decisions for the next franchises to enter the fold.
Once again, the future of an MLS expansion effort is in voters' hands. Three weeks ago, the citizens of St. Louis decided against providing funding for a soccer stadium. Next Tuesday, the St. Petersburg half of the Tampa Bay metro area will decide whether the Rowdies' bid will move forward.
There isn't nearly as much money at stake in the St. Petersburg vote and thus, a much greater likelihood the Rowdies will get the result they need. But Rick Baker is taking no chances. The president of The Edwards Group (led by Rowdies owner Bill Edwards) knows a thing or two about elections. He was elected mayor of St. Petersburg twice. And he told SI.com this week that no matter the odds or outlook, there are only two ways to approach a vote: 
"One is unopposed. The other is scared," Baker said.
So he's literally been going door to door in an effort to share the Rowdies' plans with area residents. Unlike the very public campaign waged in St. Louis, the MLS hopefuls in Tampa Bay are staying relatively quiet and working the grassroots. Baker said he's visited some 50 groups in person over the past two months: neighborhood and homeowners associations, condo boards, rotary clubs and business owners. The Rowdies also sought the opinion of area stakeholders and event organizers during the stadium design phase.
Potential, future soccer stadiums in America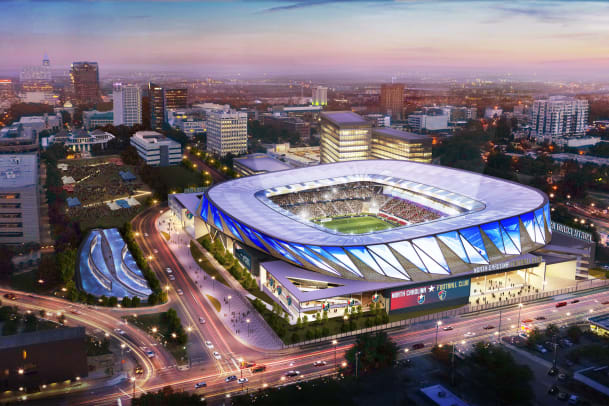 "It was important to Bill that we reach out to the community directly … and have a chance to see people face-to-face and give us an opportunity to respond to concerns," Baker said. "We've used this opportunity of a referendum to explain why we think [the vote] is a good thing and also to try to help them understand why we think soccer is important to the city's future."
Edwards and the Rowdies aren't asking for money. Instead, they want permission to sign a 25-year lease with the city of St. Petersburg that will allow the club to upgrade Al Lang Stadium to meet MLS standards and then play there for the long term. Any lease on city-owned waterfront property that's greater than five years requires public approval. Edwards is financing the special election himself to the tune of $280,000, and plans to spend $80 million of his own money to transform Al Lang into an iconic venue that looks out onto Tampa Bay and sits alongside the 2,000-seat Mahaffey Theater and the Salvador Dalí Museum, which holds the largest collection of the Spanish artist's work outside Europe.
Edwards also will foot the $150 million MLS expansion fee.
So who would vote against it?
"At this point, there really is no organized opposition that I'm aware of," said Baker, who was mayor from 2001 to 2010. "People have questions about whether we have sufficient parking. Have you accommodated the lighting? In order to deal with the condominiums surrounding the stadium, do we have transportation covered—those kinds of questions. So we wanted to get around and talk to people."
The city has 168,000 eligible voters and nearly 22,000 ballots already have been sent in by mail. Saint Petersblog, a local news blog, conducted a poll in early April and reported that 70% of voters are expected to approve the referendum, with 19% opposing and 11% undecided.
"If we pass the referendum, there's a high degree of certainty associated with our stadium plan. That's a pretty good advantage we have in our corner," Baker said.
MLS expansion: An in-depth look at the many bids for the league's next four clubs
But there's no telling whether it'll be enough to sway MLS. Competition for the four available expansion slots—at least two are expected to be awarded by the end of the year—is fierce. In Tampa Bay's corner: it's the 11th largest media market in the country and now the biggest without an MLS team, the aforementioned stadium certainty and the history behind the Rowdies brand. Potential pitfalls could be Tampa/St. Petersburg's proximity to Orlando (plus a possible expansion team in Miami) and perceived competition from the Lightning, Rays and the array of annual or one-time sporting events staged in the area.
"Everything that we've heard either privately or publicly from folks at MLS about Orlando is that not only is it not seen as an impediment, but it's seen as a positive thing because of the opportunity to have a great rivalry down the I4 corridor," Baker said.
Orlando City plays about 110 miles from Al Lang and Miami is 260 miles to the south—that's greater than the distance between Washington, D.C., and New York City.
"I haven't heard how [Miami] would impact us either way. Our perspective is that we're just doing our thing," Baker said.
Whether the Rowdies can keep doing their thing will be determined Tuesday.
"Hopefully we get over the hurdle. It's still a hurdle," said Baker, who will remain "scared" until the final votes are counted.
Meanwhile, the Rowdies have averaged 5,591 fans at their four home games so far this season. That ranks eighth in the 30-team USL, behind rival MLS expansion bidders FC Cincinnati, Sacramento Republic, San Antonio FC and Phoenix Rising.
Speaking of rival bids, here's an update on some other areas of the MLS expansion landscape:
Time ticks on Beckham, Miami | Do St. Louis, Charlotte bids have a pulse? | Quiet confidence in Sacramento | San Diegans sign on | Nashville meets with Garber