Christian Pulisic weathers storms, adds to success in first full Dortmund season
Fighting for his place, scoring big goals, confronting terror: Christian Pulisic's first full season as a first-teamer at Borussia Dortmund featured a little bit of everything.
For so many of soccer's best players and biggest clubs, success is measured by silverware. They play to win (or in some cases, to finish fourth). Borussia Dortmund is a big club. It's a former world and European champion that draws the sport's largest average crowds to its colorful, boisterous Westfalenstadion. BVB is soccer's 11th richest team according to the Deloitte Money League, and it's the seventh strongest in Europe, according to UEFA.
And on Saturday, it may win its first major trophy in five years.
That's the price to pay for being just the second biggest club in Germany, where Bayern Munich reigns so supreme. Recently, Dortmund has been forced to settle for being the highest hurdle between its Bavarian rival and the trophies they covet. Since winning the German league and cup double in 2012, BVB has finished second to Bayern three times in Bundesliga play, three times in the DFB Pokal and once in the Champions League.
Iconic manager Jürgen Klopp left for Liverpool in 2015, and he then was followed out the BVB door by players like Mats Hummels, Ilkay Gündogan and Henrikh Mkhitaryan. When confronting a behemoth like Bayern, the departure of such influential personalities and then a challenging 2016-17 season—which has featured a slew of injuries, a potential falling-out between coach Thomas Tuchel and club administrators and the stunning April bombing of the team bus—the definition of success inevitably evolves. Beating Eintracht Frankfurt in Saturday's DFB Pokal final in Berlin would have been mandatory just a couple seasons ago. Now, it likely would feel like a relief.
"We had many injury problems and there were lots of issues. But it was always fun, even in the difficult times," Tuchel told reporters following BVB's Bundesliga finale. "Now we want to crown the season [in Berlin]."
The advice, book and club move that put DeAndre Yedlin's career back on track
Among the highlights of Dortmund's 2016-17 campaign has been the play of American attacker Christian Pulisic. He's the rare U.S. teenager whose performance matches the hype, and his ability to shrug off pressure and scrutiny as if they're just additional bewildered defenders has impressed on both sides of the Atlantic. Although he's still only 18, Pulisic has been in Dortmund for over two years. He's grown comfortable, he speaks the language and the club has invested in his success.
Although BVB acquired German World Cup heroes Mario Götze and André Schürrle last summer—as well as French forward Ousmane Dembélé, Turkish rising star Emre Mor, German center midfielder Sebastian Rode and others—Pulisic has continued to play well and force his way onto the field. And he's done this while handling transfer rumors (he reportedly was targeted by Klopp's new club, Liverpool, last summer) and his increasingly vital role with the U.S. national team—these are the trappings of life as a top-notch player.
"I'm very satisfied," Pulisic told BVB TV when asked to reflect on his season. "We added a lot of new players and I didn't know if I'd get to play that much. But I worked very hard every day in practice, and I think the coach saw that."
Said Tuchel: "What makes him special is the fact he never quits. He always delivers even, or especially, when the pressure is on."
Christian Pulisic: Budding career of USA, Borussia Dortmund's rising star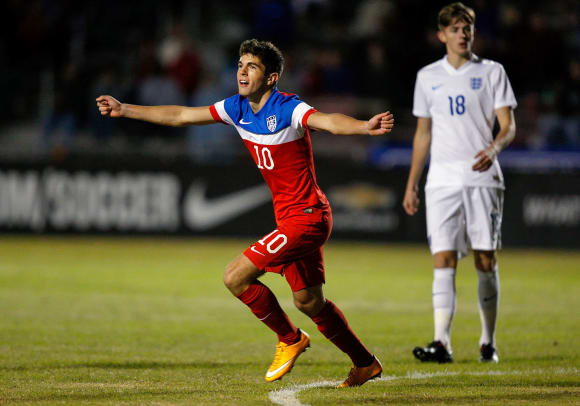 Pulisic's obvious poise has been matched by his statistics. He started frequently, but when coming off the bench he had the composure, confidence and maturity to assert himself and find ways to impact a match. He typically played on the right flank but had occasions when he shifted inside or to the left. In his 42 competitive appearances, Pulisic tallied five goals and 12 assists. He appeared in each of BVB's 10 Champions League contests, starting six, and helped his club top a group that included finalist Real Madrid and Portuguese power Sporting CP. At the Bernabeu, he came off the bench and played a role in a late equalizer. It was his goal against Benfica in the round of 16 that put Dortmund in position to reach the quarterfinals.
There have been American born-and-bred players who scored more goals during a European season. Jozy Altidore set the record at AZ Alkmaar. There were U.S. field players who featured more prominently for their teams, like Clint Dempsey and Brian McBride at Fulham or Steve Cherundolo at Hannover 96. Maurice Edu (Rangers) and Sacha Kljestan (Anderlecht) won league titles. Michael Bradley excelled at Borussia Mönchengladbach and Chievo Verona and earned a transfer to Roma. DaMarcus Beasley played in the Champions League semis with PSV Eindhoven.
•​ Another rising U.S. teenage star: Meet 17-year-old Josh Sargent
But Pulisic has accomplished something none of them managed, and he's done so at 18. He is an integral, contributing member of a Champions League club from one of Europe's top three circuits (La Liga, the Bundesliga and the Premier League). He's weathered the various storms, found the extra gear needed to help the U.S. through its qualifying difficulties and even though he hasn't started for Tuchel this month, he remains focused and effective. In last weekend's league finale against Werder Bremen, for example, Pulisic drew the 89th-minute penalty kick that lifted BVB to a 4-3 win, third place and an automatic spot in the group stage of next season's Champions League.
"It's been a crazy ride with Dortmund," Pulisic told BVB TV. "I miss my family every day. My mom, my dad, my whole family. It's very hard. It's a new step for me and it's difficult, but I feel very comfortable in Dortmund."
That, by itself, represents a victory. His intangibles match the tangible. That can be as rare among young players abroad as the electrifying technical skill Pulisic possesses.
Top 20 Under 20: The world's best rising stars
"The game is easy for him. He's got exceptional skill, vision—he's pretty smooth," U.S. coach Bruce Arena said a couple months ago.
It may look easy, but what Pulisic has accomplished this season has been anything but. It's been a noteworthy success. And that will be the case regardless of whether he starts or comes off the bench Saturday against Eintracht Frankfurt and regardless of whether he leaves the Olympiastadion with a gold or silver medal. Big players and big clubs are defined by their honors—usually. Sometimes, circumstances require an adjusted metric. That's been the case for Dortmund in recent years and this season, it's the case for Pulisic.
He can "crown" his memorable season, to use Tuchel's terminology, by contributing to a cup final triumph. But there's no risk of failure. Considering the rarity of his accomplishments, his age and the bright lights under which he's been playing, Pulisic already has had a winning season.