Bruce Arena's New Legacy and its Impact on the Future of the USMNT
Bruce Arena will always be one of U.S. Soccer's greatest winners, but the failure to guide the USMNT to the 2018 World Cup will forever taint his legacy, and it leaves the U.S. in a premature position of finding his successor.
Bruce Arena will always be the coach who took the USA past Portugal and Mexico and into the quarterfinals at the 2002 World Cup. He'll always be the coach who launched so many legendary careers at the University of Virginia and who managed MLS's two great dynasties in D.C. and Los Angeles. He's among the most pivotal people in the history of U.S. soccer. He's on its Mt. Rushmore.
Christian Pulisic is 19 years old. He's the face of the American game's new era, which is now kicking off a bit earlier than most would've preferred. Pulisic wasn't yet born when Arena coached D.C. United to the first two MLS Cup titles, and he probably doesn't remember those giddy days in South Korea a few years later. That temporal disconnect highlights the strain Arena's legacy now faces following his failure to qualify the USA for next summer's World Cup.
The sport has grown. American soccer isn't what it used to be, and that's not only a good thing but a testament (in part) to Arena's contributions. But the years are flying by, and the number of people reading about Arena's accomplishments eventually will surpass the number of people who remember them. Charlottesville, RFK, Jeonju and Carson will fade away, while Tuesday's nightmare in a place called Couva, Trinidad, will resonate. That's the unfortunate, uncompromising nature of sports and an inevitable consequence of the passage of time.
Arena will always be the first great winner in American men's soccer. And he'll always be referenced and revered. But he'll also always be among the men at fault for the most significant failure in its history. That millstone will hang from his neck along with all the medals.
Gulati Won't Leave U.S. Soccer on His Own, and Barring Dynamic Opposition, Re-Election is Likely
Arena's resignation from his second, much briefer stint in charge of the U.S. national team was announced Friday morning. In a statement, he said, "I don't know what the future holds for me, but I can say this from the bottom of my heart: from the high of reaching the quarterfinals of the 2002 World Cup to the low of a few days ago, I have appreciated every minute of being a part of this program."
Regarding the fifth-place finish in the Hexagonal and the stunning 2-1 loss in Trinidad, Arena said, "When I took the job last November, I knew there was a great challenge ahead, probably more than most people could appreciate. Everyone involved in the program gave everything they had for the last 11 months and, in the end, we came up short. No excuses. We didn't get the job done, and I accept responsibility."
Arena's right—he faced a great challenge. And he's far from the only person at fault. His predecessor, Jurgen Klinsmann, left the USA in a six-point qualifying hole. U.S. Soccer president Sunil Gulati's delay in dismissing Klinsmann, which probably should've happened in 2015, left Arena with almost no time to refresh the squad or test newer players for the must-win games ahead. Those aren't excuses. They're reasons.
But it's just as true that Arena grossly mismanaged the qualifying run-in—especially the home loss to Costa Rica in September and Tuesday's backbreaker in Couva. His inflexibility during the former and myopia in the latter were astonishing for a man of Arena's experience and perhaps can be explained only as the product of hubris.
Missing World Cup Means Unusual Road Ahead, Roster Turnover for USMNT
His Friday statement was well-crafted. His comments during a Thursday phone interview with The Washington Post may be more revealing. Arena cited Trinidad's "bizarre" goals and the Panamanian players who were "punching people, kicking people, throwing elbows," against the USA last week but still eligible to defeat Costa Rica on Tuesday (Panama's win helped eliminate the Americans).
And Arena refused to accept the value of hindsight when assessing his performance.
"You can say I could've played this guy, that guy, and then you'd come back the next day if we had lost and said, 'Why did you make those changes and play those guys,'" he told The Post. "The job we have doesn't allow us to be the Monday morning quarterback. [Trinidad and Tobago] played almost the same team that played against Mexico on Friday, so there's no difference. So that's all a bunch of baloney. It has nothing to do with formations or not making changes. We didn't get the job done."
The "we" in that last sentence includes him, but Arena's defiance and condescension—not to mention the lack of solemnity regarding the gravity of Tuesday's elimination and the impact it'll have on vast segments of the American soccer community—is telling. There's a fine line between sardonic and smug. Usually it can be measured by the distance between success and failure, and Arena crossed that line in the past few weeks. It's forgivable, and the words and tone likely will fade over time. He may be having as much trouble coming to terms with this as the rest of us. But the aforementioned impact of missing the World Cup will linger for much longer.
It remains to be seen how that'll weigh against his legacy. The 11 major trophies with D.C. and LA, the five NCAA titles, the three Gold Cup crowns, the 2002 quarterfinal (and the performance there against Germany) and praise from so many former players have been more than enough to overshadow the USA's poor 2006 World Cup and Arena's subsequent hiccup with the New York Red Bulls. Now they'll have to contend with the anger and emotion of the past week, as well as the missed opportunity to come. His legacy won't be ruined. But it'll forever be tainted.
U.S. manager Bruce Arena through the years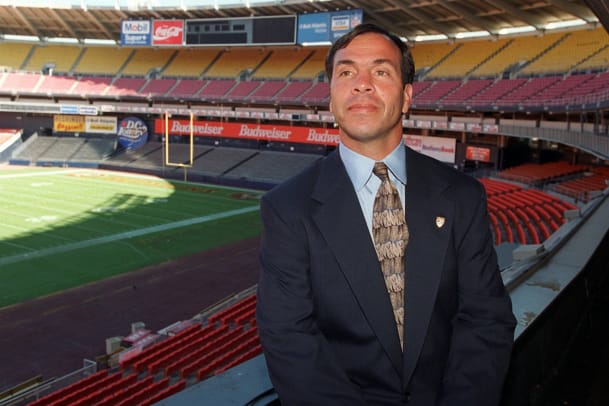 An ironic silver lining to that legacy might be the affect this World Cup debacle has on the way future national team coaches are hired. Speaking to the media during a Friday conference call, Gulati faced several questions regarding his role in hiring Klinsmann, Arena and their potential successor. Gulati didn't resign and remains likely to be re-elected as USSF president in February unless he chooses not to run for a fourth term. He said several people have input as a new national team coach is recruited but that one individual must make the final call. That one person has been Gulati, who's an accomplished administrator but who doesn't have any practical experience coaching, playing or managing at a high level.
"In the end it's my final decision. But we have a search committee. We go through a process," Gulati said, adding that in the next week or two he expects to finalize the appointment of a coach for the one or two friendlies tentatively planned for next month. "In the short term, that'll come down to three or four of us that are part of that process for the November decision. That's much easier. And the longer-term decision will have a group of people that will look at this and maybe take a little bit longer. So there might be a change in that process, but it's never been a singular decision."
Gulati Must Go–And U.S. Soccer Needs a Full Restructuring After World Cup Qualifying Failure
There's time to decide on permanent coach. The USA doesn't have a meaningful game to play until the summer of 2019. Gulati said he understood why there's public skepticism about his ability to identify the best candidate. His decision to award an extension and promotion to Klinsmann in late 2013 and then his reluctance to make a change two years later helped lay the groundwork for Arena's ill-fated appointment and Tuesday's defeat. Toss in the failure to qualify for two consecutive Olympic tournaments, and you get a loss in confidence in U.S. Soccer leadership.
"Clearly any time you don't achieve the results you want, you look back and you'd do some things differently," Gulati said. "I don't think I want to get into any of the specific because quite often they're personnel decisions … but I would certainly do some things differently."
Gulati acknowledged that the appointment of a senior technical director who might take charge of the hiring process has been considered, "if we can find the right people."
He added, "That role is a very unique and specific role and frankly, in many ways harder to fill than the national team coach role. And it's also, in terms of measuring success or failure or progress of that role, it's much harder because it's a long-term situation."
U.S. U-20 manager Tab Ramos currently is the closest thing to a federation-wide technical director thanks to his responsibilities on the youth side, and he remains the a likely appointment for the interim position of senior national team coach. There's no guarantee Ramos wants that temporary assignment, of course, and there's no way to know what potential hires might become available after the MLS season and after the World Cup. In so many ways, American soccer is venturing into uncharted waters.
Arrogance, Poor Play, Fine Margins: The Anatomy of USA's World Cup Qualifying Failure
Which brings us back to Arena, who's responsible for so much of the success achieved in soccer's new world. Winners always remind us that titles can't be taken away. But can they be overshadowed? We'll find out, and it may depend on how U.S. Soccer and the national team emerge from the overhaul ahead. We don't know yet how permanent the damage is. Whatever the outcome, however, it can't possibly be the epilogue Arena expected.
"I want to thank Bruce for everything he's done for the game over a long period of time," Gulati said Friday. "It's unfortunate that it ended on Tuesday the way it did, but Bruce's record both at the college level and the professional level and with our national program has been extraordinary, and it's sad for me on a personal level that it ended the way it did on Tuesday."