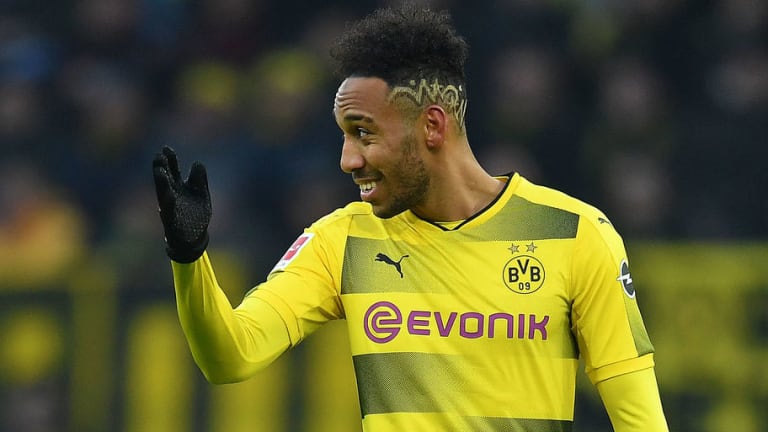 REVEALED: What Arsenal Target Aubameyang Was Doing During Dortmund's Bundesliga Draw
Pierre-Emerick Aubameyang has dominated headlines in recent weeks as rumours of an exit from Borussia Dortmund continue to escalate, having missed the German outfit's last two matches, and the breaking point for both parties looks to be nearing. 
However, it was where and what the striker was doing during the club's 1-1 draw at Hertha Berlin on Friday which has caused both amusement and frustration - depending on which side of the fence you sit. 
The answer, he was playing indoor football with friends wearing an Ousmane Dembélé shirt, and we all know how that particular transfer saga played out...
The 28-year-old has been heavily linked with a move to Arsenal - who are reported to have already agreed personal terms with the striker - and his behaviour off the field this month all but points to a series of intentional actions to force a move away from the German club. 
BILD claim Aubameyang missed Dortmund's match last week after he turned up late to a team meeting, whilst the club's coaches had no choice but to omit the striker on Friday as his lack of effort during a training session on Thursday left them with no choice. 

His appearance at an indoor football centre has put the cherry on top of an eventful and controversial couple of weeks for the Gabon international, and BILD journalist Michael Makus made his disappointment known on Twitter - which earned him the attention of Aubameyang. 
The exchange saw Makus demand the club force the 28-year-old to train with the reserves until the end of his contract in 2021, and Aubameyang duly responded, saying: "Bla bla bla next step is the jail 酪you don't know nothing so take care of you!!! not me."
Makus then made light of the transfer rumours as he said: "You forgot to wear your Arsenal jersey tonight! But if you drive me to jail in your Lambo - deal!"
A comment which resulted in the striker dishing out his own remarks: "you are a good joker like your Twitter certification good Night."
Well, it has most certainly been anything but smooth sailing with Aubameyang and Dortmund and it appears as though it will continue until his future is decided one way or another..