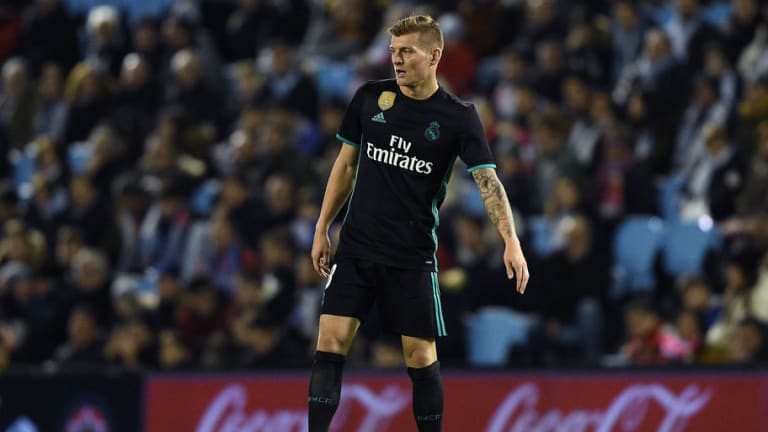 Spanish Report Claims Madrid Maestro Toni Kroos is Eager to Work With Jurgen Klopp at Liverpool
Real Madrid's midfield maestro Toni Kroos is growing increasingly frustrated at the club and has thus apparently signalled his desire to work under Jurgen Klopp at Liverpool.
Despite his unerring class, Kroos has not been his mechanically magical self this season, with only two goals and four assists in his 24 appearances so far. 
While such statistics have never truly represented Kroos' value on the pitch, Madrid's indifferent season is a more accurate thermometer for the German's troubles.
Indeed, it is the struggles of Madrid this season that has led to the 28-year-old's unrest, and Spanish publication Don Balonhas subsequently the reported that the midfielder is eager to leave the Bernabeu, with Jurgen Klopp at Liverpool a big draw. 
While the rumour purveyors are notoriously unafraid of occasionally adding some spice to an otherwise innocuous situation, the German is reportedly keen on working with his 50-year-old compatriot on Merseyside.
With many of his teammates at international level either previously or currently working under the Liverpool manager, and evidently singing the tactician's praises, Kroos isn't in need of convincing of the manager's talents.
However, if Balon are to be believed, Kroos may not have to move at all, with Jurgen Klopp purportedly on the shortlist of managers replace Zinedine Zidane at Madrid at the end of the season.
Incidentally, such an appointment would supposedly incur the wrath of Jose Mourinho, with the Manchester manager allegedly urging Madrid's president Florentino Perez to replace the Frenchman with Tottenham's Mauricio Pochettino.
Nevertheless, with Zidane's recently signed contract designed to keep him at the club until 2020, Kroos may prefer to link up with Klopp himself, rather than risk waiting for the German to come to him.
Additionally, Real Madrid themselves are not averse to selling their metronomic midfielder, and with an unlikely yet somehow also inevitable move for Neymar this summer supposedly in the works, funds are required.