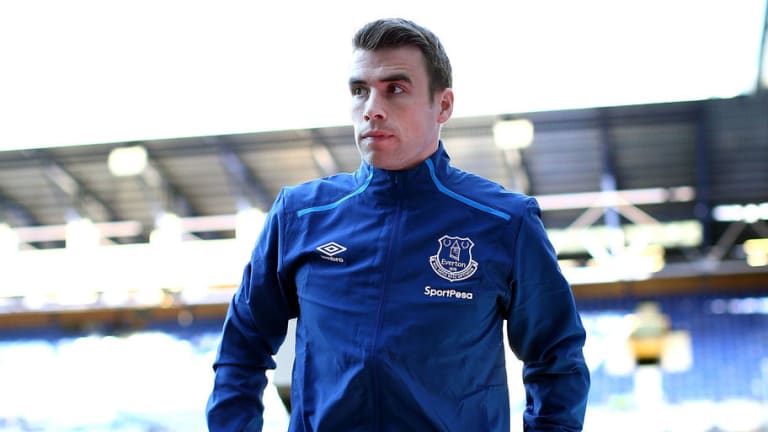 Big Sam Confirms Seamus Coleman in Everton Squad for Leicester Clash After 10 Months Out
Everton manager Sam Allardyce has confirmed that long-term absentee Seamus Coleman will be in the squad when the Toffees face Leicester in the Premier League on Wednesday night.
Coleman has been out of action since March 2017 after suffering a broken leg while representing the Republic of Ireland in a World Cup qualifier against Wales, the result of a reckless and dangerous tackle from opposing full-back Neil Taylor.
But with a 10-month recovery completed, the 29-year-old, who played just under an hour for Everton's Under-23 team last week, is ready to return to action.
"He's training with us regularly and is in the squad for Wednesday night," Allardyce revealed when asked about the player's progress during a press conference on Monday.
"It seems that, touch wood, hopefully from here on in he can have an injury-free run until the end of the season," the Toffees boss added.
"He's a very important player as we all know, and from my personal point of view, if and when he does play in the team, he needs time. He's been out for such a long time, so he can't be expected to hit his top form immediately.
"It's very important to have him back, not just as a player, but his influence as a person and human being."
As Coleman returns from a broken, James McCarthy is unfortunately just beginning his recovery after suffering a broke tibia and fibula during a recent collision with West Brom Salomon Rondon. But the midfielder has undergone surgery and Allardyce reiterated it was a success.
"It went well, he's recuperating back at home in Glasgow. There's not an awful lot we can do for him just yet, but we'll bring him back and pick the right rehab for him," the manager explained.
But in another, Ramiro Funes Mori is edging towards a return after recently resuming training following 10 months sidelined with a serious knee injury.
"We're taking it pretty steady, just training with the first-team. He doesn't do the whole session just yet as we're very protective of the knee and we're monitoring that on a daily basis," Allardyce said.