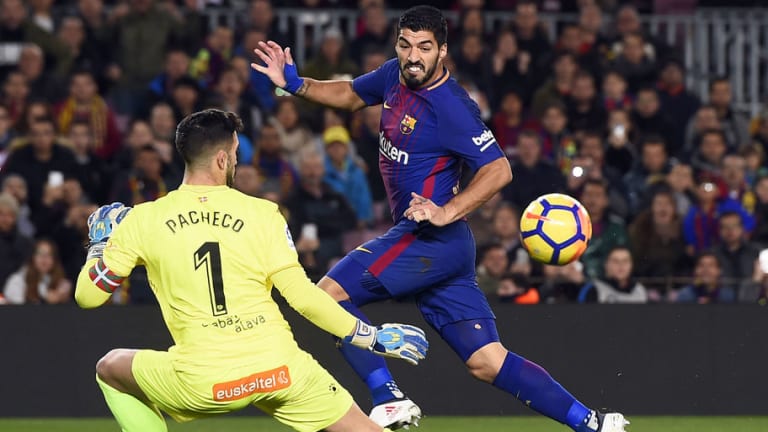 Twitter Tears Luis Suarez Apart After Referee Fails to Spot Controversial 'Roundhouse Kick'
Luis Suarez has been up to the old antics that have made him famous - or infamous - around football after a fresh scrap against Deportivo Alaves on Sunday.
Alaves initially went ahead through Manchester City old boy John Guidetti, but goals from Suarez and Lionel Messi secured the win for Barca after an early scare at their own ground.
But just after Messi put Barca in front, the frustrations felt by Suarez, who had been kept at bay Alaves' defence for most of the game, broke through as the Uruguayan kicked out at Ruben Duarte before a Barcelona corner. 
The incident was not seen by the referee and subsequently Suarez has seemingly got away with it. However, the incident was picked up by the cameras just behind the goal and fans have absolutely torn the striker apart on Twitter.
Most of those who saw the incident are predicting a ban coming the Uruguayan's way in the future, much like those Suarez has suffered in the past for both of his 'biting' incidents with Branislav Ivanovic and Giorgio Chiellini.